On an open field surrounded by wooded forest in upper Mecklenburg County, just north of the Queen City in the land of North Carolina, the mist clears for eight weekends revealing the village of Fairhaven. That's where the Annual Carolina Renaissance Festival & Artisan Marketplace takes place.
It's a place where you can dress in your own fancy festival garb or come as a time traveler from the future to enjoy period entertainment, test your skill at throwing an axe or climbing Jacob's ladder, watch a joust to the death, taste the King's nuts, visit a privy, or just follow the King and Queen strolling throughout the village with their court at hand. There's lots of things for your little serfs to enjoy too. Or, just eat, drynk & be merrie. Huzzah!
At about the turn of the 21st century we started receiving offers to trade advertising for tickets to this festival. At the time I knew nothing about Renaissance Festivals and had no interest in this offer. Then one day in a conversation with our godchild Zelda Ravenel (our Carolina Arts webmaster and graphics guru) – she mentioned that some friends who were in her high school's madrigal choir were going to go sing at the Carolina Renaissance Festival. I said that I had been getting requests for an offer for tickets and the rest is history.
The first year we went as time travelers from the future in our regular cloths. I was blown away by this place – it was a real renaissance village with hundreds of entertainers, artisans, village workers, and people just walking around the village in period costumes. The next year we all went in costumes we made (Linda did the bulk of the sewing for me) and soon we all had several outfits so that we wouldn't show up in the same one year after year. I now have three and we'll all have new ones designed by Zelda for next year. Many times we were taken for people who work at the festival, but our costumes usually pale in comparison to the real workers' costumes. You might have seen one of mine – Rengarr – on my Facebook page.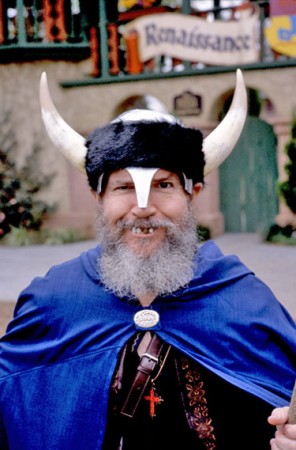 Some years we had a group of 10 or 12 who went with us, but over the last five years only some small part of that group have made it, but Linda and I haven't been able to work out the time to go. This year Linda, Zelda and I made it. But before I go into what went on at this festival – let me tell you about the journey there.
We hardly go anywhere that isn't in some way related to work, and in this case we were not only visiting an advertiser's event, but we did some scouting along the way. As usual we traveled from the headquarters of PSMG, Inc. located on Lake Moultrie, around the lake and over to I-26 towards Columbia, SC. In Columbia we picked up I-77 and headed north towards Charlotte, NC – the Queen City.
Our first stop was the relatively new Olde English District Artists Market & Visitor Center in Richburg, SC, just off exit 65 of I-77. The Center is located right off the exit on a frontage road off I-77 at 3200 Commerce Drive in Suite A.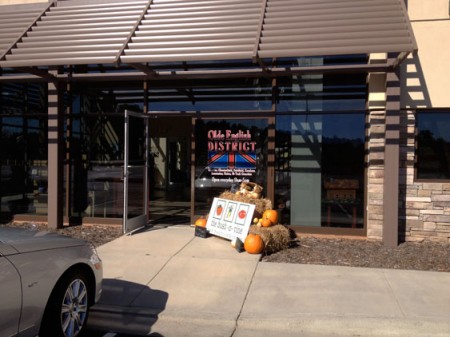 The Center carries a variety of works made by artists from the seven counties in SC which make up the Olde English District, including: Chester, Chesterfield, Fairfield, Kershaw, Lancaster, Union and York. The selection is good now, but I imagine as artists learn about this new outlet and travelers on I-77 learn of the Center – many more artists will soon be represented there. The Center also has a lot of info about what's going on and can be seen in those seven counties – including art events.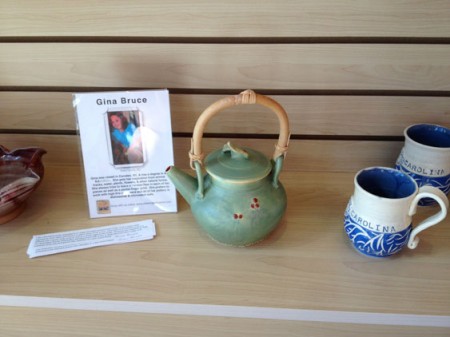 Works by Gina Bruce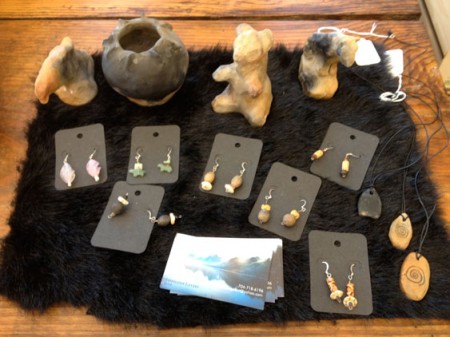 Works by Stephanie Lavery of Moonstar Creations
The Olde English District Artists Market & Visitor Center and the Avant Garde Center for the Arts in Great Falls, SC, have teamed up to bring an impressive array of artists to Lancaster, SC, for The Holiday Downtown Market on Dec. 7, from 10am-6pm, part of the Red Rose Holiday Tour (Dec. 6-8, 2013). The Holiday Downtown Market will be located at 212 S. Main Street in Lancaster. Holiday shoppers have a central location to find works of art that include stained glass, wood turnings, paintings, photography, artistic jewelry & accessories, sweetgrass baskets, pottery, wood carvings, sculpture, and more!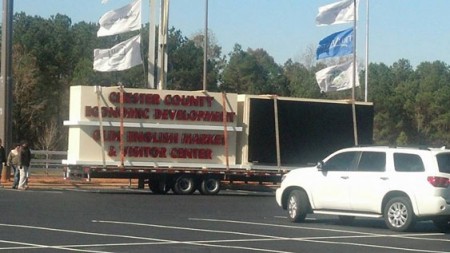 The Big Sign
While writing this blog post, I noticed on Facebook that the Center was finally getting their sign which people will see as they travel back and forth on I-77, so more people will be discovering this outlet for art and info in the near future.
You see it's all related – when it comes to Carolina Arts – you can't throw a stone or drive for miles in your car and not find something to do involving the visual art community in the Carolinas. Just check out a copy of Carolina Arts – you'll see.
And, in case you were wondering – while we were at the Center a couple purchased a fair number of items there and another visitor was looking very hard, but we had to keep moving as we had another destination to reach before we could check into our hotel.
We got back on I-77 and headed past Rock Hill, SC, to drive around the south of downtown Charlotte to transfer on to I-85 headed further north to Concord, NC.
I wish I had done a search on highway construction projects that might be in my travel path, but I never do. I'm a kind of jump in the car and head in the direction I'm headed kind of guy, so sometimes I pay the price of not doing any research. I-85 going north from Charlotte is under construction – adding another lane but closing one of the three that was there making it only two lanes heading north. This was Friday afternoon on an holiday weekend and many cars were flowing out of Charlotte, so soon travel was bumper to bumper. After the first half hour of getting nowhere slowly, I was thinking I might have been better off going on I-77 and getting off at Huntersville, NC, and taking NC 73 over to Concord, but we were stuck.
After a never-ending slow crawl up I-85 from Charlotte to Concord, we made it to The Galleries of the Cabarrus Arts Council 30 minutes before they closed. The Galleries are on the first floor of the Historic Cabarrus Courthouse – a beautiful building, located at 65 Union Street South in downtown Concord.
I-85 outside of Charlotte is probably going to be under construction for years to come, so I might suggest an alternate route – especially if you're trying to get there from Charlotte on a Friday afternoon.
For years I've wanted to get there to see one of their exhibits – they always seem to be showing some of the best artists in North Carolina and sometimes works by a few South Carolina artists. The current shows were a good example of what I feel is the norm for the Cabarrus Arts Council.
"Soft Focus," includes artworks embracing impressionistic techniques and the moderating effects of time and memory. The exhibition features works by Katherine Armacost, Tamie Beldue, Nancy G. Cook, Bre Barnett Crowell, Alan Dehmer, Charles Farrar (the only local artist), Carolyn Glazener, Chris Luther, David McRary, Terri Otten, Terance Painter, Stuart Roper, Jeremy Sams, Deborah Squirem Charlie Tefft, and Wendy Whitson.
"Shop Seagrove & Piedmont Pottery," is CAC's annual exhibition of acclaimed potters from the Seagrove area of North Carolina and some from the Piedmont area of NC. The exhibition features works by Bulldog Pottery, Chris Luther Pottery, Crystal King Pottery, Dirtworks, Jared Zehmer Pottery, Jeff Pender, Joseph Sand Pottery, King's Pottery, Luck's Ware, and Pottery by Frank Neef.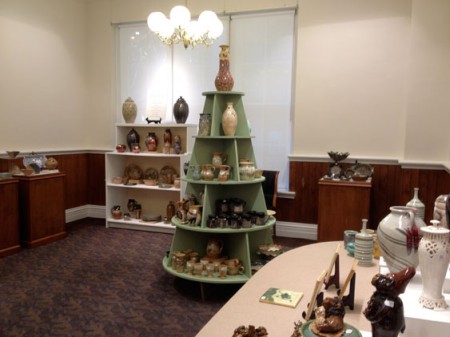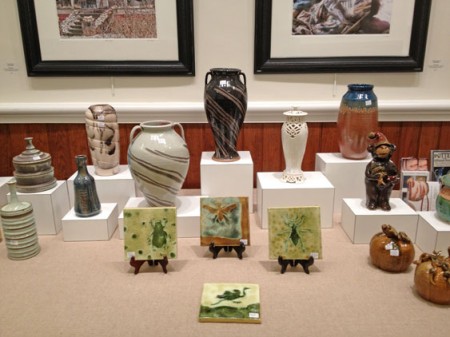 Oh look – tiles by Samantha Henneke of Bulldog Pottery
Both of these exhibits will be on view through Dec. 19, 2013.
I knew the work of many of the artists being featured in these two exhibits but I fell in love right off the bat with the paintings of Katherine Armacost. Oh, did I mention that they were abstract paintings?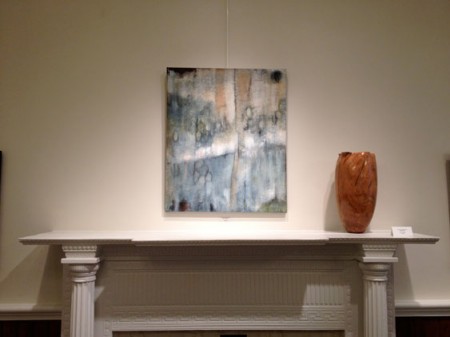 Painting by Katherine Armacost, wooden vase by Charles Farrar
If you're a regular follower of my writings you know I love abstract works, but not just any abstracts – abstracts done well – which isn't that easy. Armacost has joined my A-list of favorites.
In this case, I hate to single an artist out as all the works in this exhibit were excellent, but Armacost's works were just my favorite of the day. I can't help myself. But, if someone is looking to give me a knock-out Christmas gift – I'd take anything from this exhibit – anything.  But, like I said before – offering only the best seems to be a trend for the Cabarrus Arts Council.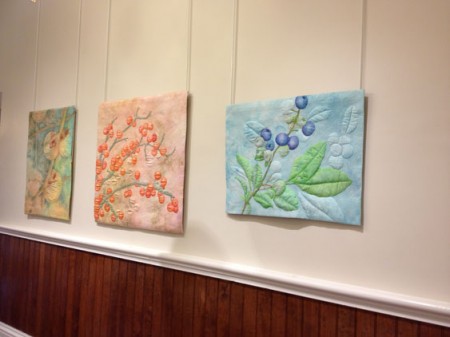 Works by Nancy G, Cook in one of the hallways – she has had work on our cover
The pottery exhibition was full of wonderful gift possibilities – all with reasonable prices for a one of a kind work of art. Believe me – no one receiving one of these works will ever remember that sweater or tie you got them in the past.
After passing through both exhibits I took a few photos to show some of what the facilities looked like in the reburbished courthouse. And it looked good. A flyer for the facility claims – "Rich wood floors and historic architectural details combine with state-of-the-art lighting to create a wonderful place to view outstanding artwork inside the historic courthouse". And, I agree with every word of that statement.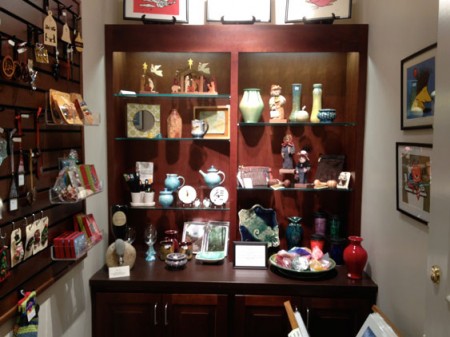 This is the gift shop in the old tax collector's room.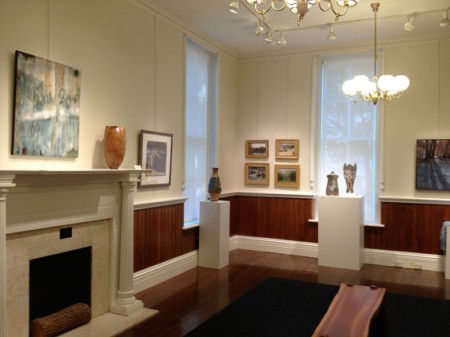 Here's a view of one of the rooms making up The Galleries
Linda and I also met Pat Verner, the Communications Director for the Cabarrus Arts Council. We've been receiving press releases from her for years and I asked why she didn't include more details about these exhibits and we discovered that she was sending us the short versions of her releases. From now on we'll be getting the long versions. I might have given some folks the impression that space was limited – as it was when Carolina Arts was in print, but space is no problem now that we are online. All we ask when it comes to long version press releases, is that more photos of artworks come with them to help break up all those words.
They had an event that same evening in The Davis Theatre, also located in the courthouse, so we let them close up the galleries and get on to their next duties. It was a fast 30 minutes, but time well spent. After 25 years of doing this paper, I can see and learn a lot in 30 minutes. Future trips to Fairhaven will probably include visits to The Galleries of the Cabarrus Arts Council to see more of their great shows.
Next stop was the hotel room in Huntersville, cutting across NC 73 which runs between I-85 and I-77. But as we headed to Huntersville we saw a long slow stream of cars and trucks who were probably trying to avoid travel on I-85. So, my wish to make a loop from I-77 to Concord probably wouldn't have even gotten us to The Galleries in time for even a 30 minute visit. Sometimes accepting what life hands you is the best plan.
Saturday morning we were headed to Fairhaven to be there in time for the opening ceremonies of The Annual Carolina Renaissance Festival & Artisan Marketplace. The village doesn't open without a preview of what the day will offer and permission from the King and Queen.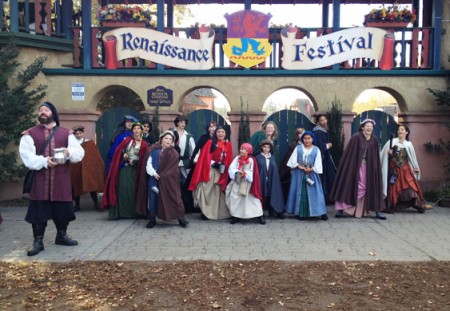 Part of the opening ceremony
All photos offered here were taken by Zelda Ravenel. She had some device which would record what we did and saw there. How that all works I don't know.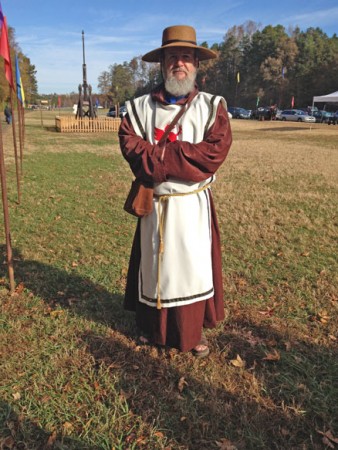 This year's costume
Once inside we started the traditional trek from one end of the village to the other and Fairhaven is no small village. We older folks think more reason should be taken, but we always lose out to the younger folks. Fairhaven needs more chairs and resting spots in between its numerous stages for entertainment. Before the day was through we would travel the length of the village several times.
This year was the Festival's 20th Anniversary, and we were happy to see that some things had changed and that some long time favorites were still there.
One big change to me was that the Jousting Tournament was now a contest between three riders and their squires were all young women. The announcer was also a woman on horseback. This must have reflected the latter years of the Renaissance. Who knows if in the near future a mysterious jouster might turn out to be a woman.
Many of the artisans were the same. One from the village of Hickory in the land of North Carolina was Brock Martin of Warfire Forge, who specialized in armor and weapons.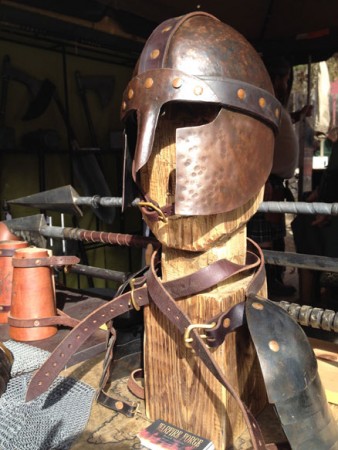 A fine piece for the head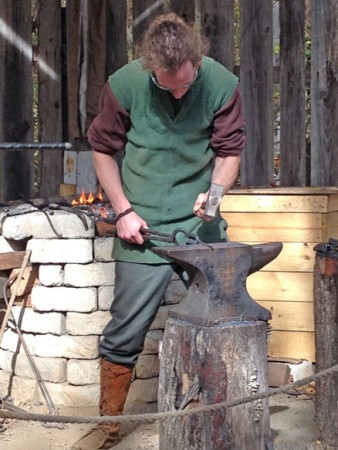 It's hard work but someone has to do it
This being Pirate's Christmas weekend the village was infested with pirates and other swarthy characters – some from lands beyond my knowledge. I think that's why there was a lot of business being conducted around the armor and weapon shops. With a village motto of "Eat, Drynk & Be Merrie!", who knows what might happen at any minute. I guess that's why the King and Queen travel with a sizable number of palace guards on hand.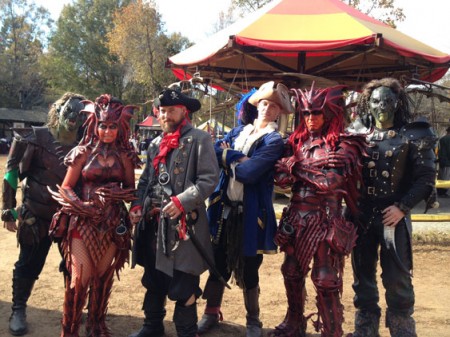 I'd stay clear of these folks – if you know what I mean – Aaarrgh!
But there are many more artisans offering normal wares including all sorts of cloths and accessories like shoes, hats, leather bags & pouches, and jewelry. The village is full of tanners, blacksmiths, glass blowers, weavers, and whatever else it takes for people to get through their Renaissance days.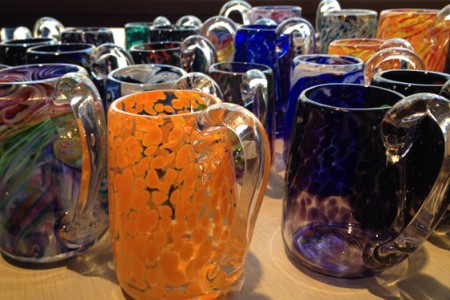 Everyone needs a mug. These are by Jerry Leaders
Food and drink are a major part of the Festival. I was happy to see a new addition to the usual food offerings which came from the far Orient – ye olde chicken of teriyaki. There are plenty of choices, but here's a hint – come to eat early or you'll be standing in line waiting to be served. But everyone must try a taste of the King's nuts – they're a royal treat. And the drink flows all day, just don't trip over the village drunk – by noon he's sprawled on the ground somewhere.
Entertainment comes in all forms, from PG to Bawdy PG where the jokes go over the little serfs' heads. They hear the adults laugh and laugh along, but most don't know why. The village has six stages, but the show is going on all over the village. If you can't find them – they'll find you and if you're not careful – you'll become part of the act. There are also lots of period rides for the young serfs including: De Vinci's Flying Machine, climbing castle walls, and camel rides, just to name a few.
The thing is – the Festival and the village are a feast for your eyes, ears, and taste buds. Every inch of it is active.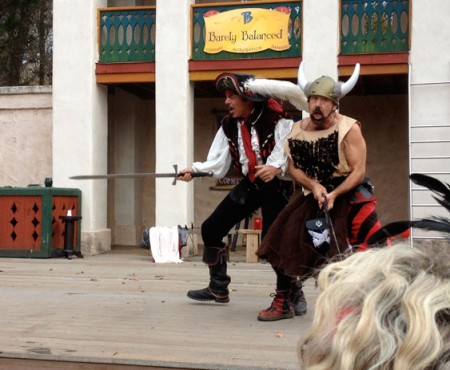 Don Juan & Miguel (with horns) telling a tale about the Queen of Spain – nice hats
One of our favorites of the Festival has been seeing Don Juan & Miguel perform. They've been a fixture of the Festival for twenty years. Their shows are not to be missed. If you want to see something dangerous and stupid – these are your guys. They're dealing with swords and whips – so don't get too close to the stage.
There is so much more to this Festival than what I've talked about or the images reveal, you just have to go and see for yourself. And as a bonus – you might just run into one of these characters in full costume at a Harris Teeter in Huntersville or Concord, well after the Festival closes the gates of Fairhaven.
The Festival will still be taking place on Nov., 16 & 17 and Nov. 23 & 24, 2013.
The point of most of our blog entries is not to document a venue or an event, but to give you a taste and to encourage you to go see for yourself. Don't live though my journey – make one of your own.