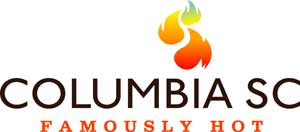 Last Saturday (June 23, 2012), before I was knee deep in our July 2012 issue of Carolina Arts I headed to Columbia, SC, to catch up on a few things going on there. I wanted to attend one of the Nigh Noon series that City Art was offering – Mary Gilkerson was giving a demo on how to start a painting. I wanted to see the exhibit, Abstract Art in South Carolina: 1949-2012, which offers the first inclusive look at the evolution and influences of abstract painting and sculpture in South Carolina, on view at the SC State Museum through Aug. 26, 2012. And, for me, no trip to Columbia is complete without a stop at One Eared Cow Glass to see what the cowboys, Tom Lockart and Mark Woodham, are up to.
Hitting the road these days is less painful. I filled up the car in Moncks Corner, SC, with $2.91 a gallon gas – thanks to my BiLo Fuel Perks card. Any day under $3 is a good day. I saw on the Weather Channel the other day that Greenville, SC, has the cheapest gas in the nation at $2.69. Our car, a Honda Civic Hybrid, is getting between 42 – 44mpg these days, but we still like lower gas prices.
As usual, I arrived at City Art in Columbia's Congaree Vista area within two hours of leaving home. A short trip compared to my paper delivery driving days where I would spend 16 -18 hours a day in the car. Thank you Al Gore for inventing the Internet – ha, ha.
I checked out the exhibit of works by Michael Fowler which were still on display, before the big SC Watermedia Society exhibit comes to City Art (beginning July 7). I like abstract works and Fowler offers some good ones. Unfortunately, this day also confirmed that my pocket camera just wasn't cutting it. I have been disappointed in how it acts in low-light situations. And, on this day I was running a test with my new iPhone's camera – which after inspection showed it did much better, but it's going to take some practice getting used to using it – especially keeping my fingers out of the way. In good daylight – the pocket camera is OK.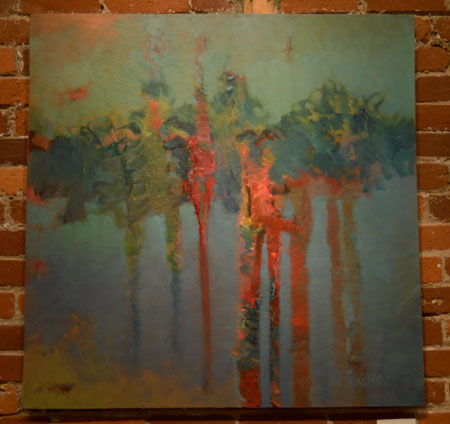 Here's a photo I took with my camera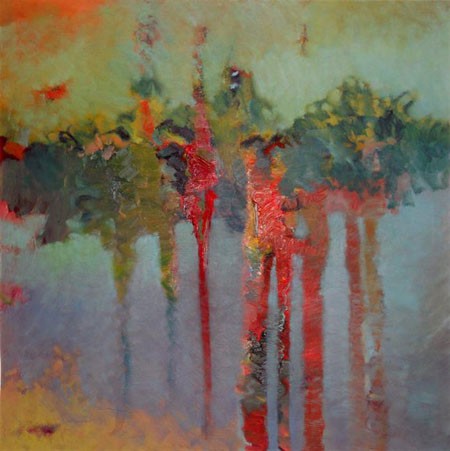 Here's the same painting off the City Art website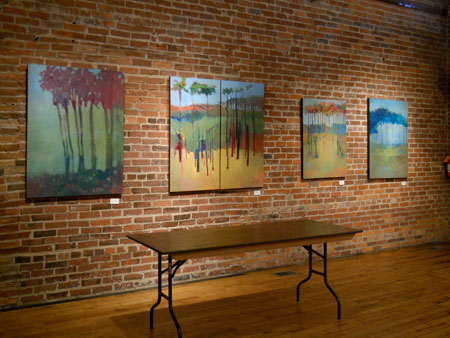 A view of a few more paintings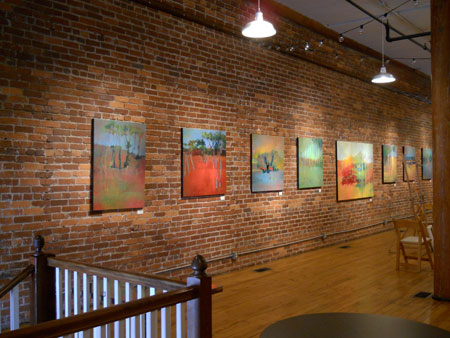 a few more
While at City Art I also checked out some of their other art offerings, but I never got upstairs. I also went downstairs and looked over the art supplies. Not being an artist, I've never had much need for art supplies. There was a time when Linda and I did some silkscreening of T-shirts and a few Spoleto Posters with some friends. But this was in relationship to the photography we once did. And, back in the day when we had to physically layout the pages of the paper we used some spray adhesive. When I got to tubes of oil paints I instantly started trying to add up how much the paint might cost an artist like Brian Rutenberg who puts gallons of paint on his paintings – sometimes sticking an inch or two off the canvas. That's got to cost a pretty penny. I'd learn some tricks about stretching out paint at Mary Gilkerson's demo.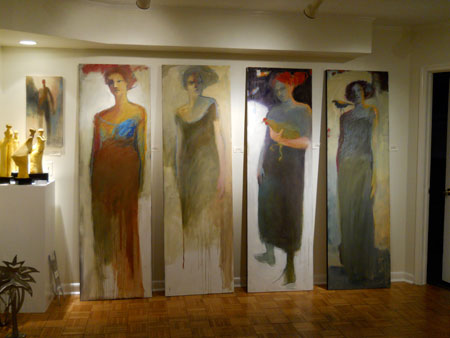 A view of some of Harriet Goode's tall women – from a previous exhibit at City Art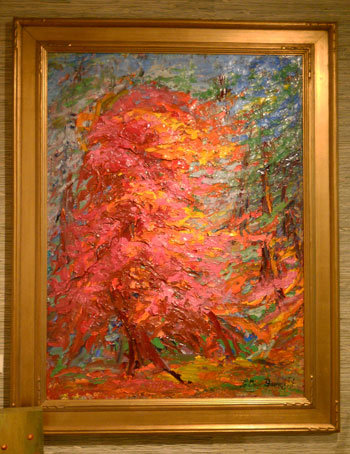 A colorful painting by Jo Dean Bauknight with a lot of texture
So, close to noon I headed back upstairs and people were beginning to flow in for the demo. At first ten, then twenty, and thirty to eventually forty people and about a handful of staff from City Art. Gilkerson, being an art professor at Columbia College in Columbia came well prepared for this demo – no winging it here, and as I'm sure she's used to after all her years of teaching – the hour moved on a steady path and I was amazed at how much material she covered with her ten point system in such a short period of time. And it wasn't all lecture – there was plenty of show and tell, opportunity for questions, and at the end – opportunity to try out some of the materials – on the spot. The show and tell is good for people like me who need people to draw a picture for them to understand a concept sometimes. Words alone don't always bring up the clearest picture for me.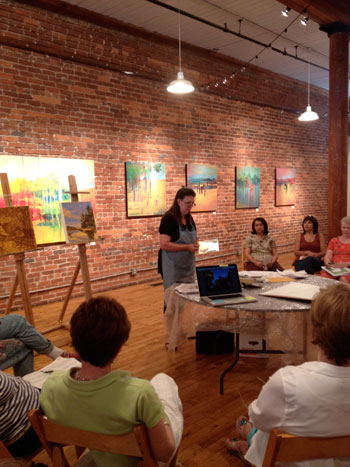 High Noon with Mary Gilkerson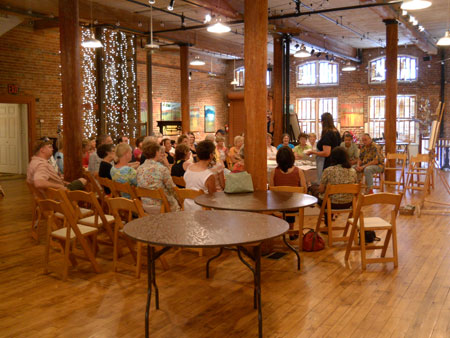 A view of the whole group
The bonus of this kind of learning event taking place at City Art is the staff being able to add info about materials, brands, and availability of items mentioned. (Which is no surprise – I'm sure they are offering these events in hope that what people learn will lead to sales of products and early reports were that this was the case.) Just like Carolina Arts, City Art is doing what they are doing because they like the arts, but they are in business too. Gilkerson was handing out info about upcoming workshops. She's also hoping for some return on her efforts.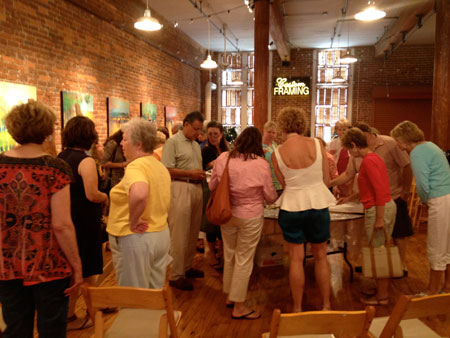 Folks trying out materials from the demo and collecting sample goodies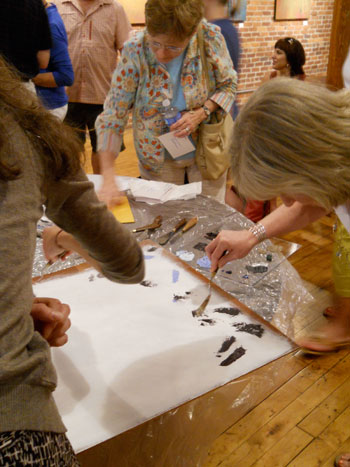 Pushing paint with painting knives – easier to clean
Gilkerson, being an active painter has her habits, but she was flexible to offer alternative ways of doing things. But, at the same time she made her pitch to work safe (some toxic materials are involved in painting) and working green. She explained that she knew artists who have gotten sick and a few who died due to their careless handling of some of these materials.
I have no intention of becoming a painter, but I learned a few things while listening. The number one point was – cheap materials usually result in cheap results, but in some cases – cheap is useful. Gilkerson finds suitable brushes at dollar stores for prepping canvases, but when laying paint on the canvas – the best is best. She also advised that sometimes you have to do bad work to learn from it – just don't show off your learning experiences. That's a trick of a real pro.
I remember back in my photography days learning that a National Geographic photographer might shoot 1,000 images for every one that is used in the magazine. This makes it look like they only take fantastic images – they just don't show you all the misses. It's a good practice for any artist. I see too much work not ready for public viewing.
From what I saw, I liked this High Noon series and it seemed others there did too. I understand that City Art already has programs scheduled for every Saturday at High Noon through the fall. I don't think they expected the reaction to their offerings to be so good right off the bat. But, the art community always needs to remember that education and involvement is the key to success and development. It can't always be about begging for funding.
And, here's where I ask the usual question. Why couldn't programs like this get funding from public resources? Not that anyone's asking – I'm just saying… What makes programs that are hosted by non-profits more worthy – when many times they are not and many times they are not free? The business part of the arts community understands our role in the arts and many of the non-profits look to us for help, but it makes no sense to me why it's an absolute that for-profits can never share in public funding. Isn't the point of public funding to help people do good things they would not be able to afford otherwise – for the benefit of the public. And what business couldn't do better things without a little help? It's funny that the government doesn't seem to have any problem helping out big farm operations, oil companies, and other big corporations with public funding – why not in the arts?
I feel a headache coming on – so on to the SC State Museum where there is something better to talk about. Regular readers know I like my abstract art and the show at the State Museum was like Christmas in July, although it was still June. To me there is nothing better than wall to wall abstracts and this exhibit offered many treats from artists who are already some of my favorites and some by folks I had not seen much of before this visit.
Thanks to Paul Matheny, the curator of art at the State Museum, I can offer you great shots of the gallery space. I handled the individual works – as best I could between camera and iPhone, but the lighting is always better for viewing than for taking photos at the Museum.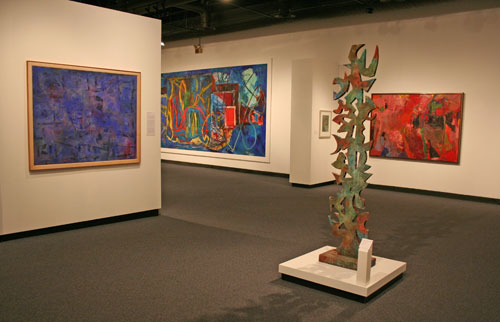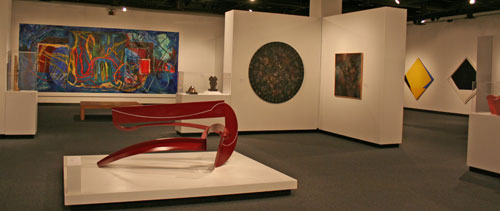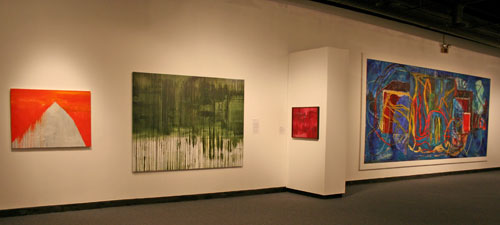 For anyone who loves abstract works as I do this show is a must see. I mean it – you have until Aug. 26 to see this show and then you'll probably never see such an assemblage again – in my lifetime. And, for those who say – I don't get it – when they view abstracts – this is also an opportunity to give abstracts a chance to see if you'll ever like abstracts. Because after viewing this show – if you still don't see the beauty in these works – you probably never will and you can cross them off your bucket list. I didn't get them at first – many a year ago. One day looking at works by Eva Carter and William Halsey – the lightblub in my head went off.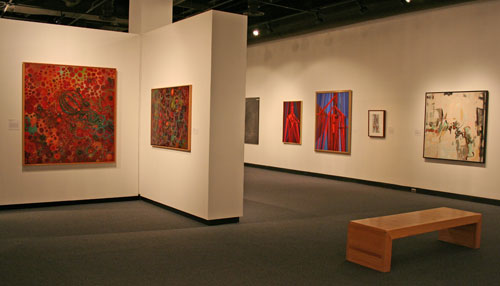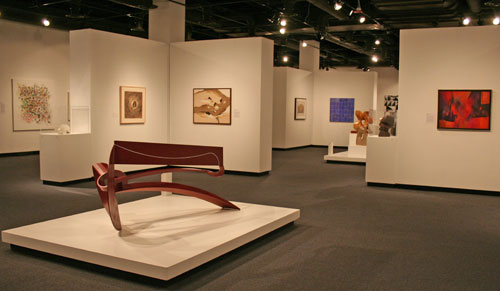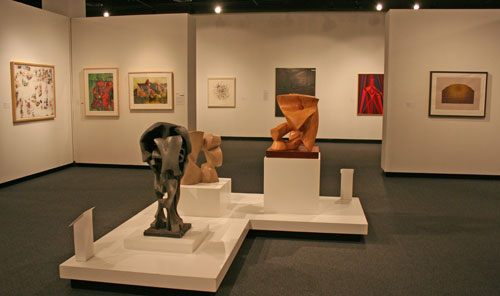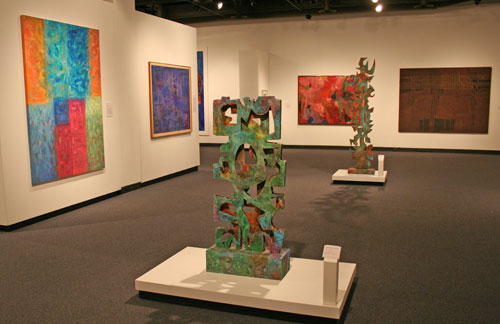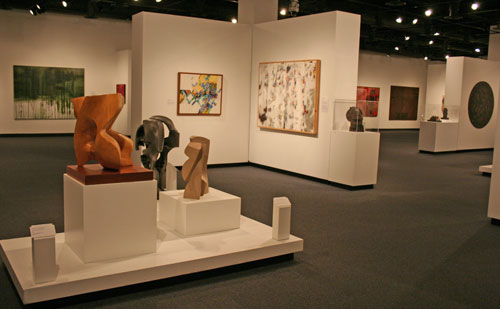 The exhibit seems to be organized by area of influence or around universities. You have the Charleston/College of Charleston group; Columbia/University of South Carolina group; Rock Hill/Winthrop University group; Upstate/Clemson University group and so on.
You have works by artists who were born as far back as 1897 with Faith Murry being the oldest and Hollis Brown Thornton the youngest born in 1976. In this exhibit – being in your 50′s and 60′s might still make you a young upstart.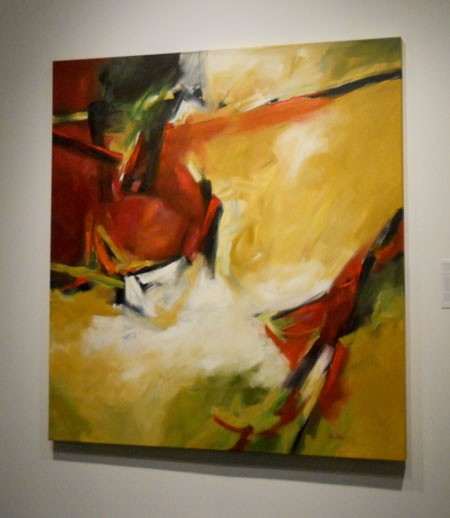 A slightly fuzzy photo of a work by Eva Carter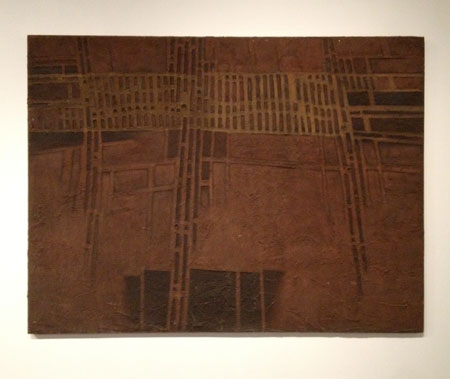 A work by William "Bill" Buggel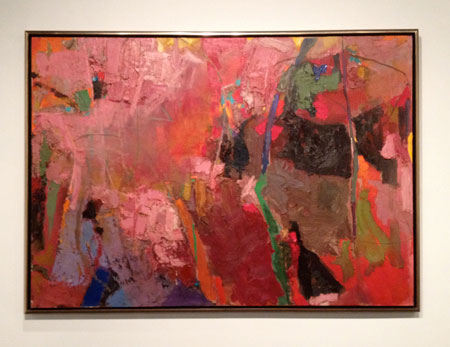 A work by Brian Rutenberg
It's hard enough being an abstract artist today, but I can only imagine how hard it was for some of these folks who were working in the 50′s and 60′s in South Carolina. No problem if you were in New York City, but in SC – folks like to be able to tell what they are looking at – an old house, marsh scene, mountain stream or people. Many of these artists had to make their living by teaching art and trying to convert a few students – over to the dark side when they could. And, the exhibit probably has a number of teacher/student groupings – if not even a third generation of influence. Others had to show and sell their works – out of state.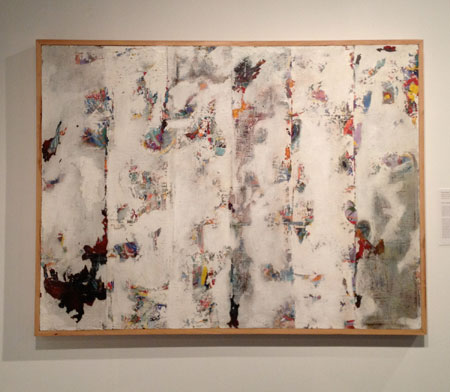 A work by Gene Speer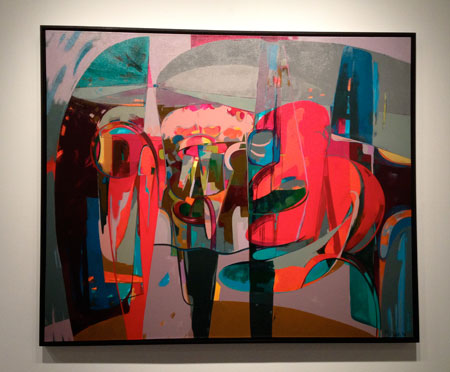 A work by Marge Moody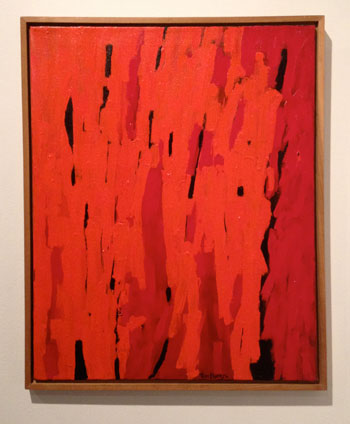 A work by Tom Flowers
Sculpture was represented with some excellent works, but the majority of the works are paintings – large paintings. Not many would fit in my car for a ride home – not that I'm saying I'd try something like that, but I wouldn't mind seeing a lot of these works on my walls – if I had walls big enough to hold any of these works.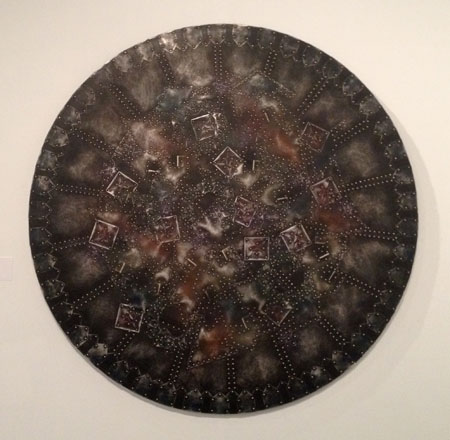 A work by John Acorn who will have an exhibit at 701 Center for Contemporary Art in July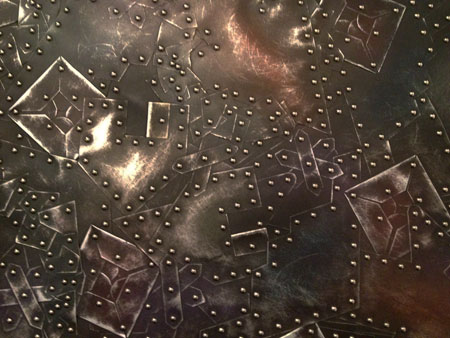 A close in detail of that same work by John Acorn
After seeing all this great work, I still felt like I wanted more. This was a pretty big exhibition in one of our state's largest galleries, but I would have liked to see more works by some of these artists and more works by others not included. In fact I told several folks at the State Museum that I can hardly wait for the follow-up exhibit, Abstract Works in South Carolina: Today, which I don't think is being planned any time soon – too bad.
The Museum produced a very nice catalogue for this exhibition and SCETV produced an informative video which plays just outside the entrance to the exhibit. Don't leave without viewing it. I suggest the State Museum place a few chairs out there for us older folks.
Thank you Paul Matheny for organizing this exhibition.
Like I said before – no trip to Columbia is complete without a visit to One Eared Cow Glass and I used my iPhone to show some new works from the cowboys – Tom Lockart and Mark Woodham. They're working on a special display for this year's SC State Fair – which is going to be BIG. We'll have details about that later.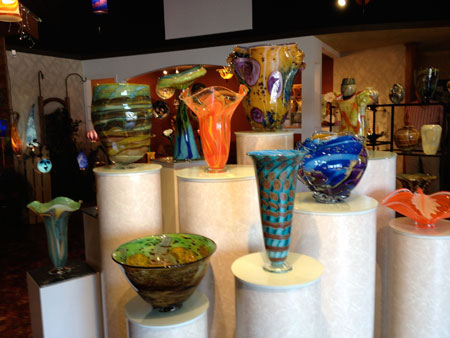 A group of works at One Eared Cow Glass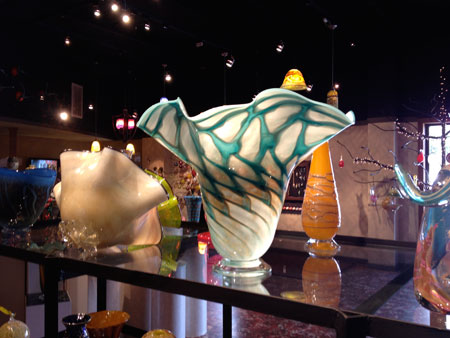 All these images are from the iPhone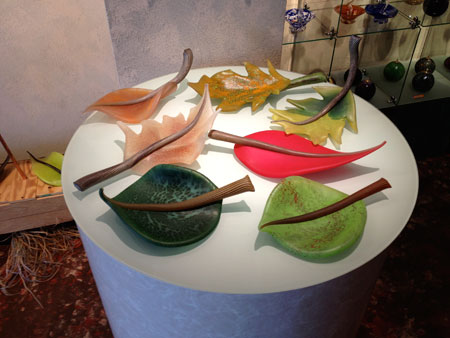 My favorite photo from the day's trip – love that iPhone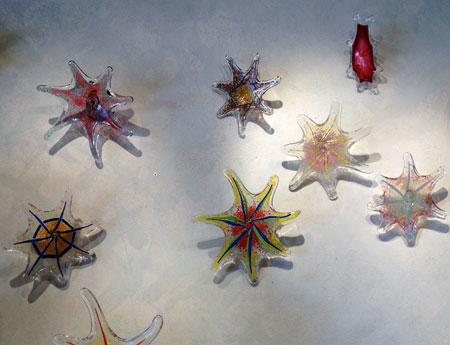 Not sure what these are – might be for the State Fair exhibit
I didn't stay there long – probably because they were not working their magic – turning melted sand into art, but while there, Lockart said I was brave to come to Columbia on one of the first hot days of summer. I mean for the city that calls itself Famously Hot! I didn't think it was that hot. I don't think I spent more than ten minutes going from my car to a well cooled space, but when I left it was 98 degrees and by the time I got back to Bonneau – two hours later, but still the hot part of the day – it was only 91 degrees – so I guess they are hot there, but not too hot to view art or learn something about the arts.
So you folks in the Upstate with $2.69 gas – you have no excuse not to travel to Columbia and you won't melt and by the time you get back to the Upstate – it will feel so much nicer. For the folks on the coast – stop in Columbia on your way to the mountains – you're driving right by anyway. Beside there's cheap gas in the Upstate – go get yourself some.