Sorry for the delay – our June 2013 issue got in the way.
May 18, 2013, was one of those Saturdays where I could accomplish a number of things in one sweep of the Pee Dee area of SC. First up was a visit to downtown Lake City, SC, a month after the big ArtFields event to see what was going on as well as a visit to Moore Farms Botanical Garden, just outside of Lake City, which was having May Days – a tour of the Garden, a plant sale and a BBQ lunch.
Next was a trip to Venters Landing, just outside of Johnsonville, SC, about 20 miles east of Lake City where the town was celebrating its 100th anniversary with a dedication of a statue by Alex Palkovich (Florence, SC) of General Francis Marion – the Swamp Fox.
My final stop was the new location of the Art Trail Gallery in Florence, SC, to see how that area – a new developing arts district in SC, was coming along. I hadn't been there in some time.
Lake City A Month Later
If the goal of millionaire philanthropist Darla Moore is to remake Lake City into a destination for art lovers or whatever – she still has a lot of work ahead of her to get the town on board. I drove down Main Street twice, once at 9:30am and again at 4pm. And, as Dickens might say – this city was as dead as Jacob Marley. Both times, there were many more empty parking spaces than those with cars in them. Hardly anyone was walking the streets that just a month ago were filled with visitors. It looked like some event was going to happen at The Bean Market and on The Green, but later by 4pm – no one was in sight.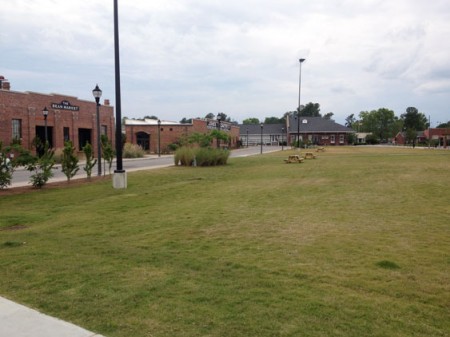 Lake City is still working on banker's hours – Mon.-Fri. which isn't going to work if they want people to come there when most have time to go visiting – on the weekend. This is a chicken comes first before the egg moment. Lake City merchants will have to open their doors on the weekend giving tourists a reason to come. Only the retired have time to travel mid-week.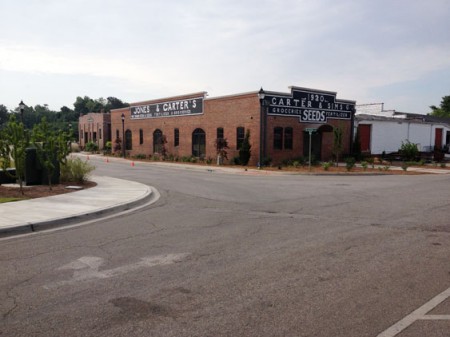 I expected that this would be the case. The transformation of Lake City won't happen overnight, but I hate to see them not take advantage of the buzz the ArtFields event generated. Of course that buzz had a bit of buzz-kill attached to it with the unfortunate news that they had to suspend the original People's Choice winner and taking an agonizing week to name the new winner. But my trip wasn't wasted. I learned from a flyer on the door of the Jones-Carter building that on June 21, 2013, the new Jones-Carter Gallery will present agriART, featuring an exhibit of works by Joshua Vaughan, Mark Conrardy, (both participated in ArtFields) and an installation by Vassiliki Falkehag, which will be on view through Aug. 26, 2013. I hope there will be Saturday hours and maybe even some on Sunday in the future, but for now it's a Mon.-Fri. facility.
It's been some time since I've seen or heard of anything from Vassiliki Falkehag who did an installation with tobacco seeds and plants – many years ago.
Moore Farms Botanical Garden
I'm an adventurous traveler, and I've done a lot of it in the past 30 years. Sometimes I'm very prepared and sometimes I just wing it. I wish I had prepared to find Moore Farms Botanical Garden. This was not one of my better efforts at finding someplace that I had never been to before. And, I'll admit that most of my problems were my own fault. Firstly I did not check the location on Google Maps before I left home and secondly not knowing how to use my iPhone better, and being a man – not wanting to ask for directions.
In my defense I wasn't getting much help from Lake City, which I would described as sign-challenged. One of the complaints I heard from many people attending ArtFields was how hard it was to find locations. And although Moore Farms Botanical Garden is a few miles outside of Lake City, I would expect that there would be signs helping visitors locate it, but I learned about that later. Not much was open in Lake City, but I eventually went to the Lake City Post Office and got the directions I needed.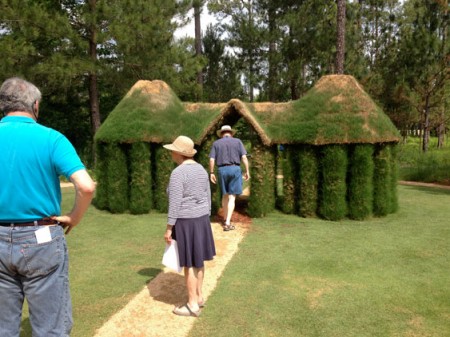 Grass and steel sculpture by Herb Parker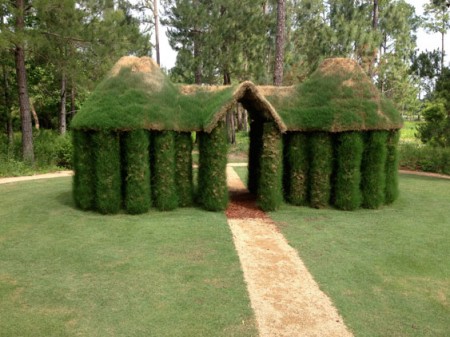 Moore Farms Botanical Garden was the location of one of the invited installations presented during ArtFields so I assumed that it would be one of the attractions drawing folks to Lake City, but I'm not sure. When I got there one of the first things I asked was what their normal hours were and the person responded they are only open four times a year for special occasions like ArtFields and May Days, which was today. That's too bad, as it would definitely be a draw to Lake City, but I later heard one of the staff tell someone that if they got together ten folks for a tour – they would open for them. This was a little hard to understand. If they will open for a group of ten, why not stay open, promote the place and perhaps see hundreds of folks during a weekend?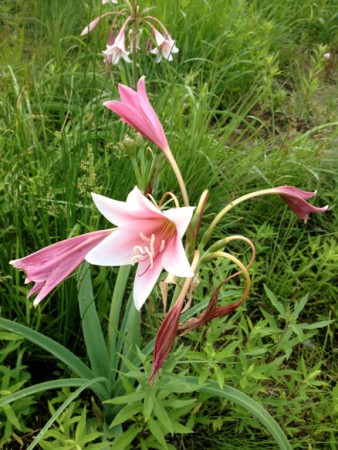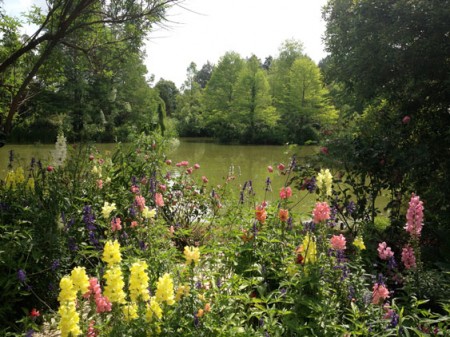 Tourism is a bitch – be careful what you wish for, but if you want it you have to cater to it.
Moore Farms Botanical Garden is a great place, but the main problem might be that it is also one of Darla Moore's homes. Not many people want to live inside an attraction. But you can learn more about what they offer to the public and how to book a tour for 10 on their website (http://www.moorefarmsbg.org/). I'll let some photos do the rest of my talking.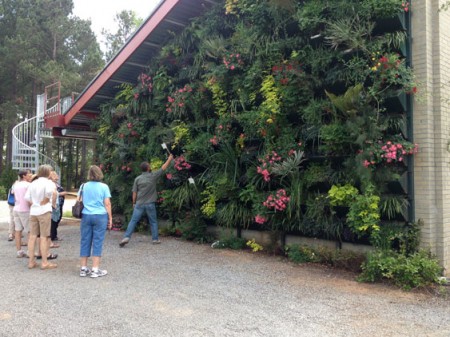 A side view of The Greenhouse – not where they grow plants, but a green building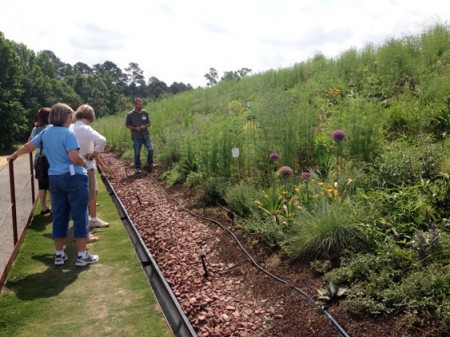 This is on the roof of The Green House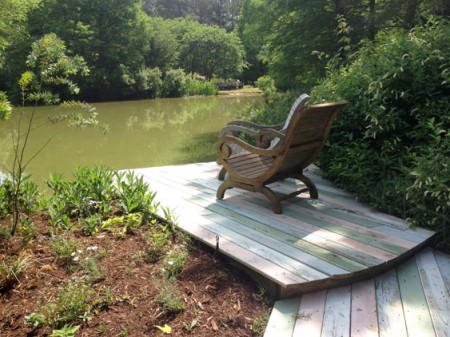 Honoring the Swamp Fox in Johnsonville, SC
I did do my homework on Johnsonville, as I had never been there before and didn't want to end up in Myrtle Beach, SC, before I realized I missed it or end up in the middle of some swamp – like the British.
I first learned about this statue of Francis Marion back in Jan. 2011, during one of my visits to the Art Trail Gallery in Florence, SC, in a conversation with Alex Palkovich, the sculptor who shared space with the gallery and still does today in their new location. He told me a story about a small town in SC doing a big thing by honoring General Francis Marion with a statue at the site where he received his commission to lead the Williamsburgh Militia during the Revolutionary War at what was then called Witherspoon's Ferry on the Lynches River.
You can read my first post about this project at this link.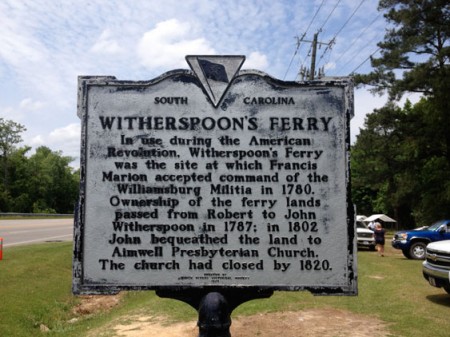 But today (May 18, 2013) was the long awaited dedication day. It was the main reason I was on this tour. You see, I really like Francis Marion, he's a true American hero of the Revolutionary War – a war South Carolina should pay more attention to than one that didn't turn out so well.
That's Yankee talk to most here in the South, but as I've stated before, my ancestors didn't have a stake in that war – they were too busy running from their English or Prussian overlords.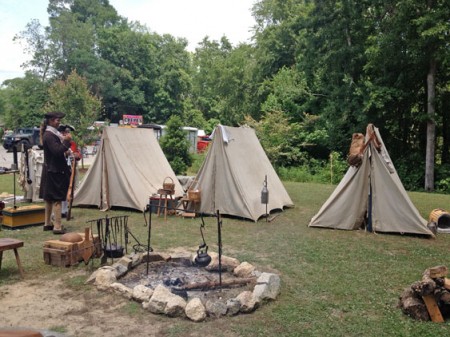 Revolutionary War encampment
Besides, I had received an official invite to attend this event by Johnsonville Mayor Steve Dukes, who had come across my blog post about Palkovich and the Francis Marion statue. He was looking for someone outside of the Pee Dee to come to the event without much luck. You see, the media and most folks in the bigger cities in SC don't care about much that isn't going on it their cities. I was already planning on going so I was an easy invite.
May 18, 2013 was also the 100th anniversary of Johnsonville, so like many other small towns it was going to be a big event – to scale. Plus many of the folks who still live in the area are kin to the men who followed Marion through the swamps of the region giving the British nightmares.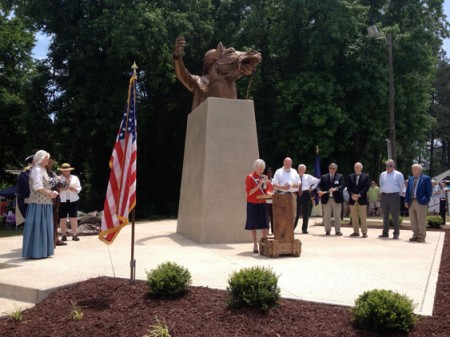 A project like this had a lot of help from a lot of groups and organizations so there were a lot of folks to thank and politicians on hand to give speeches on a hot day. Unfortunately or fortunately, part of the festivities included free helicopter rides which kept flying over the area about every 5 minutes and a train went by – just 100 yards away – so we didn't have to hear much of what was being said by the politicians. Most people there, like me, wanted to see the Swamp Fox.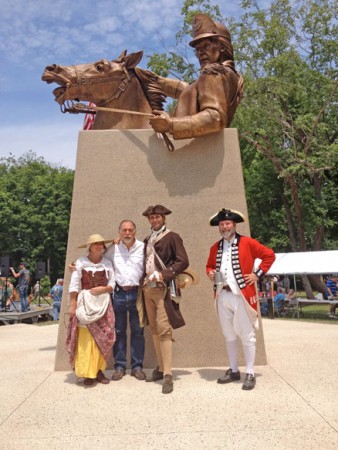 Alex Palkovich with some of the re-enactors
The New Art Trail Gallery
From Johnsonville I headed to Florence, SC, on Hwy. 51 through another area I've never been to – going through Pamplico, SC. I've seen that name on highway signs many a time, but never had a reason to go there. It looked like a nice small southern town.
Florence is a town I've been to a lot. It's just two hours away and I've passed through it or near it many a time going into North Carolina to deliver papers. Over the last two or three years I've been traveling to the Art Trail Gallery to see shows by regional artists. During the last year they moved to a new location which I had not been to, but that would end on this day. Unfortunately, they were getting ready to display a new exhibit,Photolicious, which is on view now through June 15, 2013. Many of the works were stacked up on the floor, so I did get to see most of what would be that exhibit. There are a lot of talented photographers in the Pee Dee.
This new space on West Evans Street is smaller than their first location on Dargan Street, but it's still in an area which will be the growing arts district in Florence. Francis Marion University has a performing arts center in the area, a new Florence Museum is being built, and many buildings in the area are being redone, but walking on West Evans I smelled East Bay Street in Charleston, SC. It had that same old musty smell that East Bay had 35-40 years ago. Now it's one of the hottest spots in Charleston. But, it's going to take awhile before that smell disappears on West Evans. Some might say it's the smell of revitalization.
But you could see work going on all over the area. A new  small park was there and people were working on another small landscaped area – dressing up the area. I took a few pictures.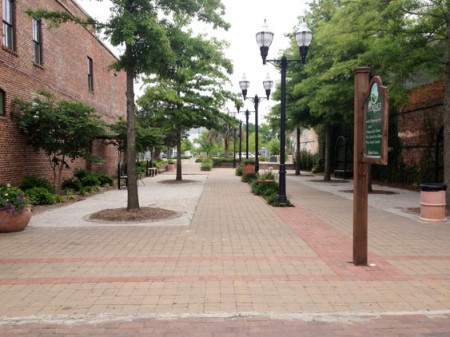 Some people ask me, "What's with all this attention you've been giving the Pee Dee?" I'm sure the folks in the Pee Dee see it another way – more like what took someone so long to notice us, but in SC, traditionally there are only three cities – Charleston, Columbia, and Greenville/Spartanburg (which are two distinctly different cities). Not much else matters to most others who live in SC. But there's a lot more to SC than meets most people's eyes and ears.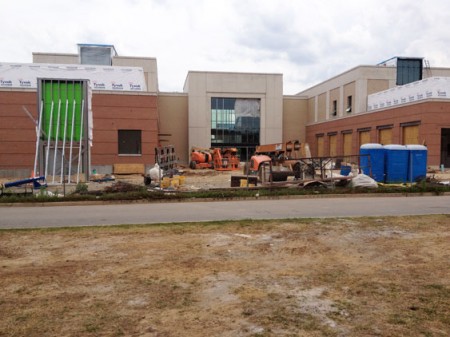 Soon to be the new Florence Museum
To me, the Pee Dee is the next growth area for the arts in South Carolina. It's got a long way to go, but a lot of good folks are working hard to make it a place – you should go see. They're hungry for respect and the recognition they haven't been given for generations. And, it's kind of in my backyard. Over the last 26 years I've seen lots of the other three areas of the State – my eye is looking for new areas to discover and promote.
So, keep an eye on Carolina Arts and we'll let you know how things are going in the Pee Dee, and with luck it won't be as hard as the British looking for the old Swamp Fox.