Last Friday, Nov. 13, 2015, I decided to go see an exhibit at Corrigan Gallery in Charleston, SC, featuring works by Bill Buggel, on view through Nov. 30, 2015. This was his first solo exhibit in 16 years and before that not many more during his 50 year career in the visual arts in South Carolina. That's how rare this exhibition is. It had to be something good to get me to drive into Charleston on Friday the 13th.
In full disclosure, Buggel was one of the first artists whom I met in Charleston. And, he gave me a job working in a photography business he started with two other partners on John Street in Charleston in the late 1970's. That job eventually led to Linda (my better half) and I having our own photo processing business for 16 years. Buggel also had a T-shirt business next to the photo shop. And above the photography shop he shared a studio space with Manning Williams and Linda Fantuzzo.
That photo business dealt with a lot of people in the arts in Charleston, due to Buggel's connections. At some point I came across a copy of a book published during SC's 1970 Tricentennial celebration – a survey of contemporary artists in SC at the time. Inside, it featured William Lee Buggel as one of the most up and coming artists in SC. Was this the same guy I was working for and now made T-shirts? It was.
One day in the T-shirt shop I asked Buggel what happened? He told me he made more money making T-shirts in a year than he had ever made creating art – it was a matter of money and making a living. I thought – what a shame. But there was a time when I thought I wanted to be a fine art photographer, but I learned there was more money to be made processing film and making prints for other photographers and that business eventually would get us into the art world, not by making art, but by reporting on it. And, that's the sad case for many artists – many just can't make a living at it – no matter how talented they are.
So here we both are, many years later, I'm the editor and publisher of an arts publication and Buggel is having an art exhibit of his latest works. Both are about as strange a thing that I can think of.
I remember the show Buggel had at the old Charleston City Gallery in the Dock Street Theatre. It was actually the first time I had seen any of his art, other than his photography. It was apparently the same type of work he did back in the day when he was still trying to make it as a full time artist. I liked it – it was abstract. And I like the work he is still doing today. It's very tactile, without having to touch, and I didn't touch. It's colorful and full of patterns. And, he doesn't offer a lot of art speak explaining what it means.
What's really amazing about it is that I haven't seen anything like it in all of my years covering the visual arts. There are a few other artists using sand to give texture to their work, but I haven't run into anything else like what Buggel is doing and that's saying something in a world of look alike art.
It's really hard to understand why he didn't get very far in SC with this art, except that the Bill Buggel I know is not one who plays by the rules and makes nice with people you might have to in order to the climb the art ladder in SC. I always heard that in SC, it's not how good the art you create is, it's who you know in SC that can get you to the top. I don't believe that crappy art can stay on top too long, but I know it does help to have friends in high places in SC. Buggel is too much of a straight talker to stay out of trouble with those kind of folks.
It was hard getting good images of individual works and still be able to show off the vivid colors, so I decided to shoot only a couple of full images, then some very up close detail shots. I also took a few wide view shots of the gallery, but like all exhibits, you have to see the works up close, in person to really enjoy the works.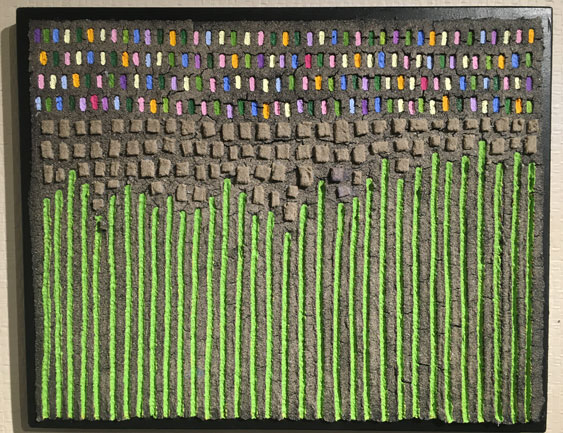 Passing a Small Country Grave Yard, by Bill Buggel, 17″ x 14″. Just a small country graveyard with a plowed field and wild flowers. Sometimes experiences come together in small ways.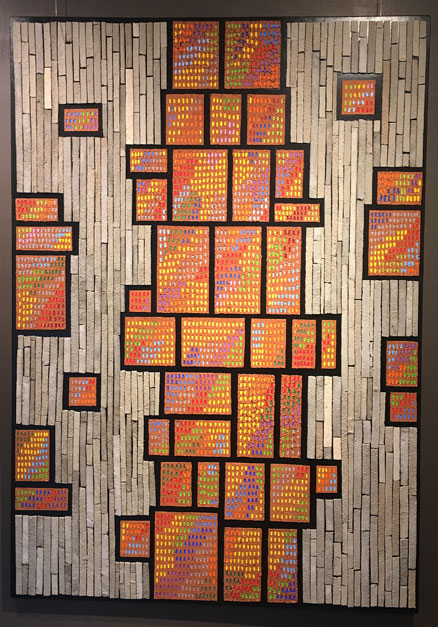 Gray and Brick Red-Large, by Bill Buggel, 42″ x 60″. This painting is larger because of the scope of the construction at the building site.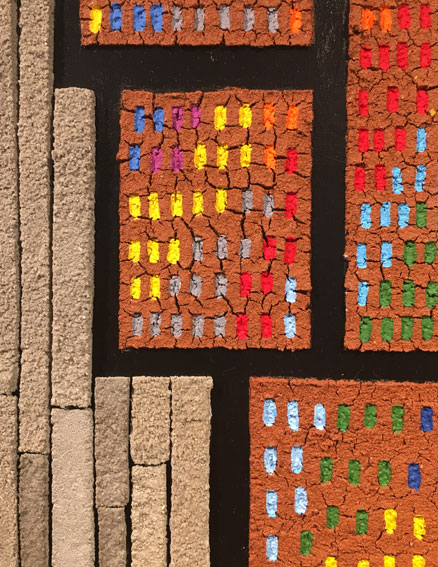 Gray and Brick Red-Large (detail), by Bill Buggel.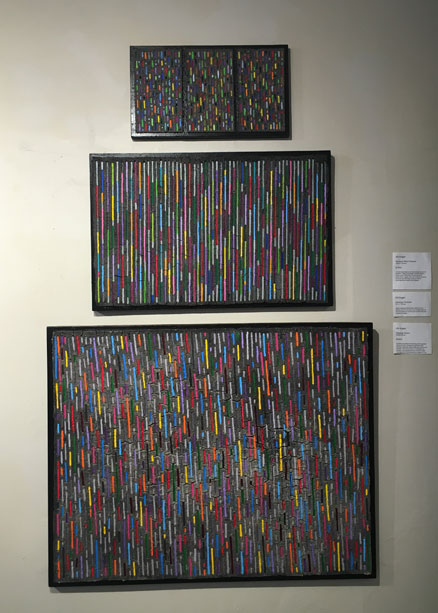 A set of images I tagged as the Three Bears – Baby Bear on top, Mama Bear in the middle and Papa Bear on the bottom including: Summer Wild Flowers (top), by Bill Buggel, 18″ x 12 1/2″; Passing Verticals (middle), by Bill Buggel, 27″ x 17″; and Passing Yellow (bottom), by Bill Buggel, 36″ x 28″.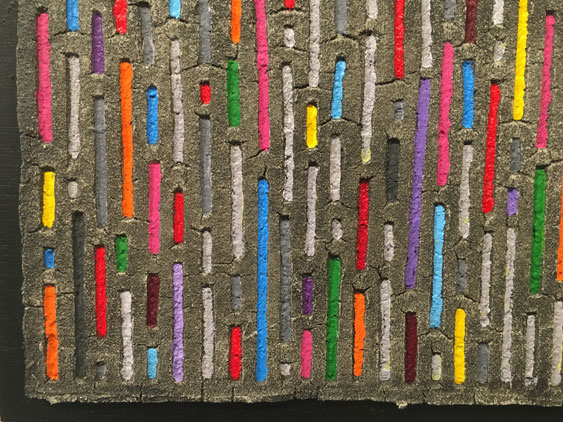 Passing Yellow (detail bottom of the Three Bears), by Bill Buggel, 36″ x 28″. Another experience of seeing static objects while moving. Along the roadside wild flowers mass into many different colors and shapes. I try not to know or identify the flowers. Knowing too much tends to take the mystery of the experience away from me.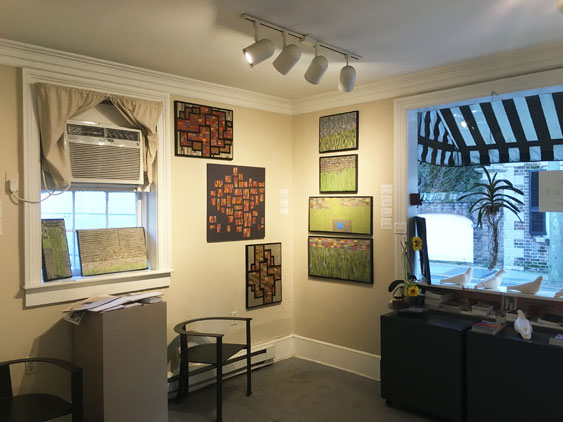 Gallery view 1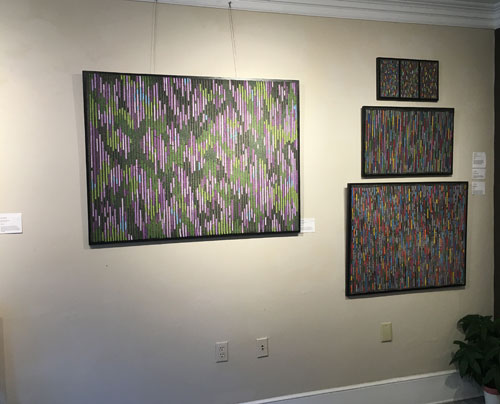 Gallery view 2
Go see this exhibit – you might not get a chance to do so again – which is a shame, but Buggel is out of the art loop in SC. And, these days the "inner circle" in South Carolina's visual art community is full and unable to feed its own – in fact I think they are feeding on each other.
Corrigan Gallery is located at 62 Queen Street in historic downtown Charleston. Hours are: Mon.-Sat., 10am-5pm or by chance & appt.
For further information call the gallery at 843/722-9868 or visit (www.corrigangallery.com).
Before I left Charleston, I extended my luck on this unlucky day by dropping in on a drop in for Pernille Ægidius Dake at Nina Liu and Friends.  Dake was one of my favorite Charleston artists who left us to become a real Yankee living in Upstate New York. Yes, you heard that right – Nina Liu is still in Charleston and her gallery space and home is still for sale and full of wonderful art objects for sale. Not as full as it has been, but there is plenty there for all you who have been missing their Nina Liu and Friends fix. It's hard to keep up with her these days, but I think you'll find her there at 24 State Street though the holidays, but then back again in the Spring. Call ahead to see if she is open at 843/722-2724.
It was good to see Pernille after all these years. We get postcards from her from time to time – for no reason at all or from no special destination, but they are always welcomed. Her painting that hangs in our home always draws attention. It's sort of a self-portrait – more like a body print. The grandboys seem to like it.
I finally made it home without incident.