Rhett Thurman is a long time supporter of our arts newspaper going back as far as being a supporter of our first paper, Charleston Arts. The Sylvan Gallery has been a long time supporter of Carolina Arts. That's why I'm making an exception to the rule of only covering exhibits that take place in the Carolinas.
Thurman is also a mainstay of the Charleston visual art community in being a member of the "gang or four" including Thurman, Eva Carter, Margaret Petterson and Betty Anglin Smith – four great friends who were all leaders in Charleston's second visual art renaissance.
Here's a press release about the Paris Exhibition:
Ten artists, mostly from the Southern US, will present their work in the independent art exhibit, "Paris Welcomes American Artists" at the Atelier Z of the Centre Culturel Christiane Peugeot located in Paris, France. The exhibition, which features artists working in both the US and France, will be on view from Sept. 16 through Sept. 21, 2013. A reception is scheduled for Sept. 19 from 6 to 9pm.
"Paris Welcomes American Artists" will include dozens of installations reflecting the artists' interpretation of Paris and France in an array of artistic styles and in mediums including painting, drawing and sculpture.
Artists displaying their work include Robert Calcagno, Lane Duncan, Kim English, Paige Harvey, Wayland Moore, Suzita George, Serge Ruffato, Jill Steenhuis, James Sutherland and Rhett Thurman. Most of the artists are from the South: Duncan, Harvey, Moore and Sutherland are Atlanta, GA-area residents. George, a world traveller, currently resides in Madison, GA, and Thurman lives in Charleston, SC. The American West is represented as well – English is from Evergreen, CO. The French influence will also be strong: Calcagno divides his time between Jasper, GA, and France; Atlanta native Steenhuis has resided in Provence since 1978 with her French husband and sculptor, Serge Rufatto, near Aix-en-Provence.
The exhibition is a result of collaborative discussion between Druid Hills resident Dr. James Sutherland, Atlanta resident May Spangler, gallery owner Madame Christiane Peugeot and Isabelle Zebourian, director of the Atelier Z.
"Everyone is thrilled to be going to Paris – it is a city of magnificent beauty and history," said Dr. Sutherland. "France is a  Mecca of the art world and the birthplace of Impressionism, which has influenced so many artists over the years. I felt that if I did not act on this opportunity, I would regret it."
The exhibition has been developed with Dr. Sutherland's organizational lead, along with the generosity of the Atelier Z of the Centre Culturel Christine Peugeot. The address of the gallery is 62 Ave. De La Grande Armee, Paris. The artworks will be on display from 2 to 7pm daily.
The Atelier Z was founded in 1991 by Christiane Peugeot, in honor of the painter Zévaco, Peugeot's friend. Located in Paris, near the Arc de Triomphe, it is open to, and hosts, all forms of art and culture, promoting artists of all ages. Each year Atelier Z offers 20 exhibitions promoting international contemporary art events, allowing artists to participate in a contemporary art contest. For more information please visit (www.atelier-z.org).
Together through the determined inspiration of Dr. James Sutherland and the generous hospitality of the Atelier Z, "Paris Welcomes American Artists" has been developed to provide artists the once-in-a-lifetime opportunity to present their work in the city that has impacted art and painting throughout the world.
For more information, visit (www.pariswelcomesamericanartists.com).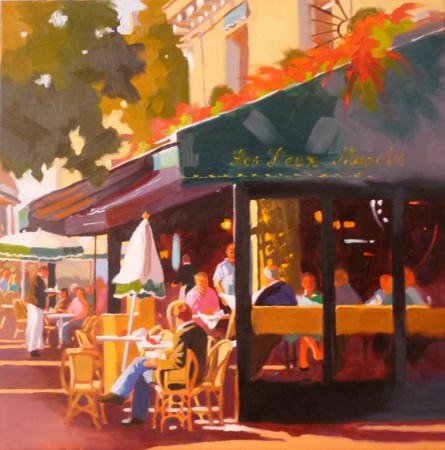 Rhett Thurman offered some comments about this exhibit, "I have painted in France many times, and taught a workshop in Amboise. For me, the experience is a combination of the light, and painting on hallowed ground – i.e. where the masters painted.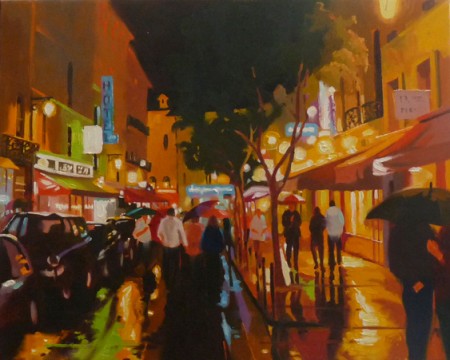 "The last time I painted in France we were in the St. Remy area. I was painting in the middle of a lavender field, which was not only incredibly fragrant, but was also HUMMING, it was so full of bees. I turned to Harry and said, "I don't even CARE if this painting works. I'm painting in the middle of a lavender field in Provence!" I could tell from the look on Mr. Left Brained Business Man's face that he was not COMPLETELY in sync with that line of reasoning!"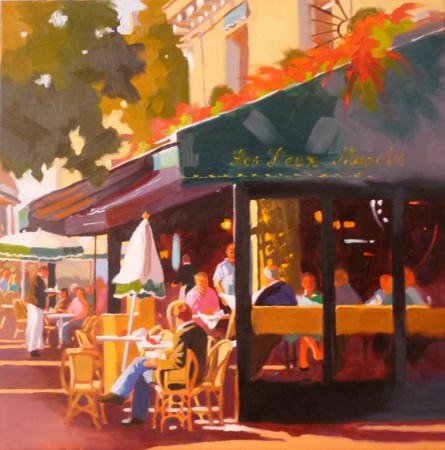 "Finally, I must say, that although I am after light and what it does to color, the subject matter that intrigues me (and most of us) has become a cliche. (The same things intrigued the masters – lavender fields, sidewalk cafes, etc.)  So the feat becomes taking this tired old subject matter (in this extraordinary light) and putting your own individual, unique spin on it – your own fresh eye. One of the greatest compliments a friend once gave me  is, 'Rhett's work has her DNA', adds Thurman.
On Sept. 5, 2013, The Sylvan Gallery will be hosting a preview and sale of Rhett Thurman's "American Artists in Paris" collection from 5:30-7:30pm.
The event starts at Thurman's Studio at 241 King Street in downtown Charleston, from 5-6pm and a reception follows at The Sylvan Gallery, at 171 King Street (just a short walk down King Street) from 6-8pm.
For further info call The Sylvan Gallery at 843/722-2172.