Linda and I decided to make a quick trip to Columbia, SC, to the SC State Fair to see the display the cowboys at One Eared Cow Glass had created. It's being called the largest display of blown glass in South Carolina. If you like glass works and we both love the works of One Eared Cow Glass – how could you not go? Plus we'd get to see the Fine Art Show there.
We've been on a tight budget and several factors came into play making it possible for us to go. Linda was off work from her second job on Thursday (Oct. 18) mid-week a good day to go to the Fair. The Fair was offering a Lunch Time deal where you paid $5 to get in at noon and if you left by 2pm you got your $5 back. So we went to the Fair free. And, we could take advantage of cheaper gas in Columbia and by taking advantage of Wal-Mart's Murphy USA 10 cents off deal by using Wal-Mart gift cards to get gas – we paid $3.28 to fill up. It all adds up.
When we got to the Columbia fairgrounds it seemed that half of the local population was also taking advantage of the Lunch Time special. It's a good deal.
The Ellison Building where the glass display was housed was not too far from the gate we entered and the Canty Building was right across it where the art exhibit was. So except for the what seemed like five mile walk across the parking lot, we didn't have to walk too far to the exhibits.
I've always been amazed at what the cowboys at One Eared Cow Glass can make out of glass, but this display of the Four Seasons was beyond my imagination. The big warehouse style building was not the greatest place to take photos, but that wasn't stopping the hundreds of folks who were taking shots with their cameras and phones. I myself was very frustrated by the large ceiling lights that caused flairs every time you tilted your camera or phone upward. I imagine that there are a lot of images of this display floating around Facebook and e-mails. Again, except for a lack of zoom my iPhone took the best images.
Works were offered to represent the four seasons of South Carolina – including an amazing Winter snow scene with falling snow flakes, snowmen in a snowball fight, and a giant Christmas tree covered with colorful glass balls.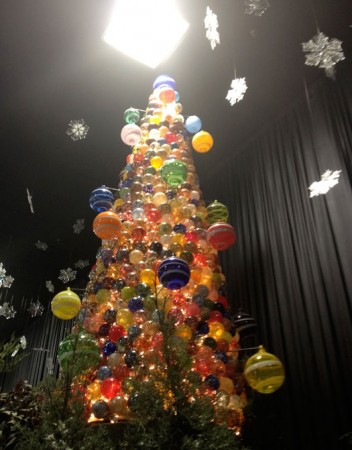 They'll be no shortage of Christmas balls this year.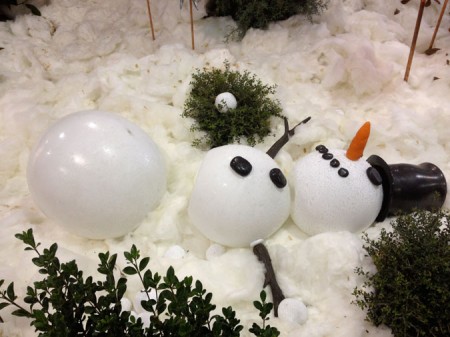 A fallen snowball fight victim.
Summer and Spring included many flowers, outdoor yard lights, and a host of creatures including a giant spider on a web, a larger than life green praying mantis, and a bug that looked more like a throwback to Jurassic Park.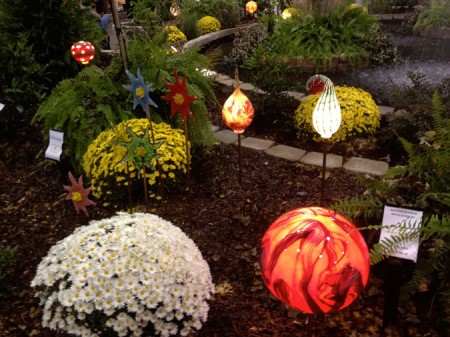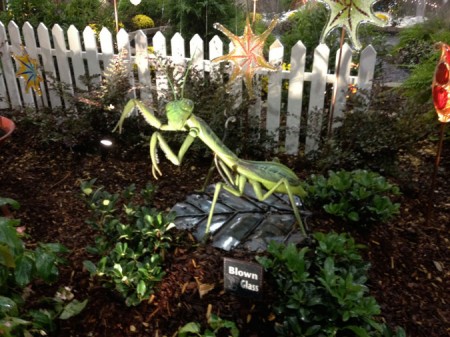 Fall offered a sky full of colorful falling leaves and a bountiful harvest of fruits and vegetables of all kinds and colors – so real looking most people were fooled as to which were glass and some real items sprinkled in with the fake.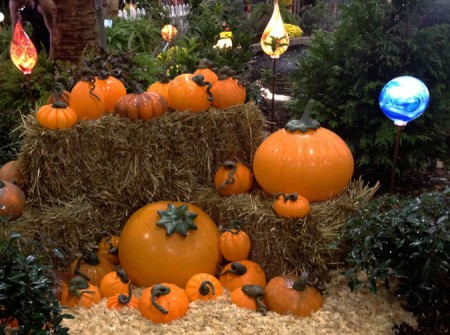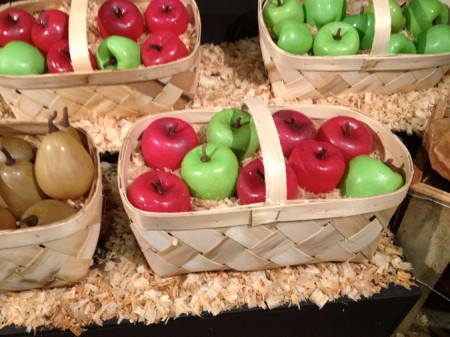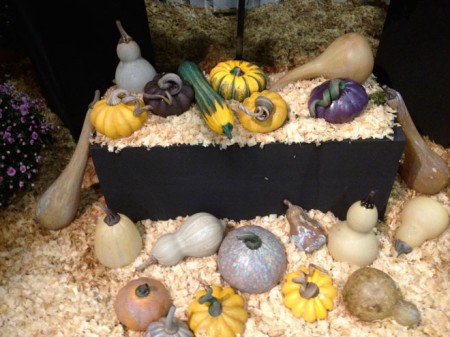 In the middle of all this was a pond with water spraying into the sky with three "contemporary" glass palmetto trees which once stood in front of the Columbia Museum of Art for an event.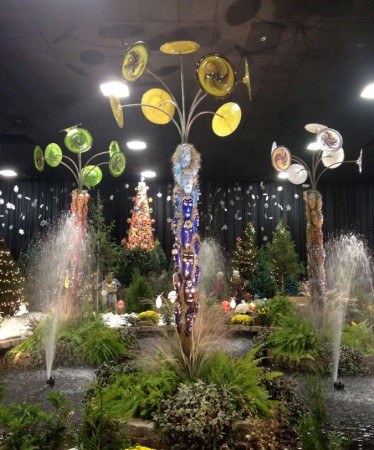 It all involved hundreds and hundreds of glass objects – some amazing for their ability to clone real objects and others for their color and shape.
I know this posting will be too late to generate traffic for this display, but the good news is that a lot of the works will be put on display right after the Fair at One Eared Cow Glass' display room at 1001 Huger Street.
While there we ran into Tom Lockart, one of the cowboys, who actually had to warn me off getting too close to a display to get a good picture. You know the press – they ignore most boundaries. In talking with him I found out that they could make just about anything you could think of – out of glass – as long as you could afford it. After adding up a few comments about the cost of several of the objects it wasn't hard to figure that there was about, if not well over, $250,000 worth of glass art on display.
There was a TV set up showing a video of how many of the objects were made in their studio. The cowboys have gotten good at creating videos showing off the glass making process. Lockart told me they took a lot of images setting up the display under better lighting conditions which I think will be posted on their website. Videos will probably be added to their other YouTube offerings.
If you didn't see this display, I'm not sure if you'll ever get a chance again. Of course some corporation could afford to make most of this display available to the public, but then I remember we're in South Carolina and Columbia is not quite like Charlotte, NC, when it comes to supporting the arts with public art displays.
The 2012 Fine Arts Juried Professional & Amateur Show
I think it has been at least 15 years since I last went to see the Fine Art Show at the SC State Fair in Columbia, SC. It was a monster show back then and is still that today with 495 entries in the Professional categories and 625 entries in the Amateur categories, totaling 1120 works of art to look at. That's not counting the Youth Art display.
I felt sorry for the juror this year, Hank T. Forman, Associate Vice Chancellor and Director of the Turchin Center for the Visual Arts at Appalachian State University in Boone, NC. That's a lot of art to look at and then come up with winners.
This is not your typical fair art show. At least it's better than any I've seen. Back 15 years ago I was pretty impressed at who they got to enter a fair art show and I was still impressed today. I remember back then that I usually had a migraine headache after making one pass. And on the second turn I saw works I didn't even notice the first time. This time, I seemed to me able to look and enjoy the massive display of works a lot better. I also kept notes of works that jumped out to me.
I'll state up front that I'm not going to say anything about the Amateur show as I feel it is somewhat a fraud. When you look at some of the works entered as amateur and they are equal or better than the professional works – something's wrong with that. These folks may be amateurs in a technical sense, but it's a shame they refuse to compete with the big boys and gals. Some of them would win awards in the pro categories, but they are sure to win awards with an amateur status.
The lighting is not good for photographing in this building either and many works are behind glass. I was lucky to get a decent shot of the Best in Show winner. I'm offering these comments as just my opinions of what struck my fancy and as an FYI – you should make an effort to go see this show next year and every year. And, as a shout out to some of the artists to give them some recognition. It's the largest collection of really good art from around the state – excluding a major representation by academic artists, who most wouldn't be caught dead entering a fair show. I applaud those who did and there were a few. But most of these academic artists don't want common folk to see their art – they wouldn't understand most of it without a catalogue of text explaining it anyway.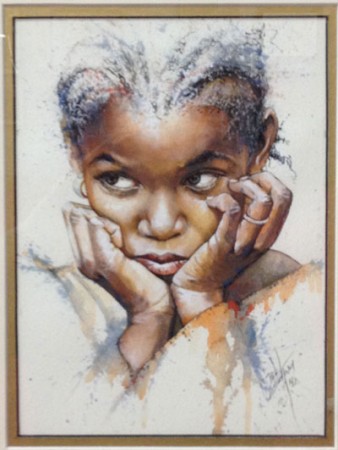 Little Girl in Braids by Bob Graham – Best in Show
The Best of Show was a work by Bob Graham, of the Charleston area, for a work titled, "Little Girl in Braids". Graham is always a top contender in juried shows he enters. Did I think it was the best work there? It could have been, but I saw dozens of works that could have been Best of Show winners. Graham should feel good as Foreman sees a lot of great art hanging on the walls of the Turchin Center.
So, as I started looking at the works offered I started writing down the names of artists who produced abstract works I liked. Go figure – right. And, then I started writing down names of artists who's works I liked in a few categories. Finally, I went through the display again and wrote down the names of artists and the titles of works I thought were standouts. I know I skipped a few categories, but after all it was 495 works. Again, I'm just offering my opinion of what I liked with no technical considerations. But for those mentioned I might add, although I have no degrees in art – I've spent 25 years looking at a lot of not so good art, really good art and great art – so I feel my tastes are a little refined at this point.
I hope I didn't copy anyone's name down wrong. If I did, I apologize and you can get in touch (info@carolinaarts.com) and I'll correct it.
Abstract Works
Christian Guerrero, Ann Lemay, Van Martin, Dawn Faber, Wendyth Wells, Heather Noe, Ann Peake, Vickie Jourdan, and Toni M. Elkins. Full disclosure – Wells and Noe are supporters of the paper, but I think they know that I wouldn't say I like their works – if I didn't. And, after 25 years I'm not looking to make brownie points with supporters – at least not when it comes to art. I can also add that there might be a name or two included of folks I don't really care for. I'm just saying there might. I am capable of liking a person's art and not liking them.
Drawing
Zachary Jenkins, Patty Guerry, Kellie Jacobs, Bob Graham, and Stephen Nevitt.
Mixed Media
Wayney Thornley, Laura Spong, and Stephen Nevitt.
Crafts
Patz Fowle, Tuula Ihamaki-Widdifield, Georgette Sanders, and Bryan Burgin.
Open Media – Sculpture
Susan Lenz, Susan Tondreau-Dwyer, Doni Jordan, James Davis, Janet Kozachek, and Margret Bass.
Photography
John Deas, Margaret Lindler, and Kristen Matthews.
Works I Thought Were Outstanding
Bob Graham – "Waiting for the Bus" and "Little Girl with Braids"
Frank McCauley – "Wolf House"
Patz Fowle – "Calling All Cats"
Vickie Jourdan – "Painters Block" and "Out of Bounds"
Kellie Jacobs – "Lowcountry Treasure"
Regina Moody – "Warmth of Other Suns"
Toni M. Elkins – "Black Swan"
Anne Peake – "Unnamed"
Van Martin – "Ambiguity"
Ann Lemay – "Hydrangeas by Creek"
Dawn Faber – Untitled"
Daryl Knox – "Freshfields"
James Davis – "Puck"
Susan Lenz – "My Bluegrass Roots II"
I couldn't really come up with my own best or favorite over all others. I don't know how jurors do it.
If you're a SC artists and have never heard of this show opportunity – I'm not surprised. I think a few years back they stopped advertising it – they don't have any more room.