I've stated this a few times before in this blog – as deadlines go by, something interesting always comes in too late to do anything about. We received a press release about this exhibit – which will be included in our expanded online version of the June 2010 issue of Carolina Arts, and perhaps in our July printed paper, but I wanted to post it here ahead of time. Frankly the image sent with the press release did it for me.
Here's the press release:
Hodges Taylor Gallery in Charlotte, NC, Features Works by Area Architects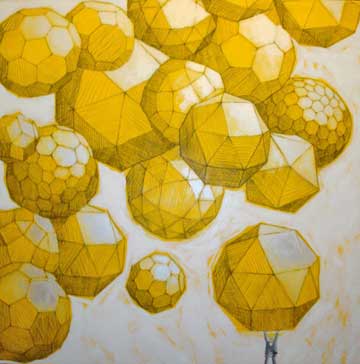 Work by Murray Whisnant
The Hodges Taylor Gallery in Charlotte, NC, will present the exhibit, Art by Architects, co-sponsored by the American Institute of Architects, on view from June 4 through July 31, 2010.
The American Institute of Architects (AIA) and Hodges Taylor Gallery are co-sponsoring an exhibition of art by architects, providing an opportunity for Charlotte area architects to showcase their other creative talents – painting, printmaking, sculpture, and photography.
Thirty architects submitted a variety of works that reflected their artistic interests and activities beyond their architectural careers. The works were then curated by members and staff of AIA Charlotte and Hodges Taylor Gallery with the selected works comprising the exhibition.
In business since 1981, Hodges Taylor is uptown Charlotte's oldest gallery, committed to supporting art and artists of the Southeast, including painters, printmakers, photographers and sculptors. The gallery offers a public venue uptown for viewing artwork and, having established itself as a knowledgeable and experienced resource for contemporary art, serves as art consultants for collectors and businesses.
The gallery is located at 401 North Tryon and is open Tue. – Sat., from 11am to 3pm or by appointment. For further information call Christie Taylor at 704/334-3799, e-mail to (ctaylor@hodgestaylor.com) or visit (www.hodgestaylor.com).