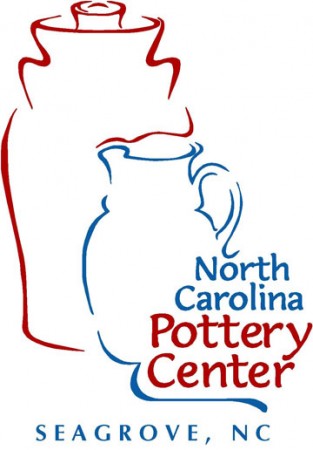 Here's an opportunity to purchase something unique and help the NC Pottery Center at the same time. Imagine owning a painting – yes, I said painting by Mark Hewitt, Cynthia Bringle, or Vernon Owens – great potters, but not known as painters – other than painting glazes on their pots. Now that would be a conversation piece for any pottery collector at any level. If you're the highest bidder – you might be able to brag of such a possession.
But don't get me wrong in thinking that owning one of these paintings will just be a novelty – some of these people are very talented with a brush and canvas. As you may know – artists are talented people – many are multi-talented as you'll see when you check out the 80 canvases being offered on the Pottery Center's website.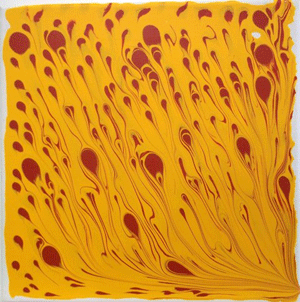 Work by Mark Hewitt
Can't be there on Feb. 4th – no worries. You can make your absentee bid online at the Pottery Center's website, but it won't be the same as being there during the event in the heat of the action. There's nothing worse than learning that your silent bid was topped out by $2 – especially when you would have paid much more. So, if you can't make it and will be making an absentee bid online – remember to bid as high as you would go to have one of these special works and that the money is going to help the NC Pottery Center keep its doors open. That's what art auctions are all about – helping out and getting something in return – not just getting a bargain.
And if you bid against me – remember that I'm the publisher of a newspaper – like Rupert Murdoch – once I make a bid – others might as well stand down or dig very, very, deep into their pockets. We're used to getting what we want. All I have to do is make sure I don't come with a pair of my pants that has holes in the pockets. I wonder if Rupert has that problem?
Here's the press release: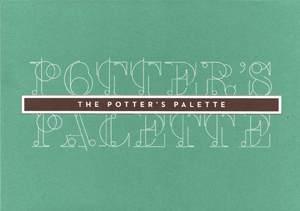 The North Carolina Pottery Center in Seagrove, NC, the center of pottery in North Carolina, invited NC clay artists to work outside their regular palette by creating a 12″ x 12" canvas, using any medium they desired. The response has been a wide array of creativity, which is only to be expected by the talented potters of NC. On Feb. 4, 2012, the public will have the opportunity to bid on these outstanding palettes and the opportunity to own a canvas. Truly a one-of-a-kind piece to complement any pottery collection! Many of the artists will be featured guests, and there will be several clay creations to complement the canvases available to purchase as well, making it really a one of a kind purchase. The canvases are posted on the NC Pottery Center's website at (http://ncpotterycenter.org/canvases.html) with absentee bidding offered until Feb. 1, 2012, at 4pm.
The fun and festive event begins at 4pm on Feb. 4, 2012, with Irish tunes played by Michael Mahan, Seagrove potter, painter and musician and Phil Winn of Greensboro, NC, and includes a scrumptious buffet featuring an array of delicious hors d'oeuvres from gourmet bites to seafood and cheeses to desserts and festive beverages. An event not to be missed!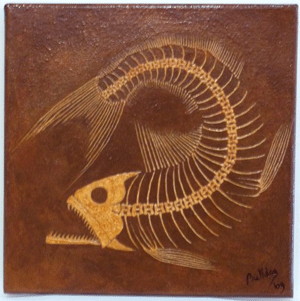 Work by Bruce Gholson
Response from the potters and the public has been hugely enthusiastic. Potters from all areas of NC have painted and the canvases are all are currently on display at the North Carolina Pottery Center. Certain themes have spontaneously emerged including birds, especially roosters, fish, cows, houses, pottery imagery as well as some abstracts and mixed media with some surprises and real gems and many have associated stories, some of which are outlined below.
Tickets are $15 per person, or $25 for a pair, and are available through the website or by calling 336/873-8430 and also a limited quantity at the door. We encourage purchase in advance.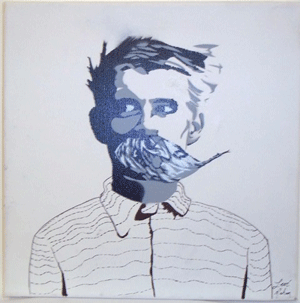 Work by Levi Mahan
Piedmont Area Potter Painters include: Tom Suomalaine, Crystal King, Donna Craven & Susan Greene, Janice & Bruce Latham, Paula Smith, Eck & Fiva & Milly McCanless, Joseph Sand, Hal & Eleanor Pugh, Michael & Levi Mahan, Mary Holmes, Susan McGehee, Ben & LoriAnn Owen, Samantha Henneke, Bruce Gholson, Beth Gore, Chad Brown, Daniel Johnston, Kate Waltman, John Viegland, Stephanie Martin, Charlotte Wooten, Abe Fenberg, Jeff Brown, Michele Hastings, Fred Johnston, Carol Gentithes, Vernon Owens, Pam Owens, Jennie Lorette Keatts, Phillip Pollet, Alexa Modderno, Bonnie Burns, Bobbie Thomas, Scott Thomas, Tom Gray, Mary Farrell, Meredith Heywood, Ann Raven Jorgensen, Vicki Gill, and Jared Zehmer.
Charlotte Area Potter Painters Include: Andrew Linton, Caroleen Sanders, and Roy & Barbara Strassberg.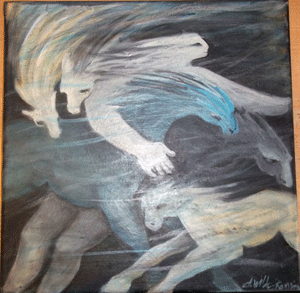 Works by Dina Wilde-Ramsing
Costal Area Potter Painters Include: Helene Icard, Dina Wilde-Ramsing, Keith Lambert, Tonda Jeffcoat, and Seo Eo.
Mountains Area Potter Painters Include: Kim Ellington, Tammy Leigh Brooks, Michelle Flowers, John Britt, Michael Kline, Terry Gess, Matt Jones, Doc Welty, Alex Matisse, Becca Floyd, Cynthia Bringle, Karen Mickler, and Kyle Carpenter.
Triangle Area Potter Painters Include: Lynn Morrow, Mark Hewitt, Daphne Cruze-Zug, Ronan Peterson, Mary Paul & John Garland, and Nancy & Dan Lovejoy.
The North Carolina Pottery Center offers educational opportunities to statewide schools and individuals, changing historical and contemporary exhibitions, demonstrations, and information about statewide potters. The NCPC is a private nonprofit entity, funded primarily through memberships, grants, admissions, and appropriations.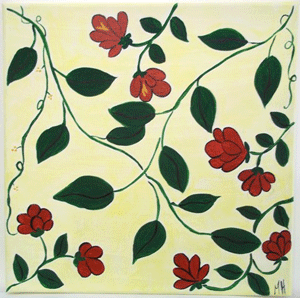 Work by Meredith Heywood
The Center is open, Tuesdays – Saturdays, 10am to 4pm. Admission (excluding free special events): $2 – adults, $1 – students 9th through 12th grades, Free – children through 8th grade, free – NCPC members.  Handicap accessible. Groups and tours welcomed.
For further information and details call 336/873-8430, e-mail at (info@ncpotterycenter.org) or visit (www.NCPotteryCenter.org).