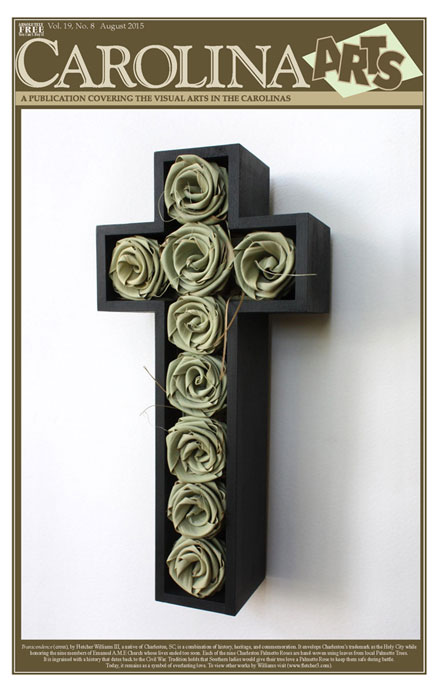 The August 2015 issue of Carolina Arts is up on our website at (www.carolinaarts.com) – all 61 pages of it.
Our cover this month features a work by Fletcher Williams III, a native of Charleston, SC. The work is a response to the shooting of nine members of Emanuel A.M.E Church in Charleston.
For single page format use this link (http://www.carolinaarts.com/815/815carolinaarts-sp.pdf).
For side by side page format use this link (http://www.carolinaarts.com/815/815carolinaarts-dp.pdf).
So download that PDF and dig in – it makes for good reading and shows that you have lots of opportunities to enjoy the visual arts in the Carolinas this month. And, don't forget to find a way to thank our advertisers – they make the paper possible.
And help us spread the paper around by sending these links to your friends.
If you want to get something in the September 2015 issue – send it now or as soon as you can. Don't wait till the August 24 deadline. But, you do know that you don't have to wait until the deadline comes up to send us stuff – you can be early. Some folks are already several months ahead of the deadline when their press release would be due.
Thanks – Tom and Linda Starland
Carolina Arts
843/825-3408
info@carolinaarts.com