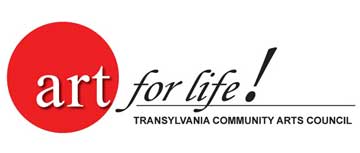 I received the following e-mail from Tammy Hopkins, executive director of the Transylvania Community Arts Council in Brevard, NC, at Carolina Arts, that they were extending the deadline of the raffle to win a Pablo Picasso print. And I don't blame them. I once had a raffle for an Ansel Adams photograph that I ended up giving away for nothing. I think the winner is still in shock.
Joke – Man walks into a bar at the local country club and says, "I just purchased a Pablo Picasso print for $100." There's no punch line – he just purchased a ticket for the Picasso Print Raffle from TCArts. Now he owns a print valued at $28,000+.
How often do you get a 1 in 300 chance to win – anything?
Here's the press release: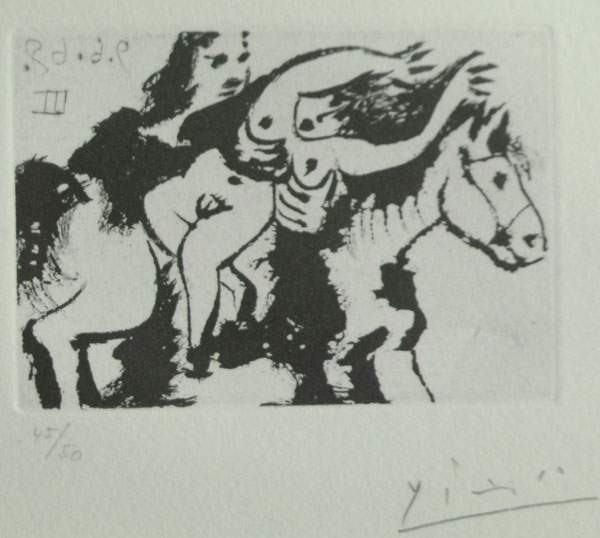 The Transylvania Community Arts Council in Brevard, NC, has extended the date for their Picasso drawing. "At this time only 80 tickets have been sold and we really need to sell 300 tickets to help our budget this year," said Tammy Hopkins executive director of TC Arts. Hopkins also said, "We will hold the drawing as soon as we sell at least 300 tickets."  The TC Arts Council is selling $100 chances to win this signed Picasso etching valued at $28,500. To buy a ticket go to (www.tcarts-art-raffle.org) and download an order form or call TC Arts and order over the phone at 828/884-2787.
The Picasso comes with a Certificate of Authenticity from Park West Gallery and an original invoice of purchase. The piece is entitled Enlèvement, à cheval (Abduction on Horseback). It is an etching on BFK Rives paper with full margins. Signed in pencil and numbered: dated plate 9 June 1968 III (in reverse). This Picasso is #45 from the edition of 50.
In his ninth decade, Picasso created the remarkable group of etchings known as the 347 series in less than seven months. From March 16 to October 5, 1968. He collaborated in his private studio near Cannes with the master printers Piero and Aldo Crommelynck, who brought in a special press from their atelier in Paris. While combining different cultures, icons and periods in this series, Picasso was able to create a unifying theme throughout; that of the narrator and observer rather than participant. The works are a panorama of compelling imagery, many charged with an erotic tone. Picasso's command of the challenging techniques of etching, engraving, dry-point and aquatint are revealed forcefully in this 347 works, along with the highly personal and facile drawing ability he possessed in his late years. Commenting on the series, Picasso said, "I spend hour after hour while I draw, observing my creatures and thinking about the mad things they're up to; basically it's my way of writing fiction."
The Transylvania Community Arts Council is a 501c3 non-profit arts organization with the mission "To enhance the quality of life in Transylvania County by celebrating and nurturing the creative spirit of artists, youth and individuals throughout the County." TC Arts is located at 349 S. Caldwell Street in Brevard, NC.
For more information call TC Arts Council at 828/884-2787. To learn more about the TC Arts Council go to (www.tcarts.org) or their all county arts wesbite at (www.artsofbrevard.org).