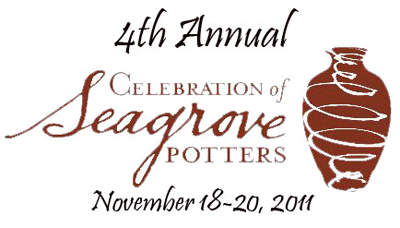 Well, after a trip to Vista Lights in Columbia, SC, I was lucky to get a day in-between before I hit the road again on my way to Seagrove, NC, a 3 1/2 hour trip North of the Carolina Arts headquarters in Bonneau, SC. When I left home it was 37 degrees and as I headed North is got a little cooler for the first hour, then it eventually started to warm up as the sun began to do its magic. I got to Seagrove just after 10am and the parking lots were pretty jammed at Luck's Cannery, but people were leaving carrying bags full of pottery. Within a few minutes a space opened up.
Once inside the historic Luck's Cannery I paid my $5 admission, filled out my raffle card, and got myself ready to jump into the salmon stream. My plan was to make one full run to see all the booths before I'd stop and talk with anyone. You know once I start talking everything else falls to the wayside. As most best laid plans go, I found it hard to do this in one steady stream. So, like most salmon I took some tracks ahead, some backwards, some around a corner or two to tried another route. I think three quarters of the way around I gave up and grabbed the first potter I knew – also trying to swim upstream and pulled him to the side. This was Bruce Gholson of Bulldog Pottery.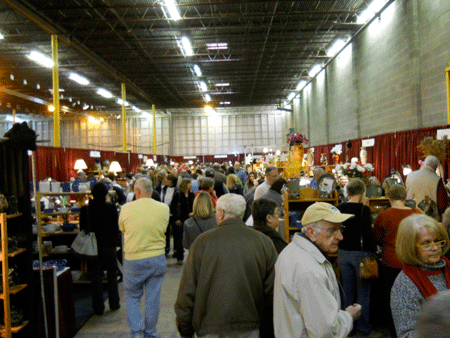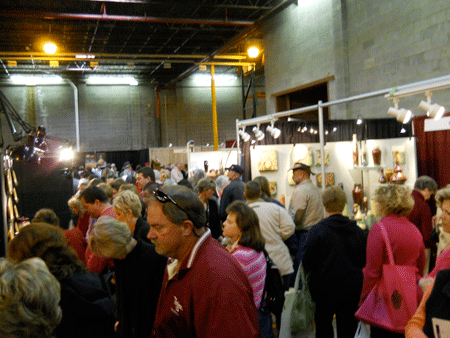 I started the conversation with a little inside joke asking him where Phil Morgan's booth was. That question dates back to the pottery festival wars that took place a few years ago. I think all potters in Seagrove would agree that Seagrove is BIG enough for two pottery festivals to exist – another joke as Seagrove is a very small town. Gholson gave me a look that said – you media folks really like to stir things up. It's all water and salmon over the falls now. After a little catching up with Gholson I started my run again.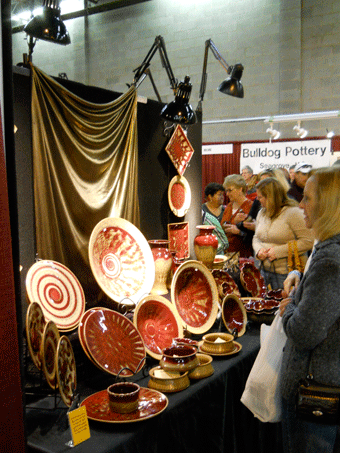 This is a shot of the side of Ray Pottery's booth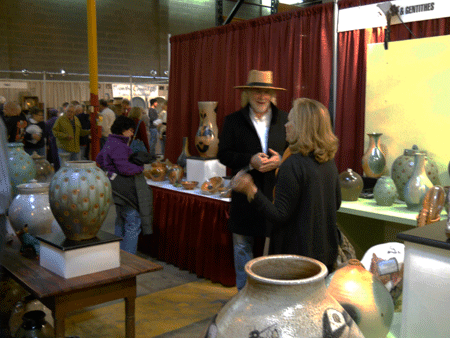 Fred Johnston in the Johnston & Gentithes Art Pottery Booth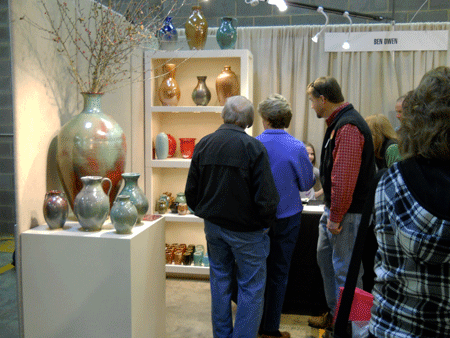 Ben Owen III in his booth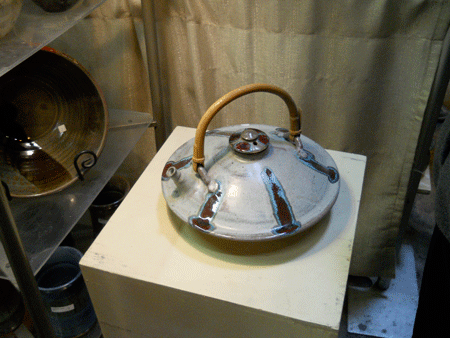 A work at Fat Beagle Pottery booth
Once I thought I had seen everything once, the first booth I stopped into was Whynot Pottery where Meredith Heywood was fighting her own battle taking people's money and wrapping up their purchases. This would be the theme of the day. I soon realized that this was not going to be a day of catching up with folks from Seagrove except for a few lines here and there. Even standing in a booth for a few seconds got you some looks that said – either you buy something or get out of my way, mister – a message I take in stride as my rule is the customer always comes first – conversation last.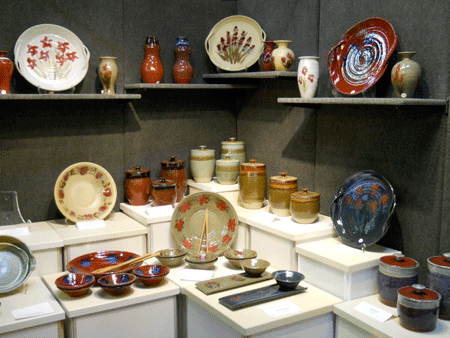 A shot inside Seagrove Stoneware's booth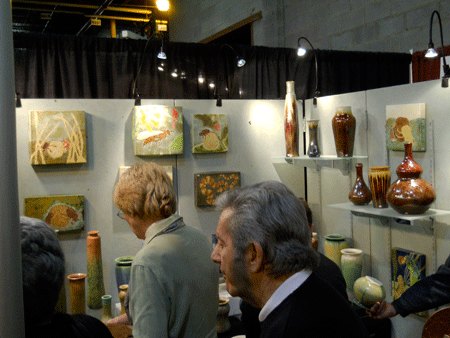 A shot inside Bulldog Pottery's booth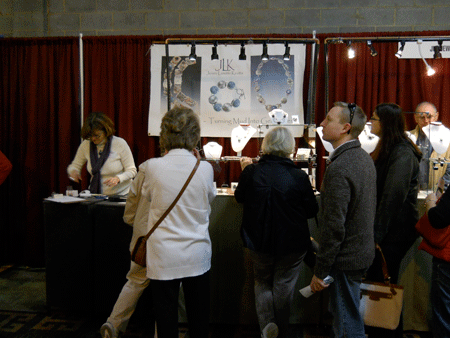 Jennie Lorette Keatts behind the JLK Jewelry at Jugtown's booth
Taking photos with my camera was a bit of a problem. Using flash to get decent images of shiny pottery is difficult without a better camera and flash unit. The lighting inside the building was way up and booths were full of extra lights that created problems for light meters in cameras, and then there was the constant flow of people. Although I will say that many times when I raised my camera to my eye – people held up to let me take a shot. At least those who saw what I was doing did. Most had that glazed look you see on people's faces during Black Fridays. They only see what they want – they don't see anything in between their goal of getting it.
So I spent a lot of my time looking around, gathering materials placed on tables, reading those materials and occasionally getting a word in when I could. And, there was so much to look at – works by over 60 potteries by over 100 potters. Having this opportunity for just $5 is a gas saving bargain. There is no way you could travel to all these potteries without burning up much more in gas, not to mention how many times you might get lost. But, in the Seagrove area that can be part of the journey – the countryside is beautiful.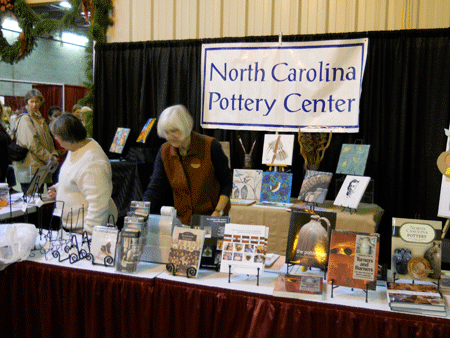 NC Pottery Booth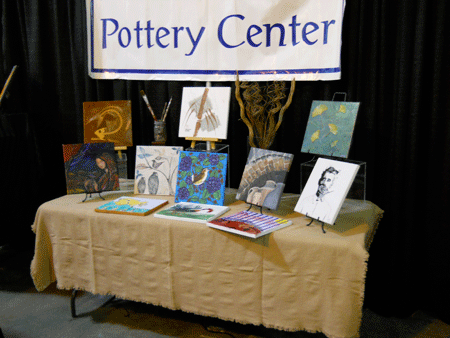 A display of some of the paintings by potters for an upcoming fundraiser
at the NC Pottery Center. Potters can paint too – imagine that.
At one point I retreated to the first room where you enter the building which contained tables set up by related organizations like the NC Pottery Center and festival sponsors like Our State magazine. That's also where the silent auction was taking place of donated works of pottery and then there was also the goodies table – where they had all these yummy looking treats. Pottery demos were going on and there was a special section for children's activities and even a special area where only children could buy items at special prices. This room was less competitive.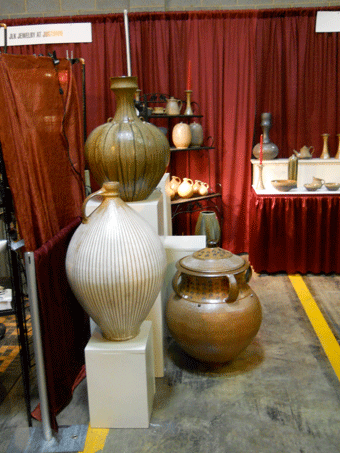 Here's some big pots by Donna Craven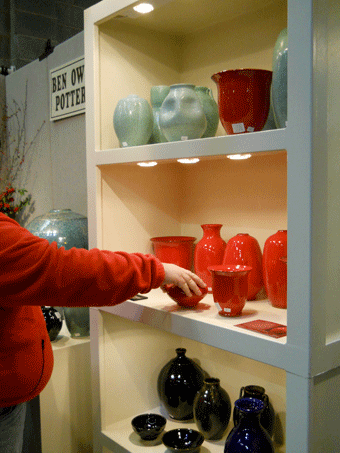 Do you think this person likes Ben Owen III's Chinese Red Pots?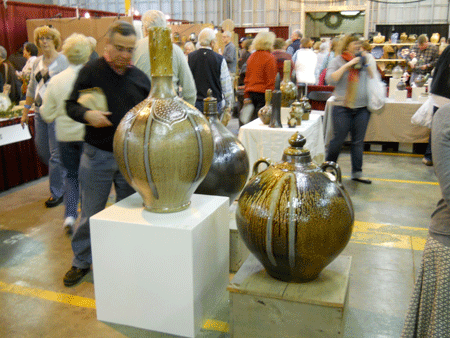 Some more big pots by Daniel Johnston
By the time I went outside for lunch the weather was in the 50′s and very nice. The Celebration had provided a full range of food vendors on site, but like most of the time when I travel I carry my food with me. I learned from my many years of delivering papers to control what goes in my body and I only eat foods that offer no surprises on the road. TMI – I know.
By lunch time the crowd began to thin a little, so I headed back in for round two where I got a few more pictures and had a few more conversations. I think it was on this run that the hunter became the hunted. At Bulldog Pottery's booth I was "tagged" as they say on Facebook by Samantha Henneke. By the time I got home later that day there was a photo of me at the Celebration up on Facebook. She had the home-field advantage on me.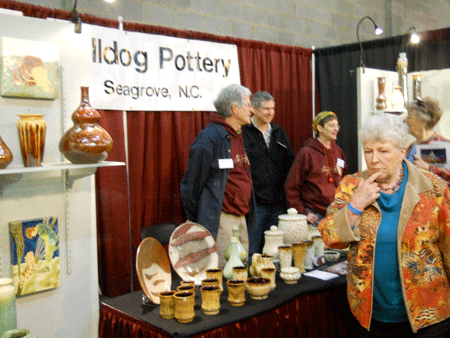 Ed Henneke, Bruce Gholson, and Samantha Henneke at Bulldog Pottery's
booth. I like this photo for the lady thinking how many gifts she could get in
this one booth.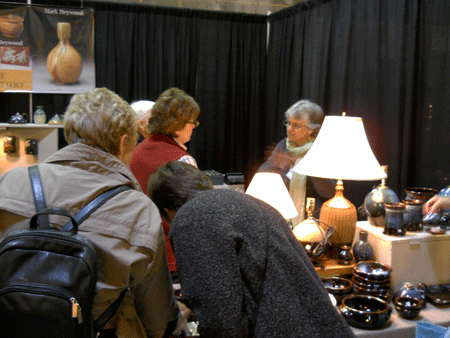 Meredith Heywood drowning in sales at the Whynot Pottery booth before her
sister came to the rescue.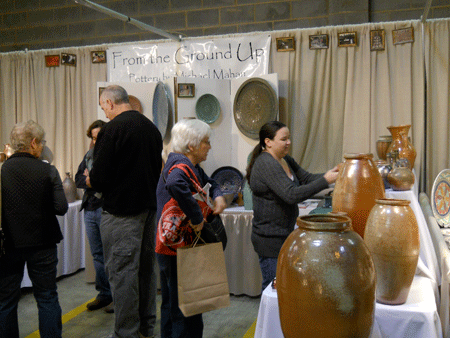 A very busy Michael Mahan at the From the Ground Up Booth
During this second run I finally got to talk with Rhonda McCanless, publisher of In the Grove, a publication about the Seagrove area. She and her husband Eck McCanless have opened their own pottery, Eck McCanless Pottery, since I was last in Seagrove and on this day she was a retailer not a publisher, although copies of In the Grove were going like hotcakes at the admission desks.
I also got a few words in with Jennie Lorette Keatts of JLK Jewelry at Jugtown. But there were some folks I was hoping to talk with but never caught them when they were not in the middle of a sale or deep in discussion with someone who sounded like they were talking about something more important than what I had to say – which was a good thing, I think. This was an important weekend for these potters as visits to Seagrove will fall off during the upcoming Winter. So, I hope they forgive me for not speaking with them – I wanted to and tried, but never got the opportunity.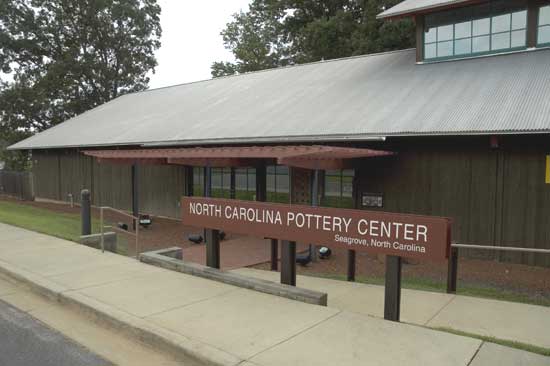 After I felt I had accomplished all I could, with the limited time I had, I headed over to the NC Pottery Center to see the exhibit, Collecting North Carolina Pottery for 75 Years, on view through Jan. 28, 2012. The North Carolina Pottery Center and The Mint Museum in Charlotte, NC, have partnered to celebrate the 75th Anniversary of the Mint Museum as an art institution with this special exhibition. In this exhibition, the Mint acknowledges the vital role of collectors, past and present, in making its North Carolina pottery collection one of the largest and most important in the country. The Mint Museum Randolph in Charlotte, NC, is also presenting a companion exhibit, A Thriving Tradition: 75 Years of Collecting North Carolina Pottery, featuring more than 100 examples of the Mint's pottery collection, which has now grown to more than 2,100 examples that includes objects that range from the last quarter of the eighteenth century to the first decades of the twenty-first. This exhibit will be on view through Jan. 5, 2013.
All the works at the NC Pottery Center were under plastic cases, so I took no photos of any of those works. But if you're into pottery, this is a good show to see a little of the history of NC pottery by examples – great examples.
A pretty neat thing on view at the Pottery Center was a Transparent Kiln put together by a group of Estonian ceramic instructors and students, as well as clay students from East Carolina University in Greenville, NC. It shows you how a kiln would be packed as it is fired. A sight that usually only the potter sees.
It's a good thing that the Mint Museum and the NC Pottery Center have these collections, as many of us may never get the chance to see some examples of these historical works since they all might be held in private collections – behind closed doors. And, it's also a good thing that some of these collectors have donated their collections or parts of their collections to these institutions.
If you missed the 4th Celebration of Seagrove Potters – shame on you, but you're in luck. You see, Seagrove is a very active pottery community – something is going on all the time. Here's a list of some of the events going on in December.
Dec. 3, 2011, 10am-5pm – Chris Luther Pottery Kiln Opening
Dec. 3, 2011, 9am-5pm – Blaine M. Avery- Avery Pottery and Tileworks – Holiday Kiln opening
Dec. 3, 2011, 8:30am-5pm – Jugtown Pottery & JLK Jewelry at the Jugtown Holiday Kiln Opening
Dec. 3, 2011, 9am-5pm – Holiday Open House at Westmoore Pottery
Dec. 3, 2011, 10am-5pm – Thomas Pottery – 2011 Holiday Kiln Opening
Dec. 3, 2011, 10am-5pm & Dec. 4, 2011, noon-4pm – Eck McCanless Pottery Holiday Weekend
Dec. 10 & 11, 2011 – Seagrove Stoneware – Annual Kiln Opening & Gallery Sale
Dec. 17, 2011, 9am-5pm – Bulldog Pottery Holiday Kiln Opening
Dec. 17, 2011, 10am-5pm – Ben Owen Pottery – Holiday Chinese Red Kiln Opening – 2011
Dec. 17, 2011, 10am-5pm – Chris Luther Pottery Kiln Opening
For other info about what's going on with the potters in Seagrove visit (http://www.discoverseagrove.com).