This is the big event in Charleston for long-time or first-time art collectors. Charleston's entire visual art community will be putting it's best on display this weekend. The auction is an interesting event in itself. You can read what I've said about it in a previous posting at this link.

Read about this year's event here:
The first weekend in November traditionally marks the Charleston Fine Art Annual hosted by the Charleston Fine Art Dealers' Association (CFADA) in Charleston, SC's Historic District. On Nov. 3, 5-6, 2010, CFADA welcomes once again avid art collectors and nationally renowned artists to celebrate the diverse fine art that the growing art market of Charleston has to offer. The weekend filled with art events features art openings at CFADA member galleries, plein air painting, an art auction and lectures. Proceeds will benefit Charleston County High Schools' fine art programs.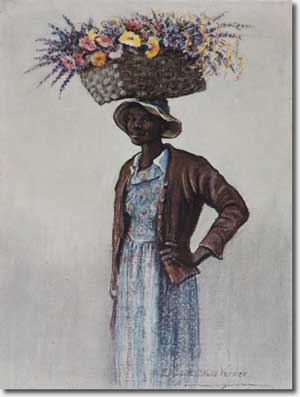 Work by Elizabeth O'Neill Verner
Saturday evening, Nov. 6, 2010, is dedicated to the 5th Charleston Art Auction. This elegant evening presented by the Charleston Art Auction features a preview/reception at 6pm followed by an art auction at 7pm. The auction features historically significant paintings and drawings together with contemporary works by recognized American artists.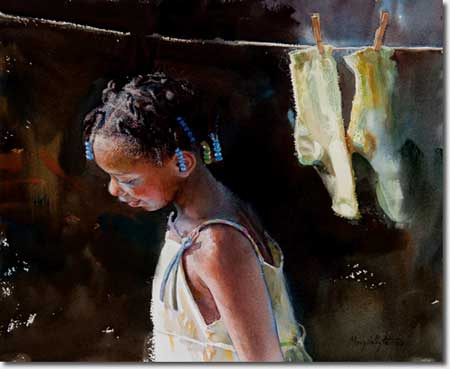 Work by Mary Whyte
"The Charleston Art Auction is privileged to participate in the Charleston Fine Art Dealers Association's 12th Charleston Fine Art Annual, a premier weekend featuring over twenty-five leading artists, exhibiting at CFADA member galleries and painting in Washington Park," said Jack A. Morris, Jr. of Morris & Whiteside Galleries. "Collectors are invited to watch the artists at work in Washington Park on Saturday morning from 9am until noon and make arrangements to leave Absentee Bids on works in progress at the park. All works will be framed and brought to the Marriott Renaissance Hotel, 68 Wentworth Street, for a cocktail preview on Saturday evening from 5-7 pm."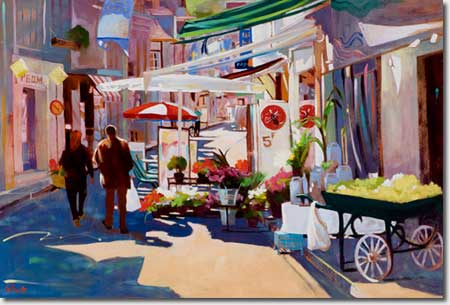 Work by Rhett Thurman
The plein air works will then be incorporated in the live Charleston Art Auction, blended throughout the sale following lot #32 and lot #82. The entire proceeds from the sale of the plein air pieces, including Buyer's Premium, will benefit the Charleston County High Schools' fine art programs.
Works presented in the auction (except works created that day in Washington Park) can be previewed on Nov. 6, from 10am-7pm at the Marriott Renaissance Hotel.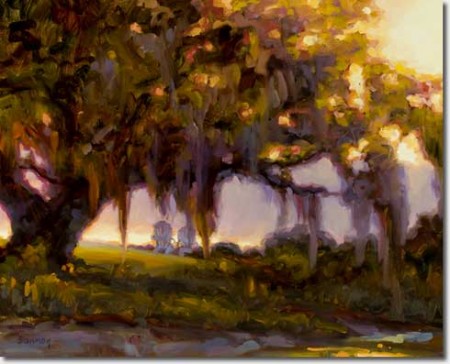 Work by Shannon Smith
Reservations are highly recommended as seating is limited. Tickets are $50 per person (this includes a fully illustrated sales catalogue). The Marriott Renaissance Hotel offers a special group rate for the weekend. Call 800/605-1498 and ask for the Charleston Art Auction group rate.
If you can't be there in person to make your bids, absentee and telephone bid arrangements can be made by calling 843/842-4433. You can view the auction catalogue online at this link.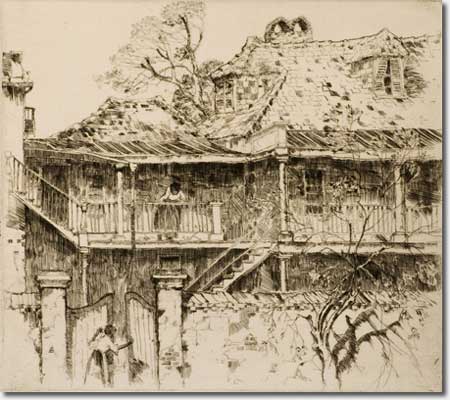 Work by Alfred Hutty
The Charleston Art Auction was founded in 2006 by Morris & Whiteside Galleries located in Hilton Head Island, SC, and The Sylvan Gallery located in Charleston, as the premier Southern art auction. Please visit (www.charlestonartauction.com) for more information.
The Charleston Fine Art Annual raises funds that keep art alive in local high schools. Since 2004, CFADA has donated over $150,000 to art programs at eleven local high schools. "With each passing year, we receive less and less funding for art programs," says Jim Braunreuther, fine arts coordinator for the Charleston County School District. "It concerns me greatly as art classes give students focus, discipline and a sense of belonging. They build motivation and empathy, teaching them to be self-starters and committed."
Founded in 1999, the Charleston Fine Art Dealers' Association is the source of fine art in the South and consists of the city's prominent galleries. The association promotes Charleston as a fine art destination for avid collectors and passionate art enthusiasts and supports the artists of the future. CFADA has donated more than $170,000 to local high schools, the Gibbes Museum of Art, Redux Art Center and the Studio Art Department at the College of Charleston.
CFADA member galleries include: Ann Long Fine Art, Carolina Galleries, Charleston Renaissance Gallery, Corrigan Gallery, Ella Walton Richardson Fine Art, Horton Hayes Fine Art, Martin Gallery, Robert Lange Studios, Smith-Killian Fine Art, The Sylvan Gallery, and Wells Gallery.
For more information on CFADA, please visit (www.cfada.com) and for ticket reservations for the auction call 843/842-4433.
Tags: Charleston Art Auction, Charleston County School District, Charleston Fine Art Dealers' Association, Charleston Marriott Renaissance Hotel, Charleston SC, Jack A. Morris Jr., Morris & Whiteside Galleries, Sylvan Gallery