It was about a year ago when we first brought you the story of South Carolina's first entry into the National Quilt Trail program. It started out as the Oconee Heritage Quilt Trail when the first quilt square was mounted on the Oconee Heritage Center in Walhalla, SC, in Oconee County. Since that time the Quilt Trail has expanded to Anderson and Pickens counties and has been renamed the Upstate Heritage Quilt Trail.
If you've never heard anything about the National Quilt Trail you might want to read that first blog entry I made at this link (http://carolinaarts.com/wordpress/2010/02/15/launch-of-national-quilt-trail-in-south-carolina-feb-16-2010-in-walhalla-sc/). It's much bigger in North Carolina.
You can see a youTube video of that first installation and other activities at this link (http://wn.com/Quilt_Trail), just click on the Oconee Heritage Quilt Trail to the right.
These days I see quilt square's or blocks everywhere – on the road and in photographs of other things. It's amazing how one day you don't know what something is and don't care and then all of a sudden – you can spot them everywhere you go. Well, not so much in SC.
The Upstate Heritage Quilt Trail has a new website which is very informative at (www.upstateheritagequilttrail.com). Check it out. It's still in progress – they will be adding more photos and locations in time.
Here's the group's new press release:
The Upstate Heritage Quilt Trail continues to expand with the recent mounting of three new quilt blocks. Currently, there are now about 40 historic quilt patterns painted on boards and mounted on schools, barns, museums, libraries and homes in Oconee, Pickens and Anderson counties. The three latest are as follows: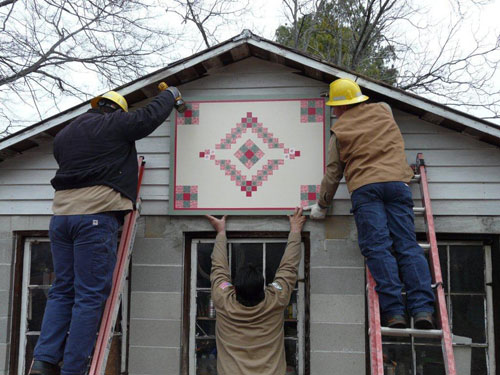 Residence: Mrs. Rebecca DeFoor, 9221 Long Creek Hwy., in Westminster, SC – This quilt block has been lovingly prepared for Sarah Brown DeFoor to honor the memory of her late husband, Waymon Watson DeFoor, who died in 2010. The original quilt was made by Mr. DeFoor's mother, Lucy Looney DeFoor, in the late 1930's as a gift to the young couple. It has been in the family for more than 70 years. Sarah says it was too pretty to use, she's been saving it! It's finally out of storage and on her bed. Her daughter-in-law, Rebecca Harper DeFoor, worked on the quilt block along with members of the Upstate Heritage Quilt Trail. The maker of this quilt combined traditional Nine Patch blocks with the diagonal progression of the Double Irish Chain pattern. The result forms a "framed center" overall design reminiscent of the fine patchwork quilts of the early 19th century.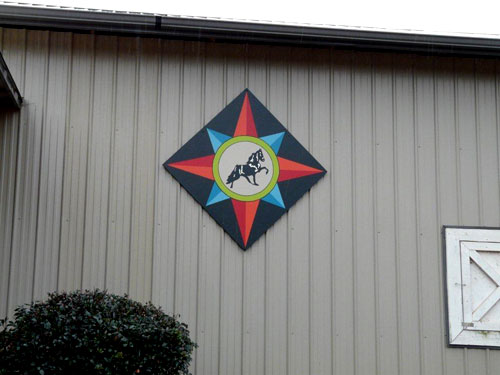 Residence: Nan and Christine Drais – 476 Fire Tower Rd.,  in Seneca, SC – Eagle Ridge Star was born from the love of the barn owners' love for the Tennessee Walking Horse. This block demonstrates the way quilt makers transform existing patterns to feature individualized imagery. Fiery colors of red and orange in this traditional eight pointed star represent the maker's passion for the breed, while turquoise and blue represent the peace of the relationship humans experience with horses. Nan and her daughter Christine Drais have been lifelong equine enthusiasts and built Eagle Ridge Farm in 2005. Christine started quilting while in graduate school at Clemson University where she wrote her Master's thesis on quilt travel.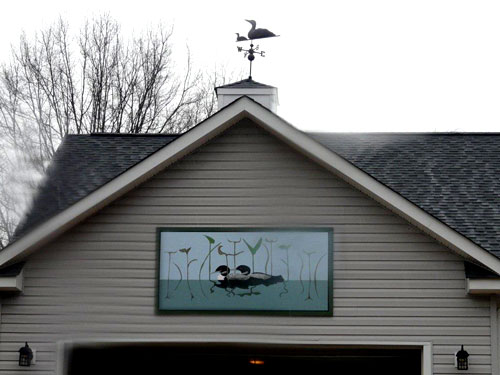 Residence: Karen Books, 307 Valley Rd., in Seneca, SC – Quilt makers of the 21st century often choose to "paint" naturalistic images using fabric, as with this pair of loons. Instead of the square format of traditional block patterns, contemporary quilts often take the shape of a rectangle. The artist for this quilt is McKenna Ryan from her collection "Calling Me Home." It is an adaptation from "All-a-Loon in the Mist" quilt. The original quilter is Pat Huggins of Seneca, SC, and it was sponsored by family and friends of Karen Brooks.
For more information on the Upstate Heritage Quilt Trail, check out the website (www.upstateheritagequilttrail.com) or call Martha File at 864/885-1018 or Cynthia Leggett at 864/985-1271.
Tags: Anderson County, Oconee County, Oconee Heritage Quilt Trail, Pickens County, Upstate Heritage Quilt Trail, Upstate SC, Visiting South Carolina, Visiting Upstate SC