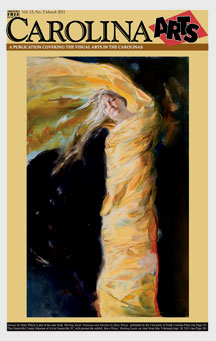 Well, it goes without saying that Carolina Arts had a good month in March – as far as viewers go. We had 45,298 downloads of the PDF of the entire paper. Thank you to all who helped spread the paper around.
Of course the big unknown is the (other) category on our statistics final report for March. If you haven't read this before, we have a category of visitors to our website at (www.carolinaarts.com) that is identified as (other). It was explained to us by our server that this group represents a variety of pages that were called up from different points – not directly from our web page, but can not be broken down as individual page counts. "What?" My same thought. Anyway, it amounted to 94,274 in March. What it comes down to is this – there could be another 45,000 visitors to the March issue in that group – or not. It could be 90,000 or not. It could be 2, but we don't know for sure and neither does our server and getting info out of Google seems to be a life long wish. Google now owns the stat counter we use.
That's why we are sticking with the 45,298 number. Which is great. Having just launched the April 2011 issue of Carolina Arts (www.carolinaarts.com) it makes me wonder – will we double the downloads again this month? Is that possible?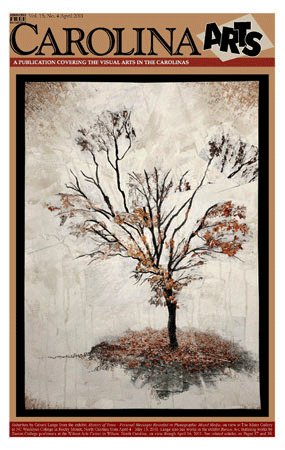 Of course it should also be noted that many people access the paper from their browsers and never download the PDF. So we think we can be safe in saying the many more than the download number are seeing the paper.
It's like in the old days when we printed the paper back in 2010 – three months ago -someone would pick up a copy of the paper somewhere and take it home and look it over and put it down on a table. Someone else in the house might see it and pick it up and read a few articles. Eventually someone may take it over to a neighbor to show them something and they ask if they can bring it back later after showing their spouse something in the paper. We have four viewers but even if someone where the original person picked it up saw them do it – they only saw one person connected to picking up the paper. Of course in the same reasoning, that person could have picked it up because it was raining and held it over their head until they reached the next place and dumped it in the trash – never looking inside and to top it off – no one saw them pick it up. It works both ways. Circulation, viewership – whatever you call it is a guessing game. No one can be sure of anything.
The only number that counts to advertisers is the one where someone says they saw their ad or comes in because they read an article about their show. Or better yet, buys something – a work they saw in Carolina Arts.
Other numbers that have some meaning include: the Feb. 2011 issue was downloaded 2,312 times and the Jan. issue was downloaded 1,106 times – which is down from last month. But it is still nice to know that over a thousand people visited the Jan. issue to take a look. But, again the funny thing there is on March 31st – 83 people downloaded the Jan. issue while only 12 downloaded the Mar. issue. That's twice that at the very end of the month – there was an increased interest in the Jan. issue over the current issue.
Our visitor sessions were up from an average of 60,000 to 68,513 – which is good, but really tells us that the PDF link is being spread around by others. But, these others are the good others – our friends – unlike those (other)s who hide information from us.
Hits on the website for the month of March were 723,940. I can remember a few years back when I was excited about reaching a million in one year. With April's issue being 71 pages that number should jump drastically.
That's the facts, Jack!
Tags: Carolina Arts, Carolina Arts Newspaper, Visiting North Carolina, Visiting South Carolina