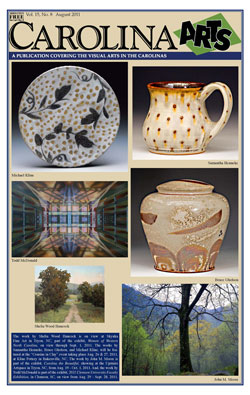 I'm so glad Summer is over. The leaves are turning color and there's a nip in the air. Wait a minute – the leaves started turning brown a month ago from being cooked in the sun and that nip is 90 degrees, but still – it's better than 98 or 100 + degrees and the overnight temps are getting lower – so I guess Fall is here. At least the kids are back in school and football is here.
We just sneaked over the 50,000 mark with 50,084 downloads of the August 2011 issue of Carolina Arts. It might have been higher if not for Hurricane Irene, but I don't blame people for being glued to the Weather Channel to see where that storm was going. Unfortunately it hit Eastern North Carolina pretty hard.
I feel we did OK during the Summer months and maybe we'll be able to improve on that next year now that we know some of the pitfalls of Summer. The bright side of this Summer has been the increased activity on the Carolina Arts website. August saw 80,376 sessions, just short of the record set in June. The August issue also received 535,271 hits – just 50,000 short of the total in June.
The number of downloads of previous issues are as follows: the March issue only received 2,159 downloads. It looks as if interest in this issue had finally fallen off – yet it comes in second place. The June issue received 991 downloads, while the February issue received 582 – almost twice as many as last month. Next came the July issue with 289 downloads and the January issue came in with 71. The April and May issues were a no show – meaning that in checking the top 500 requested items – they would have come in with less than 45 downloads. But, it could have been much less. I didn't think it was that important to see where they came in on the list of 10,001 items our server lists.
I think the numbers will be up in September, but you can never tell – we have the Labor Day weekend to compete with at the time of our launch – again competing with a big holiday weekend, but since we have 68 pages of content – it should be higher. Holidays never last very long – at least not long enough.
If you haven't downloaded the Sept. 2011 issue of Carolina Arts, you can find it at (www.carolinaarts.com). If you'd like to help spread the word about the visual arts in the Carolinas – send the link for the download (http://www.carolinaarts.com/911/911carolinaarts.pdf) to you friends and contacts by e-mail or post it on your Facebook page.
Our October issue already looks to be a monster issue.
Tags: Carolina Arts, Visiting North Carolina, Visiting South Carolina