If it's the Thursday before Thanksgiving, then it's time for Vista Lights in the Congaree Vista area of Columbia, SC. That's when the art galleries, restaurants, and various shops turn up the lights for an evening celebration of the coming holiday season. It's not the same as the Artista Vista event which focuses only on the arts community of the Vista, but it is still an enjoyable event – one I always try to make. Unfortunately for Linda, she was on call at her 911 dispatch job and that call came for her to come into work at noon. So I made the trip solo.
If there is one thing I've learned in my 37 years of living in SC's Lowcountry it is the fact that although I love where I live – it is good to get out from time to time to enjoy the offerings of other communities – just a few hours drive away. I wish more people in the Lowcountry would feel that way, but I guess when you are born with pluffmud between your toes you see things differently. I'm originally from Michigan.
So, within two hours of leaving the Carolina Arts headquarters in Bonneau, SC, I was pulling into a nice parking space at about 4:45pm right on Lady Street in the heart of this event which would close off Gervais Street from 5-8pm. I guess most folks in Columbia didn't think they could get a parking space so close to the action.
I started my Vista Lights journey at Vista Studios, a group of artists' studios and Gallery 80808, which was presenting the exhibit Legally Twenty-One, featuring works by the studio artists, on view through Nov. 29, 2011.
I took my first photo and pulled out my note pad and – where's my pen? And, it hits me like a lead brick – I took it out to write down my beginning mileage and it's sitting on the passenger car seat. Darn! I took a few more photos but not too many that I couldn't remember the order and then went to call on Susan Lenz who has a studio at Vista Studios. She's a highly organized individual and I just knew she would have a spare pen or pencil. And sure enough, she had a fishbowl full of pens and pencils on one of her work tables.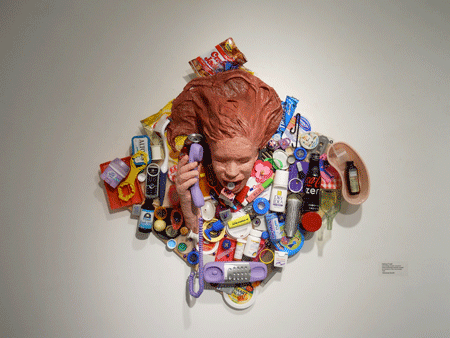 Talking Trash by Kirkland Smith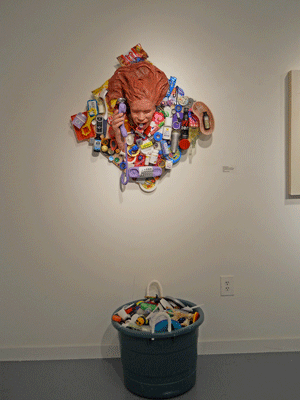 Talking Trash, the full image.
We had a good chat about various subjects ranging from upcoming shows, business deductions that don't grow on trees, and the sad fact that she will be "forced" to attend an artist's residency for the month of March 2012 in Key West, FL. Poor Susan. The things some artists are forced to go through to keep the creativity going is downright heartbreaking at times. This was not one of those times, but Lenz has had her fair share of struggles so I gave her a pass while I was thinking that I'll still be cleaning up Winter's mess left in our yard during the month of March.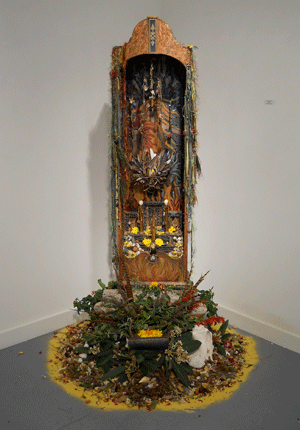 Reliquary to All by Heidi Darr-Hope

White Trash by Kirkland Smith. Works by Stephen Chesley to the left, work by
Laura Spong to the right.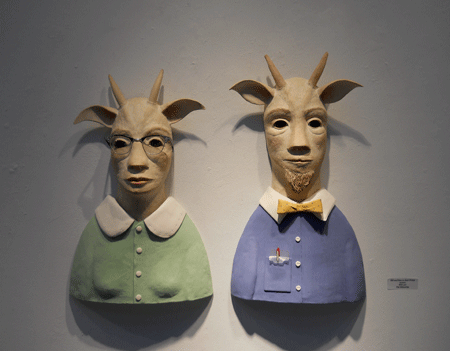 Bill and Nan in Their Prime by Pat Gilmartin
So with pen in hand, I returned to my photo path and recorded titles and took a few more photos. Once home reviewing my photos I realized I didn't get any photos of Lenz's works in the exhibit, but I'm sure I'll make that up sometime in the future. After all, she saved me a trip back to the car.
I also has a chat with Laura Spong, which is a tradition going back to my first days of delivering Carolina Arts to Columbia – back in the days when it was a printed publication – so old hat. When I think about that I realize I'd still be on the road right now if I had to deliver the 77,000 plus papers people have downloaded so far this month. My back and feet would be killing me.
Spong will be having an exhibit opening at the Spartanburg Art Museum in Spartanburg, SC, next month. Her exhibition, Laura Spong: Early Workswill open on Dec. 20 and continue through Feb. 18, 2012. Make sure you put that on your calendar.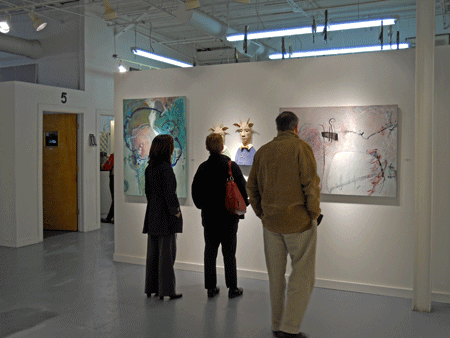 Other folks meeting Bill and Nan
Vista Studios was beginning to fill up so I headed on to my next stop – City Art Gallery to see the exhibit, New Abstracts: Rodney Wimer, which will be on view through Dec. 23, 2011. The key word here is "abstracts". I like abstracts – regular readers know that by now. I'd seen the photos that we presented in our Nov. issue of Wimer's exhibit, but photos never do much for me when it comes to seeing abstracts up close, in person. Wimer had my attention and his works did not disappoint. Since red is a favorite of mine, it was a plus that the color red seems to show up in most of his works.
The photos I took of Wimer's works at City Art have made the reds look too orange, but I'm including some of the images we received for the paper to show the true colors, but all computer screens show colors differently. Take my word – his reds are red.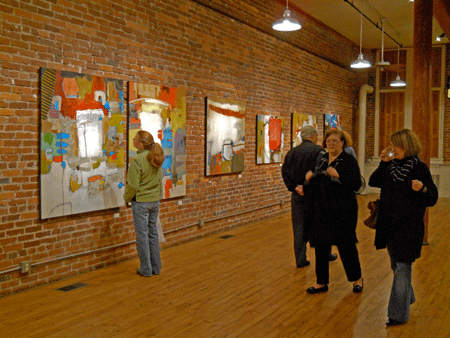 People checking out Rodney Wimer's works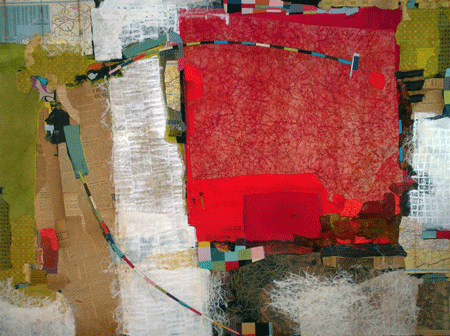 St. George and the Dragon by Rodney Wimer. Photo from City Art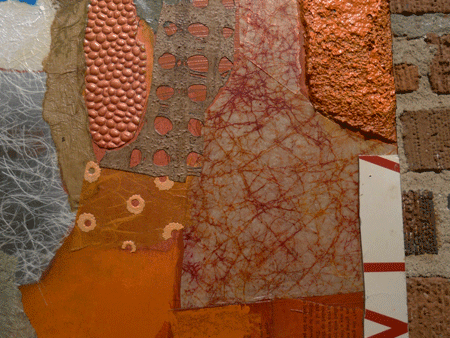 A detail of A Guide to Recognizing Your Saints to show the texture of Rodney
Wimer's work.
Randy Hanna, one of the owners at City Art and the art supply guru, matched up with me as we declared our favorites. That just shows me what an eye for art he has.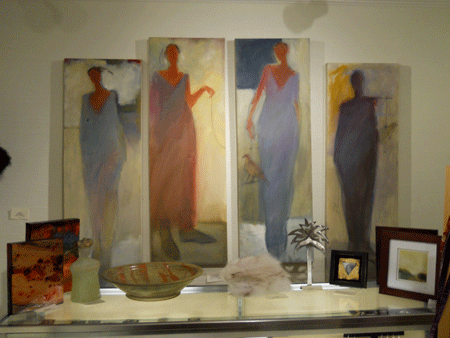 I found some not too tall women by Harriet Marshall Goode. These paintings
were only 45″ tall compared to the 7′ tall paintings Goode presented a few
months ago.
Of course Vista Lights is more about visuals than words, so I'll let these meager photos tell just a little of the story you need to experience for yourself.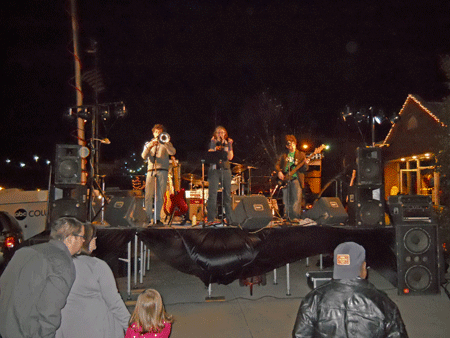 These folks were entertaining the crowd on Gervais Street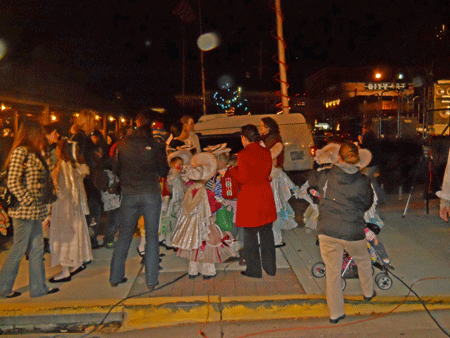 These children are waiting for their turn to preform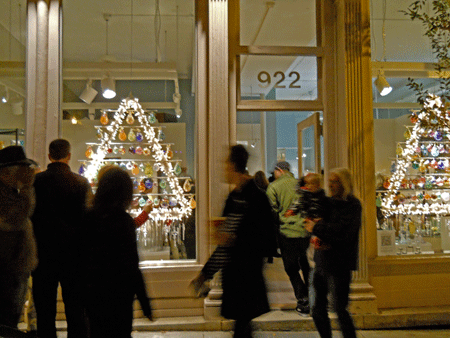 These folks were checking out the windows at Carol Sanders Gallery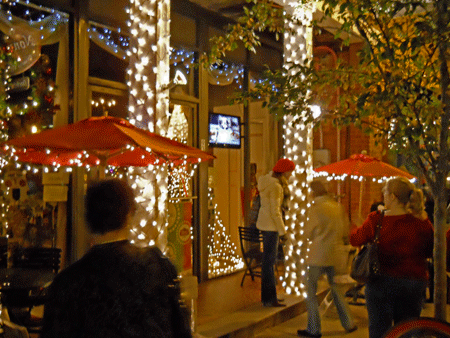 Folks were flowing in and out of The Gallery at Nonnah's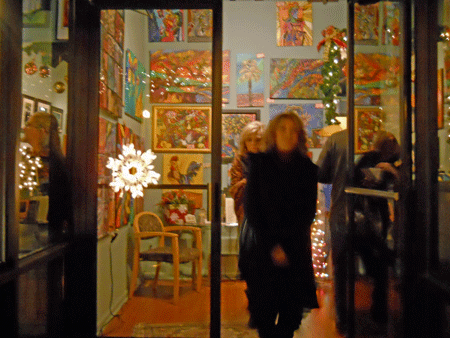 Here you can see some of the art on display at The Gallery at Nonnah's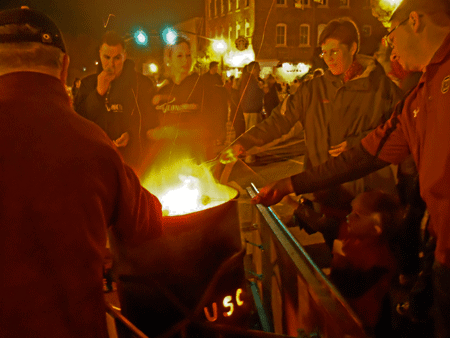 Here folks are roasting marshmellows
To illustrate how different the crowd is for Vista Lights compared to Artista Vista I stood on the Blue Marlin side of Lady Street looking across at if ART Gallery and the Lewis + Clark's work studio. Streams of people were flowing past if ART with one in ten going in the door, but everyone was stopping to check out what they were seeing at Lewis + Clark, which was an odd collection of robot lamps – at least that's what seemed to be drawing people in. During Artista Vista the crowd is there for the arts, during Vista Lights, more families are on the street. I would guess that during Artista Vista no one would be passing by if Arts.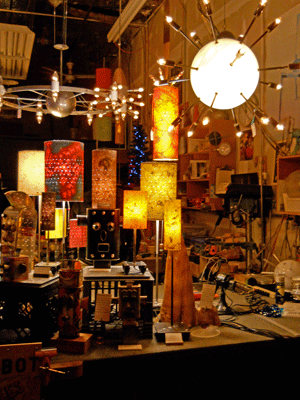 Various lamps at Lewis + Clark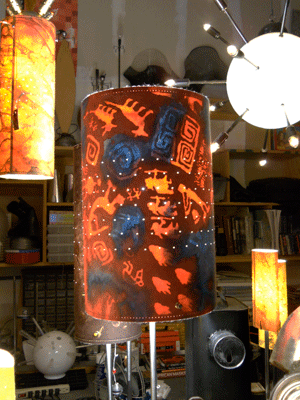 A closer look at one of the lamps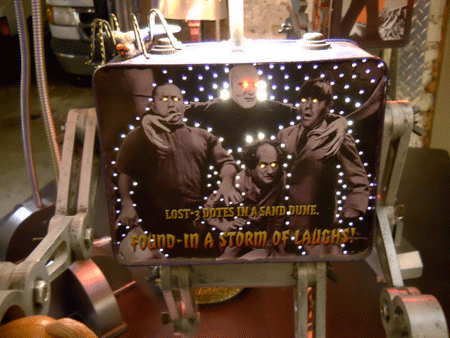 Body of the Robot Lamp/Stooges by Clark Ellefson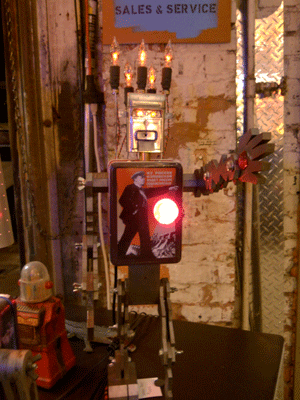 This was Lenin Bot by Clark Ellefson
My last stop of the evening was at One Eared Cow Glass. No trip to Columbia is complete without a stop to see the cowboys who were be demonstrating their magic for Vista Lights. Tommy Lockart, Mark Woodham and their sidekick Ryan Crabtree were doing the dance of glass making with an entranced audience on hand. Nowhere better does the concept behind Vista Lights works better than at One Eared Cow Glass where light sparkles off the surfaces of the colorful glass creations. If you squint your eyes it's as if your looking at one big Christmas tree.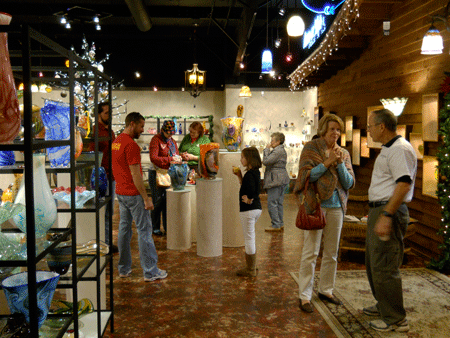 View inside the showroom at One Eared Cow Glass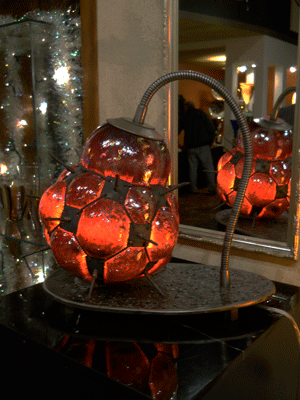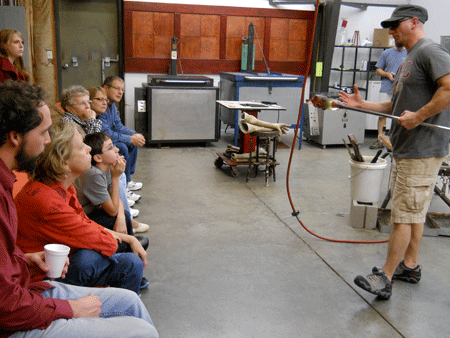 This lamp is one of my new favorites
Mark Woodham talks to a very interested crowd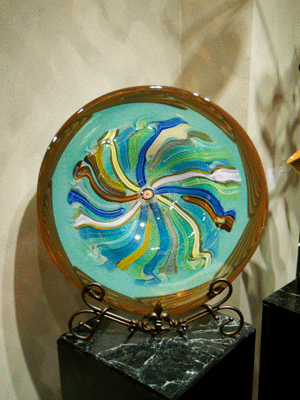 One parting shot – just another wonderful creation
I'm telling you – if you've never been before, put the Thursday before Thanksgiving on your calendar for a trip to Vista Lights in Columbia, SC. And then mark that weekend in for a trip to Seagrove, NC – my next blog entry.