Our October 2011 issue of Carolina Arts was a super issue – a record setter as far as number of pages and number of downloads, but the November 2011 issue set some records too, although it was a smaller paper.
The total for downloads of the November issue was 79,742, just a day short of 80,000. If November had 31 days instead of just 30 we may have made it. Of course some days we got 1,500 downloads and some days less than 100. You can never tell what's going to happen. The bulk of the downloads come in the first week of the month. November was also the first month that the total downloads beat out the total of the "other" category which only amounted to 57,275.
This was pretty good considering November has a major holiday and the distraction of Black Friday and Cyber Monday also took place. But, it was lucky for us that they took place near the end of the month – not the beginning.
The Carolina Arts website also set a record high of 95,096 individual sessions or visits to the website. We're now up to an average of over 3,100 visits a day. The total hits was about our average number of hits each month at 562,070. We had a high of 723,940 hits in March 2011. And, once again the March 2011 issue attracted 12,246 downloads during the month of November – which is truly a mystery and is nearing the 100,000 download total mark since it was first launched on Mar. 1, 2011. That's an issue that keeps on ticking. Something about that issue really attracts viewers or the same people keep forgetting what they saw the first time and go back for a second and third look. I can't figure it out.
The rest of the download numbers for November are as follows:
The June 2011 issue came in 4th place with 1,790 downloads, while the May 2011 issue attracted 1,345, and the January 2011 issue got 863. All respectable numbers considering the info contained in those papers was long past. And they are a considerable drop from the totals that the March issue is seeing.
Next came July 2011 with 432 downloads; August 2011 with 363; and February 2011 with 170. Amazingly, the October issue received 119 downloads. The pattern so far is that the issue from the month before the current one drops out of sight. For some reason people are more interested in very old news compared to things that were going on just a month ago. That pattern is a real brain twister too.
The April 2011 and September 2011 issues were no where in sight on the list of the first 300 categories. That means less than 50 downloads would have taken place – if any. The list has 10,001 items on it and it takes a very slow day to force me to look at much of it, and my days haven't been that slow lately.
So there is lots of good activity going on – downloads, web searches and people checking out the blogs. New readers are coming on board every month, comments are super positive, but… it all doesn't mean a hill of beans if our supporters – the advertisers are not seeing some activity too. So, I always want to remind folks to let them know you appreciate their support for Carolina Arts. And, people should remember that we are not a non-profit. We don't receive any funding to produce this paper for the good of the community. A lot of people make that mistake thinking that we must be to do all this work. The advertisers make this paper possible. That's a fact that should never be forgotten.
Oh yeah, we also got lots of new Facebook "likes" over at (http://www.facebook.com/carolinaartsnewspaper) last month. We can always use more.
Finally, I want to give some well deserved credit to the good folks who take the time each month to spread that notice of the new issue out each month to their e-mail list and the folks who receive that second-hand notice who pass it along. That's how we are getting all those downloads. Some of you know what I'm talking about – you're getting 3 and 4 and more copies of the same notice from various sources.
Our list is not that big, although it is getting bigger every month as folks from those second- and third-hand list are asking to be added to our list – just to make sure they will always get the notice.
So at the first of the month when we throw that stone (our e-mail list) into the water and the waves go out – others are throwing their stones in the water creating new waves. And, some of those folks have big stones to toss. But we don't care if the stones are big, medium sized or small, as long as people keep throwing them. I guess it shows they like what they see each month. At least I hope that's what it means. We appreciate it.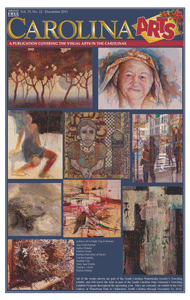 And, if for some reason you're reading this and haven't been hit by one of those waves – the link to download the November 2011 issue of Carolina Arts is (http://www.carolinaarts.com/1211/1211carolinaarts.pdf). It will take a few minutes, but well worth the wait. At least that's what I've been told.
Tags: Carolina Arts, Visiting North Carolina, Visiting South Carolina