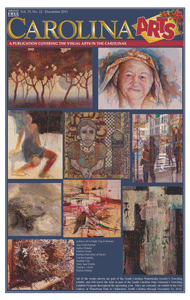 Well, it seems we are still riding the top of a pretty good wave this month. The total downloads of the Dec. 2011 issue of Carolina Arts for the first ten days in December is 78,221 – that's about 7,000 more than last month at this time. I continue to be amazed.
Although it has been a year since the last time I had to hit the road to deliver papers around the Carolinas, I think I could still do it, but I think I'd be in the hospital or still on the road if I had to deliver 78,000 papers. That's like delivering seven months worth of papers in ten days compared to the old days. Of course this new paper would also be at least three time bigger. Oh my achin' back!
I can only assume we will be setting new records this month, although it is possible it could be all down hill from now on as most of the monthly downloads come in those first ten days – with a few exceptions. I would expect that by the Friday before Christmas all activity on our website will come to a standstill. And, between Christmas and the New Year – not much will go on either.
As far as the other numbers go, the (other) is in second place with a total of 20,087 – also a little more than in Nov. at this time. In third place is our August 2011 issue with 1,829 and in fourth is – you got it – our March 2011 issue with 1,781. But when I looked at the numbers for Dec. 11th – they had traded places. That March issue is a wonder.
The standings really drop after that. In fifth place was our July 2011 issue with 211 downloads. Following behind was January 2011 with 143; June 2011 with 98; and February 2011 with 27. All other months were below the 200 item number on our stats counter.
Just remember, family and friends come first during the holidays, and we hope you have good ones, but once the excitement is all over – it's OK to get back to your internet searches.
And, Santa if you're reading this – all I want for Christmas is more advertisers, more downloads, more "likes" on Facebook, and more customers for the arts. That's all I want. But, if you like, you can throw in Peace on Earth, good health and happiness for all, and a Democratic landslide in the next election. And, one final thing, let the Carolina Panthers beat the New Orleans Saints on New Years Day – big time. That's absolutely all I'm asking for this year. Wait, if you could see it to bring gas prices back down to 99 cents a gallon that would be good too. That's it. I can wait till next year for you to take care of all my debt if you're in a hurry to get to someone else.
P.S. Santa, Linda and I are trying to cut back on all the goodies this year so there won't be any cookies this year and without cookies I'm not sure if the milk will be worth leaving out. Besides last year you forgot to clean up the crumbs and there were ants in the morning. We're not complaining, it's just if you leave crumbs out – how can you blame the ants. They've got to eat too I guess. And, FYI, you do remember Bonneau Beach has a pooper scooper law in place, that was a heck of a surprise you left on the roof last year. I'm just saying.
Tags: Carolina Arts, Visiting North Carolina, Visiting South Carolina