This weekend is the big 5th Annual Celebration of Spring in Seagrove, NC – a group kiln opening and tour – taking place Apr. 20 & 21, 2013. It's the second best way to visit Seagrove and see as many potteries as you can – next to the fall Celebration of Seagrove Potters where they all come together in one place. Plus, I'm told that Spring time in Seagrove is like Spring time in Paris. I can't remember who told me that, but I did hear it.
I'm going to give you the official PR, but first I want to put in a special plug for one of my favorite potteries – Whynot Pottery.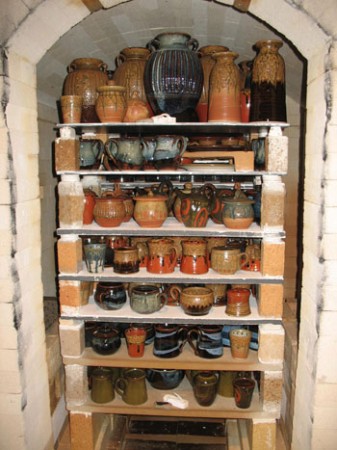 Mark and Meredith Heywood of Whynot Pottery will once again host Acacia Tile for their Mud and Suds event on Saturday Apr. 20, from 9-5pm and Sunday Apr. 21, from 11-4pm.
Mark and Meredith have been busy restocking the shelves and will have your favorite "hand crafted, homemade", kiln cookies on hand for a quick munch.
Let me repeat for the hard of reading – hand crafted, homemade, kiln cookies….
Everyone knows regular cookies come from cardboard tubes bought at Wal-Mart. You put the precut "cookies" on a pan and put them in your oven – oh the joy. Like great pizza – great cookies are make in a kiln. And cookies sprinkled with potter ash – are the best.
Joining in on the fun on Saturday and sharing her talents is Laurie Abela of Abela Bodycare. Laurie is a long time soap maker and will bring her knowledge of soaps and bodycare to the show on Saturday.
This event coincides with: The Annual Seagrove Potters "Celebration of Spring Kiln Opening & Studio Tour". I think of it as the Great Celebration of Meredith Heywood's Kiln Baked Cookies, but that's me. You can call it what you want, but I'm working on a future slice of pineapple upsidedown cake.
For more information you can call Whynot Pottery at 336/873-9276 or check their Facebook page at (https://www.facebook.com/whynotpotterywhynotnc).
OK – here's the PR on all my other favorite potteries in Seagrove.
Celebration of Spring Kiln Openings & Studio Tours Takes Place in Seagrove, NC – April 20 & 21, 2013
Seagrove, NC…It's a beautiful weekend to come out to the freshly blooming spring countryside and leisurely browse, shop and experience a 200-year-old tradition, see the process, develop and renew relationships with the potters of Seagrove.
A large variety of events are scheduled throughout the weekend, held at individual shops, including, but not limited to – loads of beautiful new pots fresh from the kilns. Stop at any participating shop as you come into Seagrove to pick up a map of the tour. You can download a pdf of participating shops, hours, and a map from Discover Seagrove or Celebration of Seagrove Potters and be sure to like us and follow us on Facebook for updates and special offers at Celebration of Seagrove Potters.
Special events include:
Ben Owen Pottery will have pottery demonstrations by Ben Owen III periodically throughout the weekend.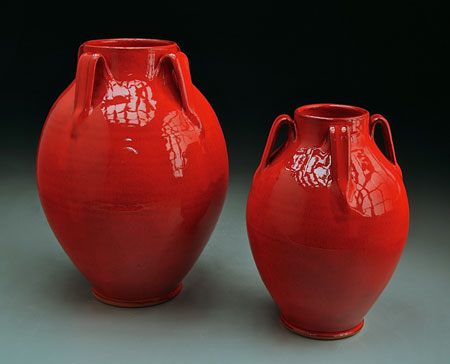 Works by Ben Owen III
Bulldog Pottery – Bruce Gholson and Samantha Henneke will have new vases and tiles, and serve light refreshments.
Caldwell-Hohl Artworks will feature new work, garden art, studio tours and light refreshments.
Crystal King & King's Pottery wood-fired kiln unloaded at 10am Saturday at Kings Pottery. Numbered collaborative 3-faced jugs & special animal sculptures by Crystal will be available.
Donna Craven Pottery is celebrating with new spring themed pots, refreshments and door prizes.
Eck McCanless Pottery is offering visitors the opportunity to get their hands dirty with hands-on turning and Agateware carving demonstrations.
From the Ground Up – with guest potter, Melanie Hutchins, will offer new work by Michael, Levi & Chelsea Mahan. Horse hair firing in the afternoons. A.M. organic scones & coffee, leek & potato soup for lunch.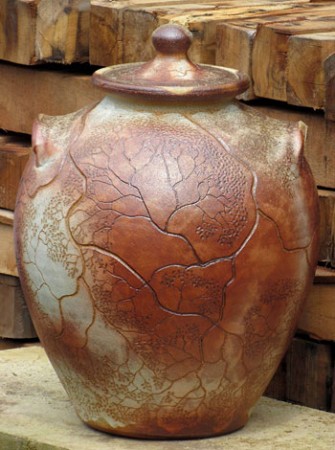 Work by Michael Mahan
Great White Oak Gallery is celebrating spring with demonstrations and refreshments.
Hickory Hill Pottery will feature new glaze combinations as well as door prizes and refreshments. Come join in the fun!
Keith Martindale Pottery will offer demonstrations and refreshments.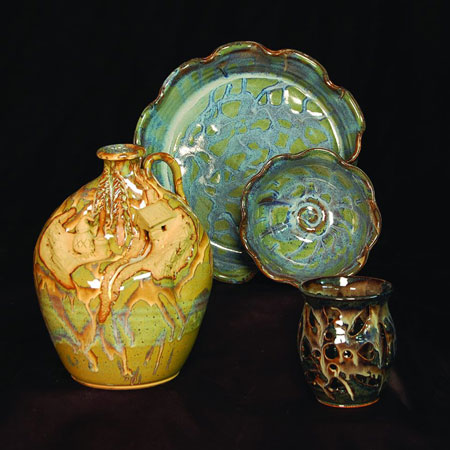 Work by Keith Martindale
Lantern Hill Pottery will have refreshments and doorprizes.
Latham's Pottery will have pottery demonstrations and refreshments.
Michele Hastings and Jeff Brown Pottery present new collaborative work, fresh from the latest firings, and will be demonstrating throughout the weekend.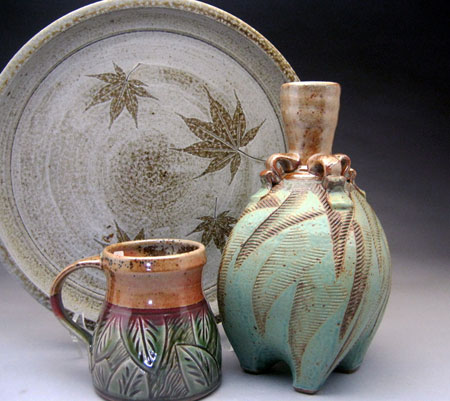 Works by Michele Hastings and Jeff Brown
Old Gap Pottery will have brushwork decorating and throwing demonstrations along with morning coffee and biscotti.
Studio Touya will feature the latest wood fired pots and offer refreshments.
Tom Gray Pottery – In addition to new pottery pieces, Tom will also have a selection of his handmade kitchen knives.
Whynot Pottery & Acacia Art Tile is Celebrating Spring with "Mud & Suds", with special guest Laurie Abela of Abela Bodycare. Also, offering refreshments (kiln baked cookies) and tours of their work building and kilns.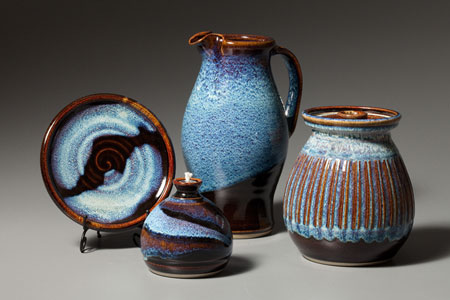 Works from Whynot Pottery
The following pottery shops; Southern Spirits @ A. Teague Village, Avery Pottery & Tileworks, Blue Hen, BlueStone, Chris Luther, Chrisco, Daniel Johnston, Dean and Martin, DirtWorks, Fireshadow, Frank Neef, JLK Jewelry/Jugtown, Luck's Ware, McNeill's, O'Quinn, Ray, Seagrove Stoneware, Smith and Snowhill Pottery and Tileworks are also participating in the Celebration of Spring. Each shop will have something special for visitors to enjoy.
The Seagrove Area Potters Association (SAPA) is a group of remarkable clay artists united to showcase the traditional and contemporary pottery of the historic Seagrove community. The goal is to maintain the authenticity of Seagrove pottery by working together in community efforts to promote the historical, educational and artistic aspects encountered while visiting Seagrove, and to draw customers to the individual shops to have a firsthand Seagrove experience.
For further information visit Discover Seagrove (http://www.discoverseagrove.com/) or Celebration of Seagrove Potters (http://www.celebrationofseagrovepotters.com/).
P.S. I'd be neglect in my duties if I didn't suggest that while you're in Seagrove – stop by the NC Pottery Center and see their Tea Pot exhibit. It's located in downtown Seagrove – you can't miss it.
Tags: Carolina Arts, fall Celebration of Seagrove Potters, Fifth Annual Celebration of Spring, Meredith Heywood's kiln baked cookies, Seagrove NC, Seagrove Potters, Visiting North Carolina, Visiting Seagrove NC, Whynot Pottery