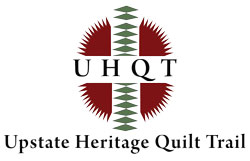 We've been a little busy with many Carolina Arts related venues – paper, blogs, Facebook and Twitter, that we haven't been able to keep up with the Upstate Heritage Quilt Trail's expansion. So here are some backed up articles about new quilt blocks that have been added to the Quilt Trail.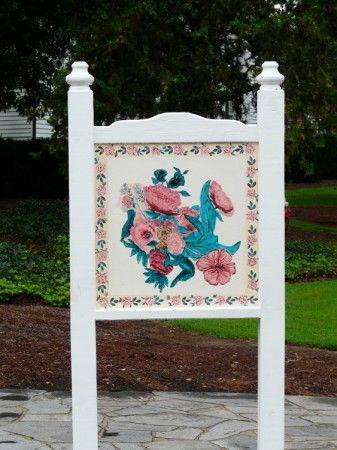 Fort Hill, the home of John C. Calhoun and then Thomas Greene Clemson, has joined the Upstate Heritage Quilt Trail. The block is mounted in the garden as one walks to the house from the visitor's parking lot. The original quilt was found in the master bedroom at Ft. Hill. The decoration is hand appliquéd printed chintz in a floral design, and was made by Martha Cornelia Calhoun, daughter of John C. Calhoun and his wife Floride.
Cornelia was born in 1824, the seventh child and youngest daughter born to the southern statesman. She was one of only two Calhoun daughters, with her older sister Anna Maria, to survive to adulthood. Unlike Anna Maria, however, Cornelia was in frail health for most of her life, having been born with several disabilities, including a hearing problem and an injured spine.
Cornelia was the Calhoun sibling who remained the closest to home. She spent most of her life as the constant companion of her mother and had a close relationship with her father. She was one of the only Calhoun children allowed into her father's office in the garden behind the Fort Hill. He took a special interest in Cornelia, sparing no expense in making sure she was well cared for. A garden was planted on level ground behind Fort Hill for Cornelia's use. She did not travel away from her parents to attend school, but was taught at home and needlework was an important part of every young lady's education.
In addition to needlework, Cornelia was an avid reader, often reading correspondence that her father received from Washington. She often accompanied her parents when they traveled between Washington, DC, and South Carolina, and kept up a lively correspondence with her older sister who had accompanied her diplomat husband to Belgium.
When her father died in 1850, she received part of the title to Fort Hill. When her mother sold Fort Hill to Andrew Pickens Calhoun, the oldest son, Cornelia moved out of Fort Hill to live at Mi Casa, a mansion in Pendleton, SC, purchased by Mrs. Calhoun. She lived there for the rest of her life. Martha Cornelia Clemson died at Briar Thicket, her younger brother William's home in Abbeville, SC, in 1857 at the age of 33 following a short illness. She is buried in the Episcopal Church in Pendleton, next to her mother. A memorial to Cornelia is also located in her garden at Fort Hill.
Fort Hill is open Monday through Saturday, 10am to noon and 1 to 4:30pm, and Sundays from 2 to 4:30pm. The facility is closed during University holidays and open additional hours by appointment. For further info call 864/656-2475 or e-mail to (hiottw@clenson.edu).
The Arts Center located at 212 Butler Street in Clemson, SC, has joined the Upstate Heritage Quilt Trail. The quilt, called African Village, was originally designed and made by Anna Crittendon Willis of Clemson. An only child born in Tennessee in 1925, Willis moved with her parents to Seneca, SC, at the age of two. She lived there until 15 years ago when she relocated to Clemson. Her tidy fenced yard and cottage give a visitor no clue as to the remarkable art that is created inside.
Now 87, Willis spends most of every day with scissors or needle in hand, surrounded by a spectacular array of colorful finished or in-progress quilt tops. Her tiny form moves from stack to workspace with the energy and enthusiasm of a teenager – despite hip and knee replacements in recent years – and the sparkle in her eye, when it comes to quilting, hasn't diminished since her mother taught her to cut out her first square at the age of four or five.
Willis' lifelong love of quilting began at home near downtown Seneca, watching her mother and a friend quilt together on a suspended frame that was raised at night to the ceiling and lowered the next day. The old quilts, she remembers, were two and a half yards square, made to fit a single bed. "Never could tuck them in right!," Willis says with a laugh.
Willis' mother, widowed early when her father died at 37, was a powerful figure in her life. A resourceful woman who worked as a cook and nutritional worker at Oconee Memorial Hospital until she retired, she taught Anna to use what she had. While she worked, the young Anna took care of the family cow and chickens.
Willis' delightful free-hand cutouts of chickens and other animals in the series of quilts she calls African Village are inspired by that early first-hand experience. Other more sophisticated designs were influenced by her later travels to Chicago and Key West and other points in the US.
"People would give Mama scraps," Willis said, "and we made quilts from hog and chicken feed sacks – the big white ones that held 50 pounds of hog 'shorts,' we'd wash the letters out in cold water. The pretty printed ones, we'd make clothes with and use the scraps for quilts."
Willis' quilts are a marvelous mixture of classic patterns and her own creative designs. In the African Village quilt made in Clemson in 2009 and selected to hang on the outer wall of the Arts Center in Clemson, SC, free-drawn figures, animals and structures mix with a classic patterned guinea hen in fanciful foliage. Many of her quilts also feature her exquisite embroidery skills.
Willis is as extraordinary as her work, a woman who loves her craft and meets each day with fresh ideas and great expectations.
If you ask to see Willis' awards, she will pull out a yellowed envelope filled with blue and red ribbons from the Anderson County Fair as well as myriad others collected from other shows over the decades.
The Arts Center is a community non-profit arts center, providing arts education and making fine art exciting and accessible to the community. It is housed in the Calhoun Bridge Center, formerly the Morrison Annex. It is one of three non-profits located there, including the Clemson Child Development Center and the Clemson Area African-American Museum.  Hours are Mon.-Thur., 10am-5pm, and Fri., 10am-2pm.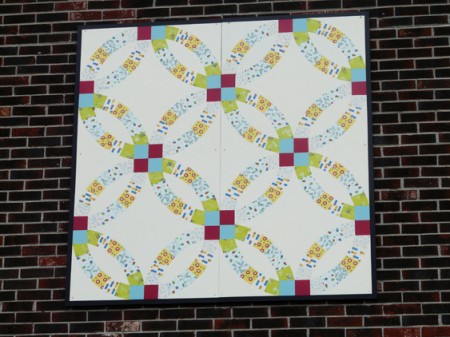 A Double Wedding Ring quilt block was added to the home of Joe and Carolyn Murrow on Gap Hill Road in Six Mile, SC. The original quilt was made by Joe's maternal grandmother, Janie Elizabeth Gunn Smith. He remembers her making many quilts in the 1930's and 40's, always from scraps left over from family sewing. As a little boy, Joe was always excited to see a bit of his pajama material or Mamma's dress in a new quilt.
Smith was born in 1878 on her family's naval stores plantation, which produced the materials needed for building and maintaining sailing ships – resin, tar and pitch – all from pine trees. She would have learned to quilt from her mother at an early age. She and Wade H. Smith were married in April 1900, and had six children, five of whom lived to adulthood. She lived all her life on the land where she was born and she died in 1971. This addition to the Upstate Heritage Quilt Trail is in fond memory of Grandmother Janie and in honor of Joe's 80th birthday.
The Double Wedding Ring was one of the most beloved patterns of the early 20th Century. It appears to have developed as a simplified version of Pickle Dish, a late 19th Century pattern.  Its popularity exploded during the time of the Great Depression. During the 1930's and 40's, the most common style used wedges pieced into an arc, then joined together with a plain square or Four Patch block at the intersections. Several newspapers and magazines published patterns and articles and kits were sold with the fabrics already pre-cut. Local fairs expanded its popularity by sponsoring the Double Wedding Ring quilt as a special juried category.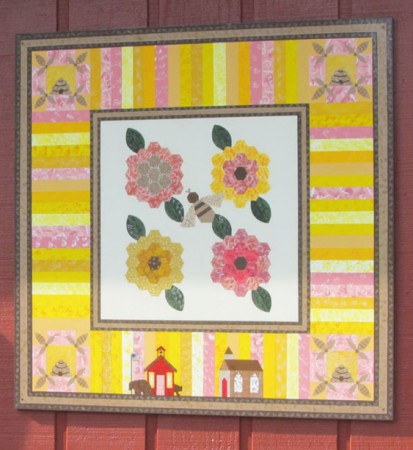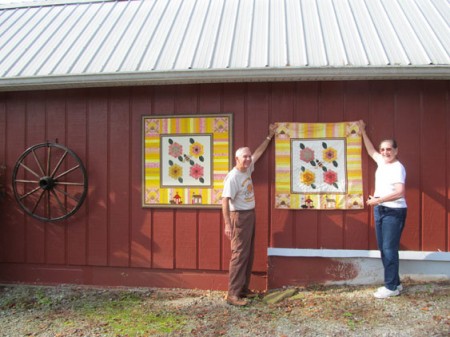 Lucy and Dale Harwards' Hay Day Farm located at 130 Hay Day Farm Drive in Pickens, SC, has joined the Upstate Heritage Quilt Trail. A quilt block designed by the Reverend and Mrs. Harward and executed by her, is called Harwards' Hay Day Farm. It depicts their life together and their many vocations and interests.
The center square of the quilt is a variation on the Grandmother's Flower Garden pattern and represents the many flowers and other products from Dale's garden. The border is a variation on the Rail Road pattern, and includes appliques of a church representing Dale's work as a minister in the United Methodist Church. The school house represents Lucy's work as a teacher and the bears circling the school house represent the bears that have cleaned out their hives nine times during April and May of this year. The bees and skeps in the corners and middle square represent the bees the Hawards keep for pollinating their gardens and for honey production. A skep is a bee hive.
Lucy Eleanor Boozer Harward is a self-taught quilter, but has attended many classes and workshops over the past 40 years. She made the quilt between February and April of this year, working diligently on it in her living room and sewing room; in her car; in her daughter's living room; in her mother's hospital room and even while volunteering at Cannon Hospital in Pickens. It has been a labor of love.  Her plan is to give the original cloth quilt to her daughter, Lucinda "Cindy" Diane Harward Rainey. The quilt block was hung on the Harward's barn.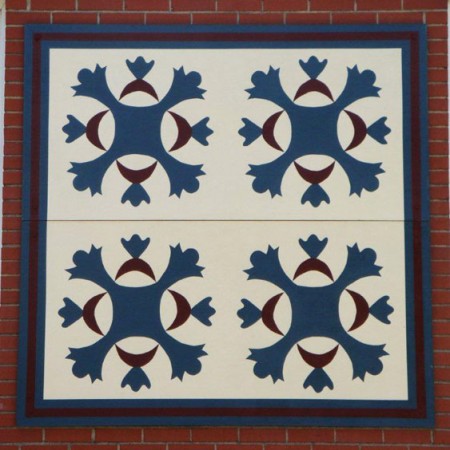 The Tulips quilt block is located at Honea Path Town Hall and Watkins Community Center in Honea Path, SC. This building also houses the Honea Path Arts Center and the Honea Path Museum.
The original quilt is owned by the Mayor of Honea Path, Earl Lollis Meyers, and was quilted by his Mother, Mary Lollis Meyers and ladies from the Chiquola Baptist Church, Honea Path. About once a week in the 1930′s, the ladies from the church would come to the Meyers home and work on the quilt. Mrs. Meyers mother, Edna Elizabeth Ashley, taught her to quilt. A variety of Tulip quilt patterns became very popular in the early 1930's. This group incorporated their own variation into this pattern. The Town of Honea Path is the sponsor for the quilt and it was painted by members of the Honea Path Arts Center.
Around 1878, a two story frame school building was erected almost on the site of the present Watkins Community Building. From 1884 to 1894, Professor J.B. Watkins was head of the school. Under his leadership, the school acquired quite a reputation. Students came from Piedmont, Pelzer, Anderson, Princeton, Laurens and Clinton and boarded in some of the homes in order to attend this school.
In 1904 a brick building was erected on the site of the Old Frame Building. It was enlarged in 1911 and became known as The Honea Path Graded School. This was one of the first graded schools in the area. In the late 1930′s the present Watkins Elementary School Building replaced the building built in 1904. It was built with WPA Labor. Classes began around 1941.
In 2002, the local school district gave the building to the Town of Honea Path. It has been totally remodeled and now houses the Town Offices, the Honea Path Art Center, the Honea Path Museum, the Community Room, and one wing houses the Tri-County Technical College, Billy Odell Learning Center. It is known as The Watkins Community Center.
Grandmother's Flower Garden sponsored by the City of Anderson, SC, was placed on the Wren Building at 111 East Whitner Street in downtown Anderson. The quilt block is located in the pavilion adjacent to the Carolina Wren Park. The Wren Building was the former Belk building. Built circa 1890 it is one of the oldest building in downtown Anderson. The building was purchased in the 1920's by Belk and dramatically renovated. The building was located on Orr Street whose street name was later changed to Whitner Street.
Grandmother's Flower Garden is a familiar name for rosettes of hexagon patchwork.  The design first appeared as "hexagon" or "honeycomb" Patchwork in the January 1935 issue of "Godey's Ladies Book," an influential fashion periodical during the early 20th century; many quilt patterns were renamed to make them sound quaint and "colonial".
The owner of the cloth quilt, Arlene Young, is the niece of the quilt maker, Verna Mayfield. Young was raised by her Aunt Verna and Uncle after the death of her parents. The quilt was made in 1977 and has great significance to her as one of the fondest memories of her Grandmother (Verna's mother) because of her love of flowers.
Her Aunt Verna was a self-taught quilter, who taught herself how to sew, quilt, knit and crochet. Many of her creations have been passed down to many family members.   The cloth quilt remains with Arlene Young in Townville, SC.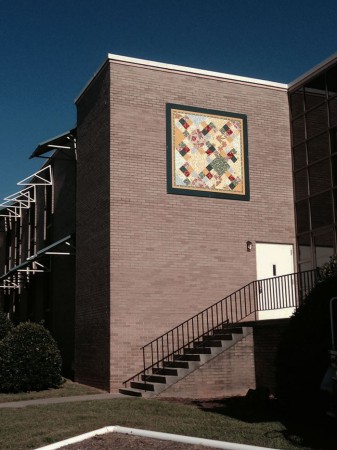 Lila Doyle at the Oconee Medical Center has joined the Upstate Heritage Quilt Trail. A pattern called a 9 Patch was installed on the Long Term Care Rehab Facility's exterior and can be viewed from both Highways 123 and 28 in Seneca, SC. Lila Doyle has a long history in the community since it was established in 1971 as a nursing care facility renovated from the original hospital. It was named for Lila Stribling Doyle, wife of Dr. William Doyle who donated the land to be used to serve the needy in the area.
The art of quilting has been woven in the fabric of the residents at Lila Doyle. Many residents proudly display their quilts in their rooms, on their beds, as wall hangings and on display. There is one resident currently living at Lila Doyle who is hand sewing a quilt in her room. She is 99 years old and going strong! The residents and staff are thrilled to join the quilt trail and keep the memories alive.
The original quilt, used as a model for the quilt trail, was made in 2005 by a former resident, Louise Elliott, who lived at Lila Doyle from 2009 until her death in 2013. This was the last quilt project that Mrs. Elliott created before her admission to Lila Doyle. The quilt was donated to the facility as part of a new renovation project in the long term care unit. It hangs proudly above the double faced field stone fireplace. The Nine Patch quilt block is one of several kinds of patchwork quilts. Some of the earliest blocks consisted of blocks made up of 4 squares of fabric sewn together (4 Patch), or 9 squares of fabric sewn together (9 Patch) in many variations. These early patchwork designs allowed thrifty quilters to use very small scraps of fabric.
Mrs. Elliott moved here with her family in 1973 from Cleveland, OH. Her grandmother taught her to quilt and made each of the siblings a special quilt upon their marriage. Mrs. Elliott made small quilts 'for the enjoyment of others,' rather than bed sized quilts. Her daughter, Carolyn Elliott Boyer continues to enjoy this family treasure. It was Mrs. Elliott's love of quilting that led her to take classes in quilting.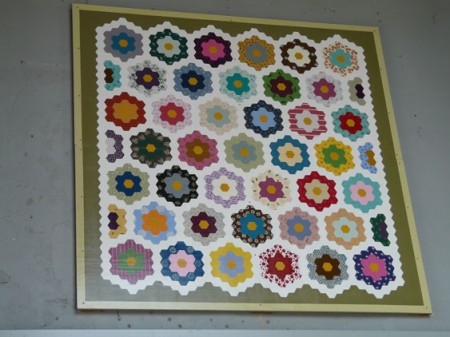 The home of Verla and William Warther in Tamassee, SC, has been added to the Upstate Heritage Quilt Trail, with a block called Bouillabaisse. It was originally made by Mrs. Warther and is based on a pattern thought to have been designed by South Carolina quilter, Pam Johnson. Mrs. Warther is the Upstate Heritage Quilt Trail 2013 Oconee County Quilter of the Year recipient. She was honored for her leadership and community service through her quilting. Her many contributions include volunteer efforts with Keep Oconee Beautiful School Program; Tamassee DAR School programs; Leadership positions in the Lake and Mountain Quilters Guild; as well as an active participant in charity quilt efforts and the Upstate Heritage Quilt Trail School program.
Warther's iteration of the Bouillabaisse pattern was started in a class at the 2010 Quilters of South Carolina Fall 'Peaceable Retreat,' taught by master quilter Marge Edie. Warther hand quilted and finished it in August 2011. She used fabrics that were Civil War Reproductions, about half of which were given to her by her daughter, Sharon DiSanto of Dover, OH. One piece of the fabric was given to her by her twin sister, Laura Miller of San Jose', CA, also a quilter. The two have established a tradition of using a piece of fabric from the other in each of their 'Special' quilts. Warther's painted Bouillabaisse includes this piece of fabric from her sister.
Mrs. Warther grew up in San Jose, CA. She lived there for 31 years and taught children with special needs. She and her husband moved to Silverton, OR, a small farming community where she taught math for 27 years. In 1998, upon retiring from teaching, they moved to Tamassee, SC. Between Verla and William, they have five children, nine grandchildren and four great grandchildren living in Ohio and Oregon.
Warther was always a seamstress, and made everything from children's clothing to Civil War uniforms and dresses, even toys. When her mother-in-law died in 2002, she inherited many hand pieced quilt blocks that had been made by Mary Elizabeth Muelhoffer, her husband's great-grandmother. She visited Heirlooms and Comfort, a once local quilt shop in Central, SC, for advice on how to clean, assemble and then eventually create 3 different quilts from the pieces. She was hooked! A quilting neighbor invited her to join the Lake and Mountain Quilt Guild here in Seneca and that's where she learned her quilting techniques.
When asked what kinds of quilts she likes to make, Warther told us, "I'm a traditionalist. I prefer doing piecing and appliqué by hand – it's where I find peace, a form of therapy. I do have an appreciation for those who have made quilting a fiber art form, but that's not where my talent lies. One must enjoy the type of quilting they get involved in. Someday, I would like to become as accomplished a quilter as my fellow guild members, especially people like Marge Edie and Dixie Haywood."
"Quilting can lead you up many paths. Through an announcement at a Guild meeting, I heard about the Upstate Heritage Quilt Trail. I decided to check it out and now I'm an active member of the production team. I help with the drawing and painting of quilt patterns on specially prepared boards, which are then mounted on both public and private buildings. It's a nice art form for our community, a reason to bring tourists as well as other quilters to the area."
For more information and pictures, click on (www.uhqt.org) or visit us on Facebook.
Tags: Carolina Arts, Upstate Heritage Quilt Trail, Upstate SC, Visiting South Carolina, Visiting Upstate SC