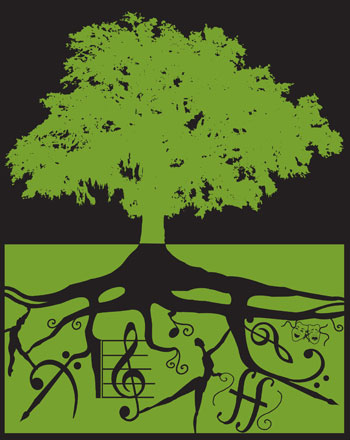 I had to go to North Charleston, SC, to give some blood for my next Doctor's visit and after they were through sucking blood out of me I decided since I was half way there that I could go check out the "15th Annual South Carolina Palmetto Hands Fine Craft Competition & Exhibition" on view at the North Charleston Performing Arts Center & Convention Center Complex. The exhibit will be up through May 6, 2016. It's part of the 34th North Charleston Arts Fest taking place throughout North Charleston through May 7, 2016. That's this weekend so this little blog post has to be quick and dirty, well it's not dirty, but that's the saying.
I had gotten frustrated with the exhibits presented during the North Charleston Arts Fest, not because of the quality of the work, but mostly on how the works are presented. Take this craft show, it was being presented in Exhibit Hall A where the lights are about 30-40 feet up and they only had a third of the light turned on. Some works are shown in complete darkness. Sure your eyes adjust to the lack of light and my phone's camera made adjustments, but they should have all the lights on during this exhibit.
I just choose a few things to photograph and it will be easy to see the problems of photographing behind class and in a big dark room.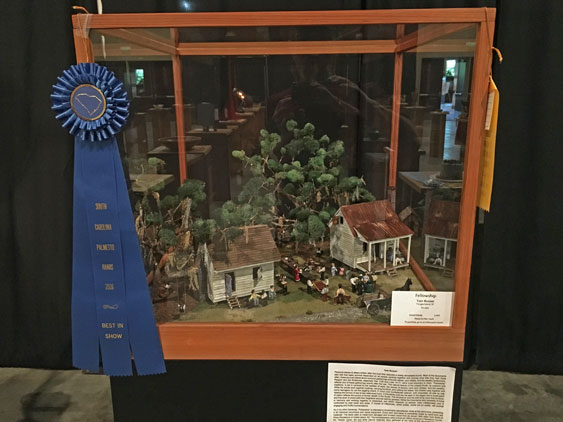 "Fellowship" by Tom Boozer of Yonges Island, SC, won Best of Show and will be in the Traveling Show.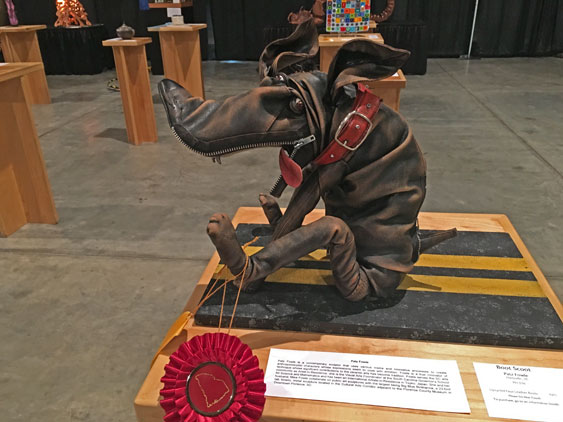 "Boot Scoot" by Patz Fowle of Hartsville, SC, won one of two special merit awards and will be in the Traveling Show.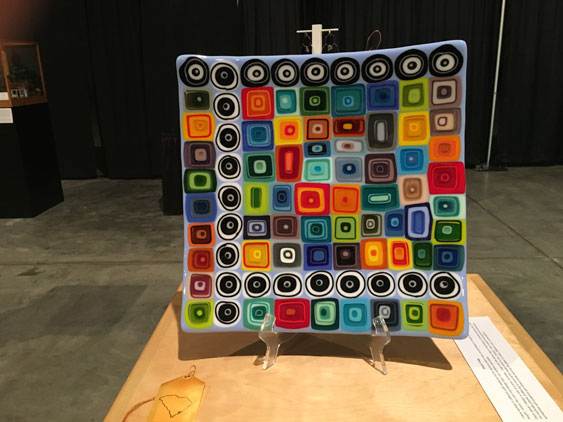 "Gameboard" by Tanya Craig of Charleston, SC
A description of this show follows: Fine craft artists from across the state will display inspiring objects in the media of clay, fiber, glass, metal, wood, and three-dimensional mixed media in this 15th annual juried competition and exhibition. Following the close of the exhibition, up to 25 works from the show will go on to tour the state through the South Carolina State Museum's 2016/2017 Traveling Exhibitions Program. Selections for the exhibit, as well as the subsequent traveling show, were made by the juror, internationally exhibiting contemporary silversmith Kaminer Haislip.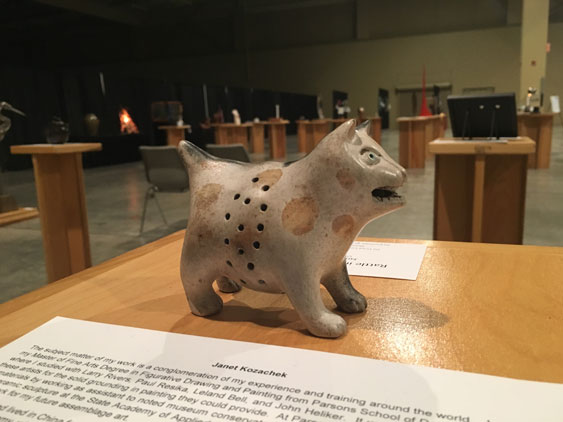 "Rattle in Shape of a Cat" by Janet Kozachek of Orangeburg, SC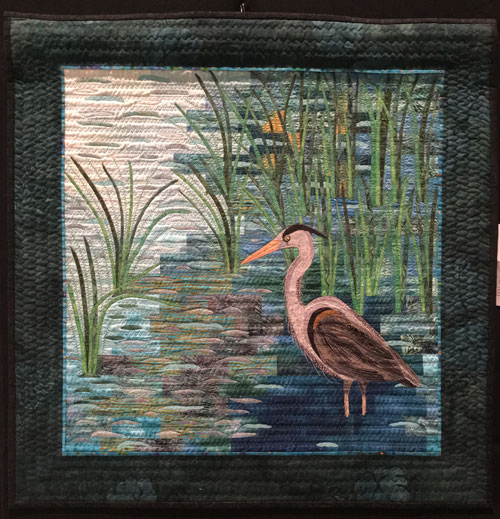 "Patience" by Ron Hodge of Bluffton, SC
In viewing this exhibit I noticed something new right away. They have upgraded their signage giving much more info about the artist. I could now see where the artist was from in South Carolina and read some details about the artist. I've been nagging Marty Besancon, the Director of the City of North Charleston Cultural Arts Department about signage of the visual art exhibits and their placement for years – to the point that I said I would report on the shows if the signage stayed the same. But I always had to go look to see if anything changed.
Besancon has built this festival from a one-day event in Park Circle to now nine days offering nearly 200 events throughout the city. But I felt she was coasting when it came to these exhibits as nothing would change from year to year as to how they were presented.
Well, Besancon has retired and the new Director, Kyle Lahm has made some changes although only being on the job since Dec. 2015. And, I guess there has been a bit of a turnover in the Department's staff too. Fresh blood, with new eyes may lead to more changes (improvements I hope).
I had vowed to not look at the Fine Art Show until the ID tags were moved from the bottom of the artworks to the top or the side where you could see them without having to crawl on the floor to read them, but one look at Bob Graham's First Place ribbon for the Drawing category and I had to check it out. There were a lot of the same folks taking the ribbons – year after year and a few new entries. I'm still boycotting this exhibit, but I did photograph two images. One, Bob Graham's First Place winning entry in Drawing and a surprise work by a long-time friend in the arts, Patsy Tidwell-Painton – one of the first supporters of, what was then Charleston Arts almost 30 years ago. I never forget our supporters.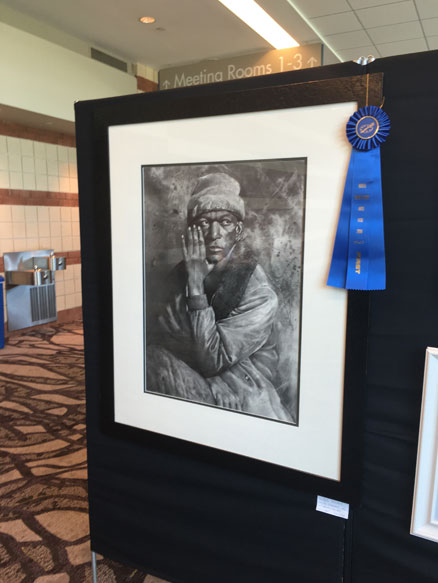 "Strike of an Eye" by Bob Graham of Mt, Pleasant, SC, won First Place for Drawing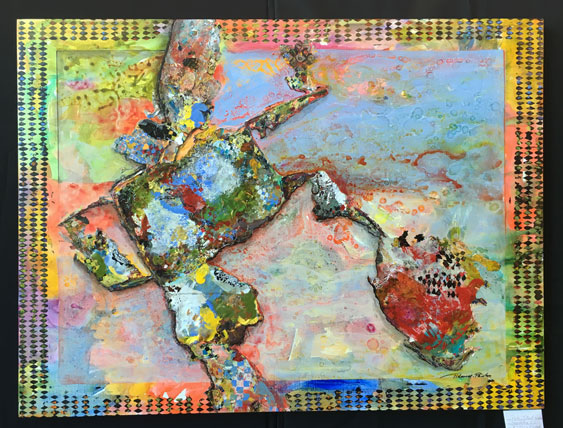 "R 2 D2's Friend" by Patsy Tidwell-Painton of Charleston, SC
Hurry up and go see these shows if you're interested – they're only up through Friday, May 6, 2016.
For further information call the City of North Charleston Cultural Arts Department at 843/740-5854, visit (http://www.northcharleston.org/Residents/Arts-and-Culture) or visit (http://northcharlestonartsfest.com/).
Tags: "15th Annual South Carolina Palmetto Hands Fine Craft Competition & Exhibition", Carolina Arts, North Charleston Arts Fest, North Charleston Performing Arts Center & Convention Center Complex, North Charleston SC, Visiting North Charleston SC, Visiting South Carolina