Not too long ago I went to Clinton, SC, to witness a visual art event – a short site-specific installation – which was being photographed for a book and filmed at the same time. I did a blog entry of it on Aug. 27, 2009 – here's a link to that blog entry.
Not long after that I got to see the first draft of the short film made that night. It was amazing to see how hours and hours of work edited down to a few minutes looked. You can also see that at this link, but I must warn you – it you have an old computer, it might not work, it you have a slow internet connection, it might not work and even for those who have a spiffy new computer and highspeed internet, you might want to turn the HD switch off.
The book will be called, The Forest and the Sea. Rico offers a read of the interview done for that book on his blog, Machinations of a Distracted Mind. Rico's friend D. A. Adams did the interview which can be found at this link.
You can also see a preview of some of the works done for the show at Art & Light Gallery on Rico's other blog found here.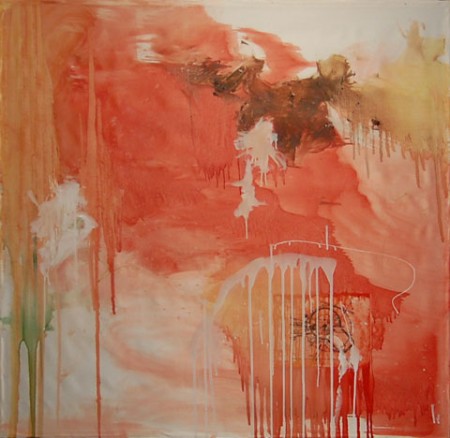 St. Theresa #2
Of course if you are going to be in the area of Greenville, SC, on Oct. 2, 2009, you could go to the First Fridays event, which takes place from 6-9pm. Art & Light Gallery is located at 1211 Pendleton Street, (for you fans of Google Maps) in the Flatiron Studios of the Pendleton Street Art District of Greenville.
Now, with all these links you have just about everything Christopher Rico – except the article we'll be running in our Oct. issue of Carolina Arts. But, why hold that back? Most of you readers don't ever see a printed copy of the paper unless you view it on our website – where you can see every page of every issue dating back to Aug. 04.
So here's the article:
Art & Light Gallery in Greenville, SC, Features Works by Christopher Rico
Art & Light Gallery in Greenville, SC, will present the exhibit, Christopher Rico – The St. Theresa Suite and Other Works, on view from Oct. 2 – 31, 2009.
Christopher Rico's work has been exhibited nationally. He is part of corporate, public and private collections in locations throughout the Southeast. He has been a member of artists' collectives from Memphis to Seattle to Texas. Rico has also designed professionally for the theatre, collaborated with modern dance companies and mounted ephemeral exhibitions in warehouses, construction sites and public outdoor settings. His work, while deeply tied to his materials, responds powerfully and uniquely to each environment it finds itself in and consistently creates a profound sense of encounter within the viewer.
"When people look at my work, I hope they ask themselves questions about my medium and my surfaces, because all of those choices are very specific and hold references to history or poetry or the body, and these references exist autonomously from whatever loose concept or abstracted narrative the painting may or may not have," says Rico.  "I want people to bring their own interpretation, so their associations and relationships to these materials may be completely different from my own, but no less true."
Rico adds, "I like to paint with my hands – without brushes – because I feel a real intimacy with the paint and surface that way. I think we make our own light in the world, our own meaningfulness. I'd rather people be concerned with this meaningfulness than worrying about objective meaning."
The Art & Light Gallery is a fusion gallery/home accents boutique located in the heart of the Pendleton Street Arts District in Greenville.
For further information check our SC Commercial Gallery listings, call the gallery at 864/363-8172 or visit (www.artandlightgallery.com).
Tags: Art & Light Gallery, Christopher Rico, Clinton SC, D. A. Adams, First Fridays Greenville SC, Greenville SC, Machinations of a Distracted Mind, Pendleton Street Art District, The Forest and the Sea, The St. Theresa Suite