The 4th Charleston Art Auction will start at 7:15pm on Nov. 7, 2009, at the Renaissance Charleston Hotel, located at 68 Wentworth Street, in historic downtown Charleston, SC. If you want to be in on one of the most exciting events taking place in Charleston's visual art community – you better get cracking right away to make sure you have a seat with your name on it.
Reservations are highly recommended as seating is limited. Tickets are $50 (contributed to the Charleston County High School Art Programs, this includes a fully illustrated sales catalogue) per person. For ticket reservations call 843/722-0128 or 843/842-4433. The Renaissance Charleston Hotel offers a special group rate for the weekend. Call 800/605-1498 and ask for the Charleston Art Auction group rate.
The Charleston Art Auction was founded in 2006 by Morris & Whiteside Galleries located in Hilton Head Island, SC, and The Sylvan Gallery located in Charleston, as the premier Southern art auction. Auction principals Jack A. Morris, Jr., J. Ben Whiteside and David G. Leahy have over twenty-five years experience presenting fine art to collectors throughout the United States.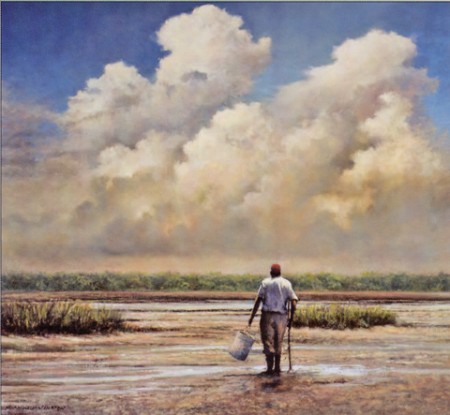 Mark Horton
Artists presented will include Bobby Bagley, William Berra, Joe Bowler, Armand Cabrera, James Calk, Marc Chatov, Elaine Coffee, Jim Daly, John Carroll Doyle, Ray Ellis, Ted Ellis, Dan Gerhartz, Cassandra Gillens, Glenna Goodacre, Lindsay Goodwin, Russell Gordon, Jonathan Green, Chris Groves, Michael Harrell, Betsy Havens, Nancy Hoerter, Mark Horton, Mandy Johnson, Karin Jurick, Michael B. Karas, Milt Kobayashi, Jeff Legg, Joseph Lorusso, Dan McCaw, Danny McCaw, Dean Mitchell, Joseph Orr, George Pate, Pino, Joan Potter, Laura Robb, Jennifer Smith Rogers, Helen Rundell, Shannon Runquist, Marilyn Simandle, Betty Anglin Smith, Linda Kyser Smith, Shannon Smith, Loran Speck, Linda St. Clair, Sue Stewart, John Stobart, Rhett Thurman, Michelle Torrez, Karen Larson Turner, William Whitaker, Mary Whyte, Mickey Williams and Stephen Scott Young.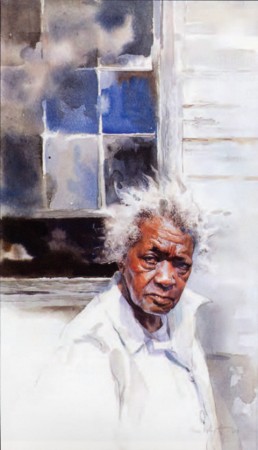 Mary Whyte
This year there will also be an expanded offering of important works by deceased Southern masters including: John J. Audubon, J. Stewart Barney, Wenonah Day Bell, Virginia Fouché Bolton, Richard J. Bryan, Valeria Chisolm, Eliot Clark, Bette Lee Coburn, Jesse Conklin, George Cress, Edward von S. Dingle, Frank Galsworthy, William Halsey, Alfred Hutty, Joseph Jackson, Minnie Mikell Katherine Huger Middleton, Augusta Oelschig, May Paine, Hobson Pittman, Antoinette Rhett, Hattie Saussy, William Posey Silva, Alice Ravenel Huger Smith, Warren F. Snow, Stanley Sobossek, George W. Sully, David Thimgan, Eugene White and George Hand Wright, among others.
If you don't know much about these artists, you can always go to Google and type in a name and then Carolina Arts, and most likely you'll find an article we have posted sometime since 1999 about the artist. You can see images from the catalogue at (www.charlestonartauction.com). Of course the best thing is to register and get your hands on the auction catalogue – which has images, info, price estimates, and other info about how the auction operates.
I'm interested in Lot #64, a lithograph by Alfred Hutty which is very similar to one we own. And, I found the etchings by Antoinette Rhett very interesting – I haven't seen a lot of her works before. She took lessons from Hutty in Charleston and you can see it. There are six prints by this artist in Lot #77. These prints could go for as little as $250 each – that is if you are the high bidder and it goes for the high end of the estimate ($1,200 – $1,500), plus the 15% premium. Don't forget about the buyer's premium. It will be added to the final high bid. So when you figure what you are willing to pay for one of the Lots, don't forget to add 15% to that figure to get the final price you will pay. If you go prepared – you won't be surprised during the auction.

Alfred Hutty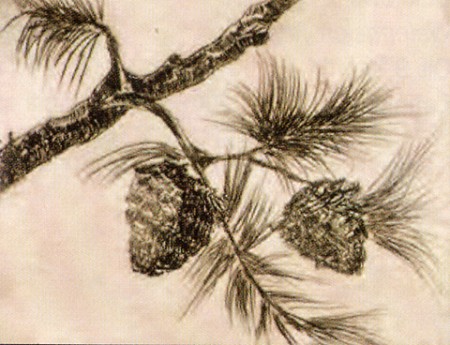 Antoinette Rhett
These images were scanned from the auction catalogue, so they are not the best reproductions.
Also be aware that the bidding goes up in different increments depending on the estimate of the work up for bidding. Like if you we making a bid on Lot #28 an oil painting by John Stobart – estimate ($30,000 – $50,000) the auctioneer will raise the bids in increments of $2,500 a pop. You're not going to hear the auctioneer asking for a bid of $30,100 – it will be $32,500. Research!, Research!, Research! Of course most of the evening it will be increments of $100 and $250.
Another bonus to the auction will be the offering of works created during the ever-popular plein air event, Painting in the Park. The event takes place at Washington Park in Charleston on the Saturday morning of the auction as part of the Charleston Fine Arts Annual, hosted by the Charleston Fine Arts Dealer's Association. These works created by artists represented by the CFADA member galleries will be auctioned off at the Charleston Art Auction to benefit the Charleston County High Schools' art programs. Which to this date has raised $140,000 for those art programs.
Wow, that's a lot of art – a lot of opportunity to be the highest bidder on one of these contemporary works or those by a now famous deceased Southern master.
The thrill of victory, the agony of defeat – the auction will run like a fast paced sporting event where if you take your eye off the ball – someone else will walk away with the prize of the day. Yes, there will be intoxicating libations, scrumptious morsels, and gossip, to distract you, but if you are serious about grabbing that brass ring – be in your seat, be focused, and raise your bidding number high – for tomorrow you can rest – knowing you brought home the bacon. And, tomorrow the gossip will be about you.
How can you not be there?
Well, collectors who are unable to attend the sale in person should contact Charleston Art Auction to make arrangements for absentee and telephone bidding prior to 5pm on Nov. 6, 2009. Call 843/722-0128 or 843/842-4433.
The sale results will be posted at (www.charlestonartauction.com) the week following the sale.
Tags: Alfred Hutty, Alice Ravenel Huger Smith, Charleston Art Auction, Charleston SC, David G. Leahy, Hilton Head Island SC, J. Ben Whiteside, Jack A. Morris Jr., Mark Horton, Mary Whyte, Mickey Williams, Morris & Whiteside Galleries, Renaissance Charleston Hotel, Rhett Thurman, William Halsey