I have been to the Georgia Renaissance Festival twice and enjoyed it both times – I wish I was going this year but I can't get the clan of fellow Ren Fest folks who do this thing with me organized this year. Bugger!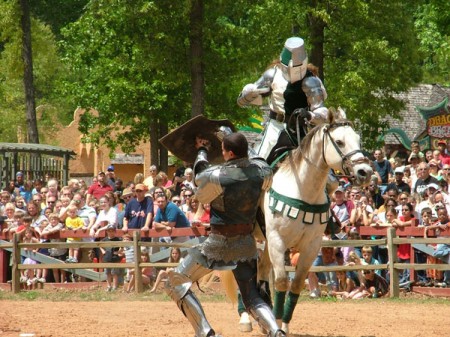 Here's the scoop:
Join us for an entertainment experience that's closer than Disney and more affordable than Six Flags! It's the 25th Anniversary of The Georgia Renaissance Festival, held in Fairburn, GA, just south of Atlanta, GA. It all takes place over eight fun-filled weekends – Saturdays and Sundays plus Memorial Day, from April 17 through June 6, 2010, from 10:30am until 6pm each day.
You're invited to the biggest Silver Anniversary Celebration in the grandest realm since Camelot! Designed to help visitors imagine that they have time traveled back to Elizabethan England, the Georgia Renaissance Festival creates the fantasy with themed buildings and rides, costumed actors, and creative entertainment and interactive activities.
Once inside the gates of our magnificent 16-Century Kingdom, you'll find Knights in shining armor and Maidens Faire, King Henry VIII and his Court, jolly pubs and a 32-acre World Bazaar full of elaborate treasures created by nationally renowned artisans. Feast like royalty on a cornucopia of delectable delights including our popular giant roasted turkey legs! Endless entertainment waits with ten stages featuring juggling, music, comedic storytelling and feats of incredible physical skills! Your whole family will enjoy our Royal Petting Zoo and the thrilling rides in our medieval amusement park! Entertainments not to be missed are the original extreme sport – The Jousting Tournament of Kings, and the magnificent high-flying Birds of Prey and Animal Show!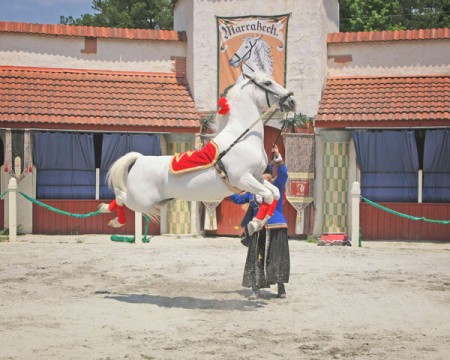 It's a rollicking good time, so don't miss The Georgia Renaissance Festival, where the good life is festive and the parking is free!
Several of our weekends offer Special Discounts or Themed Activities including:
April 17 & 18 – 2-4-1 Grand Opening Weekend! Buy one adult ticket and get one free, valid online now and at the gate and not sold at Kroger.
April 24 & 25 – Highland Fling Weekend! King Henry VIII invites all merry lads and lassies to this Highland Celebration! Enjoy the exhilarating sounds of our newest act, Tartanic, watch an amazing dance performance by the Drake School of Irish Dance and enjoy the music from the world-renowned Atholl Highlanders Pipe and Drum Band! Roll up your pant legs or wear your kilt to compete in the Bonnie Legs Contest!
May 1 & 2 – Kids get in Free Weekend sponsored by WSB TV's Family 2 Family! One free child admission, 12 years of age and under, per each full paid adult, offer valid at the gate only and not sold at Kroger.
May 8 & 9 – Mother 's Day Weekend! Moms can shop, feast and be honored on her special day! The first 100 Moms through the gate will receive complimentary flowers!
May 15 & 16 – Arrh! Pirates Weekend! Scalawags and swashbucklers abound for His Majesty's Pirate Adventure! Those adults and children who think themselves worthy buccaneers can compete in the Talk Like a Pirate and Best Dressed Pirate Costume Contests! This weekend is also Knights on Bikes Weekend! Present your motorcycle license and receive $4 off an adult full price ticket purchased at the Festival Box Office only.
May 22 & 23 – FEAST for $5 Weekend! It's a gourmet's delight! This weekend, ALL individual food items are only $5 or less!
May 29, 30 & 31- Three-day Memorial Weekend! It's a family affair! Watch for special surprise discounts to be announced valid for Saturday, Sunday and Memorial Day Monday!
June 5 & 6 – Final Knights Weekend! It 's your last chance to eat, drink and make merry. After that we 're history until 2011!
In honor of our 25th Anniversary – new shows, food and festive fun has been added including:
Dressed in full kilt, Tartanic gives its audiences a barrage of sound! Imagine one dancer, six drums, six drones, 18 notes, fast fingers, high comedy, flying bagpipes, taste-defying stunts and scorching hot music played at over 120 beats per minute, all brought to you by five vigorous men without pants.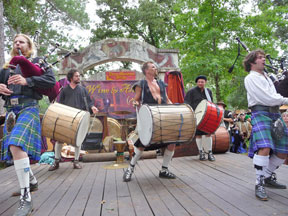 The beautiful Jayna Lee demonstrates jaw-dropping and AHH-inspiring skills: acrobatics, contortion, fire-eating, and juggling on the aerial trapeze and aerial silks! Jayna has an extensive background in gymnastics and 10 years of performance experience spanning across venues all over the United States and Europe.
The year is 1534 and King Henry VIII has been the King of England for 25 years. In celebration of the 25th Anniversary of the Georgia Renaissance Festival and His Majesty's silver anniversary on the throne, we are going to host a re-coronation ceremony for the King! Our guests can celebrate along with the royal court, making the re-coronation of King Henry VIII a truly memorable event for all!
Click, purchase and print discount tickets on-line now at the Festival's website at (www.GeorgiaRenaissanceFestival.com) or stop by any Atlanta area Kroger checkout registers and purchase with your Kroger Plus Card beginning April 19, 2010.
The Georgia Renaissance Festival is close, conveniently located just 5 minutes south of Hartsfield-Jackson Atlanta International Airport on I-85. Take Exit 61- Peachtree City / Fairburn and follow the signs. Regularly priced tickets include tax and are available at the festival box office. Adults $19.95, senior 60+ $17.95, Youth ages 6-12 $8.95, 5 years of age and under get in free.
For more information call the Festival Hot Line at 770/964-8575 or visit (www.GeorgiaRenaissanceFestival.com).