Well, by now you know the drill – info that has come to Carolina Arts at the last minute.
Here it is:
The Wells Gallery at The Sanctuary on Kiawah Island, SC, will present the exhibit, SMITH, a new show of works by the Smith family women: Betty Anglin Smith, Shannon Smith, and Jennifer Smith Rogers, on view from Aug. 26 through Sept. 9, 2010.
On Thursday Aug. 26, 2010, the gallery on Kiawah will host an artist demonstration from 4pm-5pm by Jennifer Smith Rogers and Shannon Smith. This show brings us new works by Betty, and her daughters Shannon and Jennifer, of Kiawah and the surrounding Lowcountry.
The Wells Gallery at Kiawah is proud to present a family most often thought of as "The Smiths".  Betty and two of her triplets, Jennifer and Shannon, bring us new works that display the similar color palette they share while highlighting their varying techniques and visions. Each artist works to be independent while still relying on the family for challenge and support. An artistic passion consumes their world and it drives them to grow a presence and quality of work that speaks nationwide to collectors and visitors about today's life in the Lowcountry.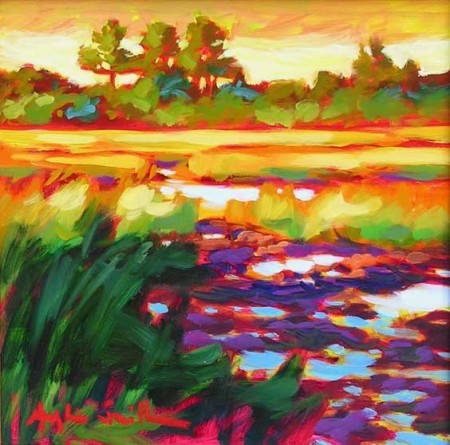 Low Tide at Cedar Creek by Betty Anglin Smith
A native of the Carolinas, Betty Anglin Smith has firmly established herself in Charleston's artistic community. Using large brushstrokes and grabbing colors, Betty has grown adept at capturing not just the physical nature of a place, but the feeling as well. Her paintings, whether they depict vibrant sunsets or the sweeping expanses of the Lowcountry marshland, give the viewer a sense of the immediacy of the moment as though Betty, working against the clock, was able to capture the essence of her subject.
"I can't emphasize enough, I want my work to look quick, and spontaneous, like it just happened and flowed as opposed to appearing overworked," Betty explains. She adds that the bold colors she uses give the paintings an element of surprise "so that you are not looking at something you have seen a thousand times before. "These colors are there, I just exaggerate them as much as possible. I want my work to be expressionistic but also remain in the realm of reality", she explains.
Following the birth of her children, who incidentally are triplets, Betty enrolled in art classes at the Gibbes Museum of Art in downtown Charleston and rekindled her love of painting. "I really became serious about it immediately," she recalls. "It was like a part of me that I had not been able to fulfill yet. I was lost in it."
Betty's love of broad landscapes, which are frequently the subject of her work, grew out of a trip she took to Santa Fe, NM, in the late seventies. The tidal landscapes of the Lowcountry presented her with different challenges than the ones she encountered in New Mexico. The tremendous difference between the southwest and southeast forced Betty to more closely examine the Lowcountry. In a predominantly flat environment, she discovered the lines in the colorful shifting clouds and meandering creeks.
For the past twenty years, Betty has dedicated herself to painting, and though her subject matter frequently reflects the Lowcountry landscape, her success has outgrown the confines of South Carolina. Her works have been shown in prominent galleries from New York, Washington, DC, and Martha's Vineyard, MA, to San Francisco, and Carmel, CA. In addition, many of her pieces are included in some of the nation's finest corporate collections such as Walt Disney World, IBM, and Johnson and Johnson.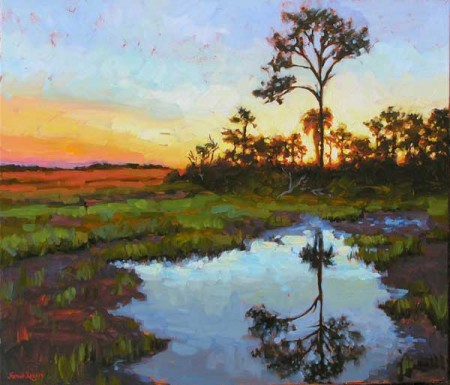 Single Pine by Jennifer Smith Rogers
Jennifer Smith Rogers is known for her themes of architecture and vistas seen from towering over the city. Her works weave together the themes of light and architecture, portraying a near symbiotic relationship between the two. "As far as what inspires me to paint, a lot of it is the light and the way it interacts with the landscape."
Just as her paintings center on light and architecture, Roger's life has always revolved around art. Raised in a family of artists, her mother, Betty and her sister, Shannon, are also highly-regarded painters. Her brother, Tripp Smith is an accomplished photographer.
Although Rogers is an integral part of the Smith Family of artists, she has certainly carved out a name of her own. Over the years her works have been featured in galleries all along the Eastern Seaboard, from Charleston to Martha's Vineyard, MA. In addition, many of her works now hang in prominent corporate and private collections, including Walt Disney World, the Medical University of South Carolina, Ethyl Corp. in Richmond, VA, the Family Circle Cup on Daniel Island, SC, and Tristan Restaurant in Charleston, SC.
Rogers takes her success in stride, continually diving into her passion for painting. While Rogers has painted in locations ranging from Maine to Italy, she always finds herself drawn back to the familiarity of the Lowcountry. Even more particular, she finds herself drawn to the late afternoons and early evening, when the colors are most dramatic. "I am fascinated with the fleeting light at day's end because the drama and color change so quickly," she says. "It is the most dramatic time of day because you get the highest contrast between light and dark. I am also intrigued by the night. Trying to capture the natural light of the moon, the artificial lights of the storefronts, lanterns, and streetlights is both challenging and enthralling."  The light's intensity against the dark of night sharply illuminates the buildings, store front windows, and church steeples. Rogers' bold, thick brushstrokes create a sense of urgency and immediacy in her work as though she is fighting against time to capture each second of light before it fades. Combining this with her use of vibrant, warm colors, she expertly portrays more than just the landscape, but the mood of a place as well. Whether rooftop views of Charleston, vacant store front windows illuminated by the headlight of moving cars or desolate windswept beaches at sunset, Rogers' lush oils continually deliver a fresh and distinctive style, one that her admirers have come to love.
Shannon Smith has quickly ventured beyond the title of up-and-coming artist and has established a solid reputation within the art community. Regardless of what subject she chooses to paint, she has proven to possess an unusually keen eye and an unrivaled sensitivity to light. It is her attention to detail coupled with the use of strong, warm colors that she uses to delicately capture the fading light of the late afternoon hours. In her latest canvases, Shannon paints even stronger contrasts of color, with dramatic darks and subdued grey tones juxtaposed with warmer, more radiant hues. But, as always, her main focus is capturing light.
"My direction in oil painting is to capture natural light," says Shannon. The artist is also fond of seeking out the quiet beauty in everyday objects. Whether it is old glass bottles gathered in a windowsill or the interior of a French bistro, the artist seems to be in constant pursuit of capturing the simple things in life.
Born and raised in the Lowcountry, many of her works are inspired by the beauty of coastal landscapes and downtown Charleston scenes. However, Shannon has studied in the Burgandy region of France with New York artist Gregg Kreutz. In the pieces produced from that trip, many of which were painted on location, she truly captured the power, emotion, and presence of France.
For Shannon, art has always been a natural part of life. She was raised in a household of artists. It was this constant immersion in art that helped foster Shannon's talent from an early age. After completing her BFA at Clemson University in 1994, she has been painting professionally. She has been honored by the Oil Painters of America, receiving the Award of Excellence for a painting shown this summer. She has also teamed up with noted fine artist Kim English to feature workshops for aspiring artists.
For further info call the gallery at 843/576-1290.
Tags: Betty Anglin Smith, Jennifer Smith Rogers, Kiawah Island SC, Shannon Smith, The Wells Gallery at The Sanctuary