I never intended for this to be a continuing issue, but others just won't leave it alone. My first blog entry about the Kentucky Artisan Center got a lot of attention and then a regular reader pointed out to me that the State of West Virginia was first to create this artisan center concept on major interstate highways.
I knew when I wrote the story nothing would ever happen in South Carolina – it's just too logical – especially since we have one of the best locations for it – the intersection of I-95 and I-26. Logic doesn't stand well in our state – at least at the state level.
Now SC is strapped for money, but these states had their vision when times were good. I guess the SC Arts Commission doesn't really keep up with what their neighbors are doing. And, our art community is left behind – way behind.
Now we introduce you to TAMARACK: The Best of West Virginia.
I haven't been there yet, but I will go and check it out someday. But here's some information I found on their website.
TAMARACK: The Best of West Virginia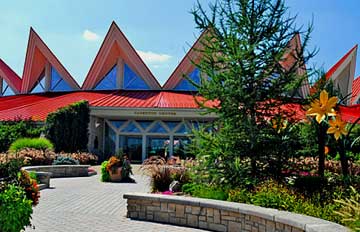 Tamarack's striking, peaked red roof and attractively landscaped grounds draw half a million visitors annually off I-77 and I-64 (Exit 45 at Beckley, WV) into a welcome respite of visual beauty, Appalachian sounds, and distinctive aromas.
A one-stop-shop for West Virginia culture, heritage, handcrafts, fine art, regional cuisine and music, Tamarack employs a rigorous jurying process to ensure product quality and authenticity.
Resident artisans work daily in observation studios to demonstrate textiles, metal, wood and pottery. Throughout the year artisan demonstrations and food tastings engage visitors in new experiences. The fine arts gallery offers a glimpse of the current art scene. Live musical, theatre, dance and storytelling performances, as well as West Virginia films, are scheduled in the intimate 178-seat theater.
Tamarack is not only a well-known tourist attraction but a major economic contributor. The Tamarack System, as a statewide economic impact component, affects all 55 counties to the tune of nearly $51 million in goods and services purchased to date. Craft sales have totaled $61 million.
Tamarack's world-renowned partner, The Greenbrier, manages dining services, offering Tamarack guests delectable cuisine in the food court, during dinner theatre, at special events, and for meetings and special occasions in the Tamarack Conference Center.
Hospitable, accessible, accommodating and memorable—Tamarack is truly a showcase for The Best of West Virginia.
The Tamarack Vision for West Virginia
We envision a vibrant cottage industry in West Virginia where jobs, market opportunities, training, and educational resources abound for West Virginia's artists, artisans, craftspersons, and food producers, and our rich cultural heritage and artisan skills and traditions are preserved and strengthened for future generations of West Virginians.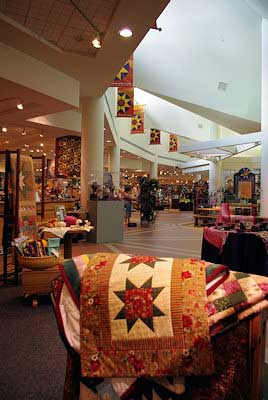 The Tamarack System will be recognized globally as a dynamic catalyst and premiere showcase for all aspects of advancing West Virginia arts, crafts and food products and those who produce or perform them.
History of Tamarack
TAMARACK: The Best of West Virginia is the nation's first showcase of handcrafts, fine art and regional cuisine. It comprises a warmly decorated retail store, working studios for resident artisans, a fine art gallery, a theater, and A Taste of West Virginia food court, managed by The Greenbrier Resort.  Additional meeting space is available in the Tamarack Conference Center.
A visionary governor, Gaston Caperton, set the stage for Tamarack's conception, and in October 1989, the Parkways Authority issued a $143 million bond; a small percentage was set aside to upgrade rest areas along the turnpike, and concession revenues from these – not toll revenues or tax dollars – were to fund tourism and economic development projects.
The Road
As the new director of Economic Development and Tourism, Cela Burge had an idea to connect West Virginia craftspeople with turnpike travelers.  When Cela suggested to the Authority's Board of Directors that West Virginia products be sold in the new service plazas, the board agreed to the idea.  Nobody expected much to come of it. But, the crafts were a big hit. During the grand opening of the Princeton Center, complete with musicians and a big pot of apple butter cooking, Governor Caperton told David Dickirson, a member of the Parkways Authority's  Board of Directors, that it would be wonderful to have a place with that type of atmosphere every day of the year.  Thus, the idea for Tamarack was born.
During the next six months, Burge and her helpers met with craftspeople far and wide; outlined a strategic marketing plan for developing the new center; began searching for architects; expanded warehouse facilities; and planned fact-finding visits to art and craft centers in several states. Dickirson approached Rod Stoner, director of food and beverage services at The Greenbrier, about providing their expertise.
A Design and A Name
In May 1993 Clint Bryan and his associates, Doug Bastian and John Harris, won the project. Their proposed design was arresting, innovative and eminently functional.  A Beckley firm, Radford and Radford, won the construction contract.
Tamarack was named in the late spring of 1993 by The Arnold Agency in Charleston, WV.  Linda Arnold, a Beckley native, and her creative team of Dick Allowatt and Carrie Stollings proposed the name of a tree, also called the American larch, known for its qualities of strength, beauty and versatility.
Organizing Artisans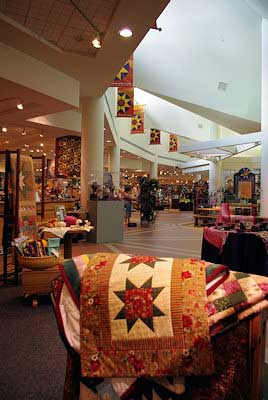 Meanwhile, Cela Burge and her associates were meeting and learning from another group of people who were integral to the project – the artisans.  The jury process to select products sold at Tamarack, has been in place since the beginning to insure quality and authenticity of WV-made items.
Artisans were also involved in the construction of Tamarack.  West Virginia artisans created structural elements – and were paid by contract – a year before visitors ever touched Tamarack's handcrafted door pulls.
The Challenge
From the first, Tamarack – both the building and the concept of a centralized marketing system – aroused strong reactions. Governor Caperton consistently voiced high hopes for Tamarack.  And in October 1994, The Crafts Report devoted its cover feature to "West Virginia's Bold Experiment." A few months later, the national publication honored the Parkways Authority with its Crafts Consciousness Award.
Building a Dream
At the official groundbreaking on August 8, 1994, visitors sampled food from The Greenbrier, including the fried green tomatoes that have become a signature of Tamarack.
Behind the scenes, Tamarack's staff and jurors continued their work. Artisans who passed the jurying process then received an initial order. For some, it was the largest order they had ever received. By June 1995, Tamarack had placed orders with more than 900 artisans. By the end of 1996, more than 1,300 West Virginia artisans were selling their wares at Tamarack, over 450,000 people had visited, and sales had topped $3.3 million.
Tamarack's David L. Dickirson Gallery represents over 500 juried West Virginia artists. Exhibitions rotate every six to eight weeks showcasing the best of West Virginia fine art.
Tamarack's popularity as a gathering place and the more than fruitful partnership with The Greenbrier sparked the idea of adding a conference center. The grand opening for the Tamarack Conference Center was held on June 20, 2003.
Tamarack has continued to grow.  Over 2,800 artisans from all fifty-five counties have become part of the Tamarack family.  Gross revenues have topped $78 million and purchases for goods and services have exceeded $65 million.  And as of June 30, 2007, Tamarack had enjoyed almost 5.2 million visitors.
This history was created from excerpts of Tamarack at Ten by Colleen Anderson.
TAMARACK: The Best of West Virginia is located at: One Tamarack Park, Beckley, WV  25801. Admission and parking are free. Retail hours are: Jan. 5 – Mar. 1, 10am-7pm and Mar. 2 – Jan. 4, 8am-8pm. Food Court hours are: Breakfast – 8am-10:45am; lunch and dinner – 11am-closing.
For further information call the Center at 304/256-6843; 1-88-TAMARACK; or visit (http://www.tamarackwv.com/default.aspx).
OK – It sounds like this kind of project is not only a cultural boon to a state, but an economic one too. I can envision one of Charleston, SC's finest restaurants providing the food end of things and the thousands of people who travel those interstate highways the support. All we have to do as a state is to build it, but if the powers that be ever come to that conclusion – I hope they leave the SC Arts Commission out of the picture. They never had such vision – why should they change their color now. It will take the vision of people who know about tourism matters – the artists of SC will contribute the artistic end of things.
Tags: Beckley WV, Cela Burge, Gaston Caperton, Kentucky Artisan Center, SC Arts Commission, TAMARACK: The Best of West Virginia, The Greenbrier