The Avery Pottery and Tileworks Fall Kiln Opening – Tea Pots Big and Small & Tiles Shiny and Bright – will take place on Saturday, Oct. 16, from 10am-5pm and Sunday, Oct. 17, from 11am-4pm, at 636 Potters Way Road in Seagrove, NC.
Blaine M. Avery, resident potter says, "With the cooler weather coming on as fall approaches it makes me think of hot tea! I've been working on some large tea pots pushing the boundaries of function just for the fun of it! Making some individual use sized ones too, just the right size for a tea for two, three or more. Small tea mugs and cups are also in the works."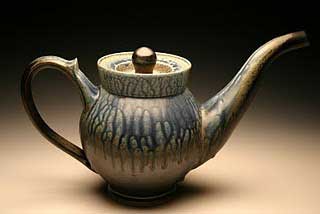 "I'm also excited about some of the new glazes coming out on the tiles," adds Avery. "Shiny, fluid and so vibrant they bring such life to the surface. For the first time I'll have some hand painted tiles from the salt kiln too."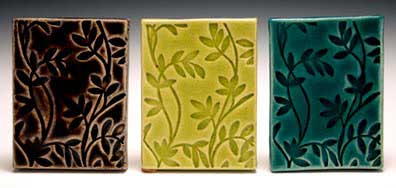 "The leaves should be beautiful for this weekend a great time of year for a drive in the amazing countryside around Seagrove, I so love this time of year! The Poplar leaves are just now starting to turn their always the first to start. I'm looking forward to the cool crisp fall air and hot pots fresh from the kiln!," says Avery.
Avery's work has been exhibited nationally in several solo and group gallery exhibitions like the Strictly Functional National in Lancaster, PA, NC State Craft Center's From These Hands in Raleigh, NC. His work can be seen in publications such as Ceramics Monthly and Lark Books' 500 Bowls and Ceramics for Beginners: Surfaces, Glazes & Firing. Along with private and corporate collections, his work is included in the permanent collection of the Mint Museum, Charlotte, NC.
Avery has been a studio potter since 1991. He took a position apprenticing with Sid Oakley at Cedar Creek Gallery in Creedmoor, NC. After a year under Sid's direction, he stayed on at Cedar Creek, renting studio space as a resident artist, and selling his work through the gallery, along with other galleries throughout the southeast. In 2002, Avery moved to Seagrove to open his own retail gallery and studio, Avery Pottery & Tileworks. Today, Avery sells his work primarily through his gallery, through select craft galleries and fine craft shows.
"Inspired by an amalgamation of ancient cultures, the gestural surface decorations on my work are applied with porcelain slip and under glazes at the green stage of the process. Layering the slip designs underneath the glaze creates a greater sense of depth that accentuates the contours of the forms. Pattern, rhythm, imagery and color are all used to complete the form, which is grounded in the bold and refined characteristics of traditional southern folk pottery," says Avery.
For further information call 336/873-7923 or visit (http://averypotteryandtileworks.blogspot.com/).
Tags: Avery Pottery and Tileworks, Avery Pottery and Tileworks Fall Kiln Opening, Blaine Avery, Seagrove NC