It's not too early to plan to attend this event. This is probably just the first of info we will bring you about the Celebration of Seagrove Potters. But this will give you the basics so you can plan to be there. They're planning so you can plan. And this is a big event – not to be missed by any serious collector. The auctions offer unique collaborative works you won't be able to get anywhere else but at this event.
Here's the info: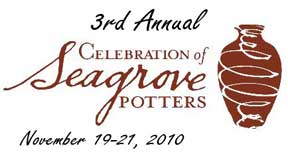 Planning for the 3rd Annual Celebration of Seagrove Potters is underway and the participating artists are all busily working on special pieces for the Celebration, as well as on collaborative pieces to be auctioned on Friday night, Nov. 19, 2010. Last year's event, the 2nd Annual Celebration was a resounding success drawing over 400 people to the Friday night Gala and over 5,000 from NC and many surrounding states to the two day sales event. The event generated a total measurable financial impact of $485,214.
The Celebration is unique in that it is a showcase of the artists of Seagrove, NC, an area that covers the three county corner region of Randolph, Moore and Montgomery counties. Over 90 of the Seagrove potters that earn their living making pottery in the local Seagrove community will be participating in the annual event. Seagrove pottery has long been known for it collectability and the Seagrove name is recognized worldwide.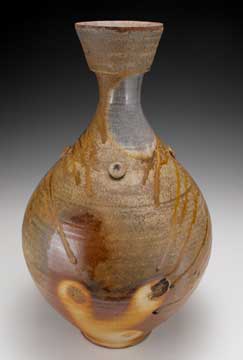 Work from Chad Brown Pottery
Located in the central piedmont, the town of Seagrove is at the intersection of NC Business Highway 220 and NC Highway 705, which in 2002 was designated as Pottery Highway because it runs through the heart of pottery country. Seagrove potters are located throughout the countryside, all around these two major roads, and are all easily accessible from them. The shops are diverse and interesting, and all worthy of a visit and most will be open throughout the Celebration weekend.
The Celebration of Seagrove Potters will again be held indoors at the historic Luck's Cannery, on NC 705, Pottery Highway, located a half mile south of the traffic light in Seagrove. The Celebration potters admire and plan to continue the spirit of the original Luck's Cannery – people of the Seagrove area working together to provide a future for their community.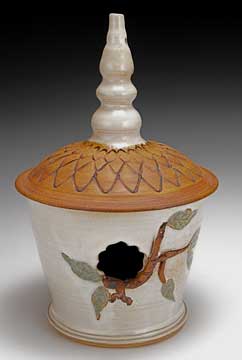 Work from The Hutch Pottery
The Celebration of Seagrove Potters will open on Friday evening, Nov. 19, 2010, at 6pm with a Gala Preview Party. Meet the artists and enjoy the opening night festivities of this fabulous event as visitors have the first opportunity to browse and purchase from the thousands of pieces, sip a favorite beverage and enjoy hors d'oeuvres, while listening to the jazz band of Joe Robinson. In addition, attendees will have the opportunity to preview a select collection of unique collaborative pieces. This highly successful venture, teaming Seagrove artists, to produce highly collectable one-of-a-kind pieces was very popular in prior years. This artwork will be auctioned at 8pm on Friday evening. Tickets are limited and must be purchased in advance. They may be purchased on-line at (www.CelebrationOfSeagrovePotters.com). Gala ticket price includes admission to the event on Saturday and Sunday as well.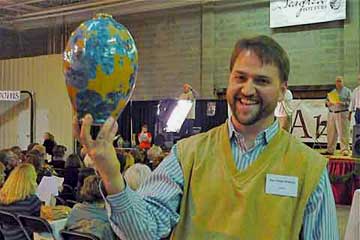 An image from last year's Gala auction – Ben Owen holding a
work he and Will McCanless created
Saturday, Nov. 20, 2010, the show is open from 9am to 6pm and from 10am to 4pm on Sunday, Nov. 21, 2010. A second fundraising auction will be held at 4pm, Saturday. Food and beverage vendors will be set up including 3 Kings Barbeque, Marco Enterprises, and Pacific Rim Noodle House among others. A special Kids area (only kids allowed in to buy Seagrove pottery at kids prices!) will raise funds to be donated to local schools art departments, demonstrations and educational opportunities will be available, and much more. Watch the web site (www.CelebrationofSeagrovePotters.com) for upcoming information.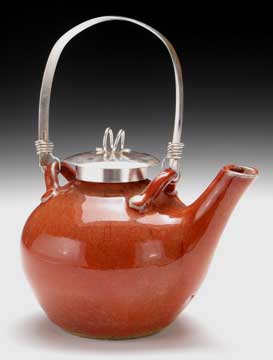 Work from JLK Jewelry and Jugtown Pottery
The following Seagrove potteries and artists will be participating: Avery Pottery & Tileworks, Ben Owen Pottery, Blue Hen Pottery, Bluestone Pottery, Bulldog Pottery, Caldwell-Hohl Artworks, Chad Brown Pottery, Chris Luther Pottery, Country Pots, Cross Creek Pottery, Crystal King Pottery, David Stuempfle Pottery, Dean & Martin Pottery, Dirtworks, Dixieland Pottery, Donna Craven Pottery, Dover Pottery, Fat Beagle Pottery, Fireshadow Pottery, From the Ground Up, Gingerbread House Pottery, Great White Oak Gallery, Hatfield Pottery, Hickory Hill Pottery, Jeff Brown & Michelle Hastings Pottery, JLK Jewelry at Jugtown, Johnston & Gentithes Art Pottery, Jugtown Pottery, King's Pottery, Koepnick Pottery, Kovack Pottery, Lantern Hill Pottery, Latham's Pottery, Luck's Ware, Lufkin Pottery, McCanless Pottery, McKay Pottery, Nelda French Pottery, Nichols Pottery, Old Gap Pottery, Ole Fish House Pottery, "Original" Owens Pottery, Pebbles Pottery, Pottery by Frank Neef, Potts Pottery, Ray Pottery, Riggs Pottery, Rockhouse Pottery, Seagrove Stoneware, Studio Touya, The Hutch Pottery, Thomas Pottery, Tom Gray Pottery, Triple C Pottery, Turn & Burn, Uwharrie Crystalline, Westmoore Pottery, Whynot Pottery, Windsong Pottery, and Zehmer Pottery.
Visit (www.CelebrationofSeagrovePotters.com) to learn more about the festival and potters and find links to the individual pottery pages.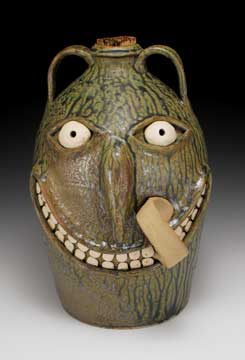 Work by Syd Luck
The Celebration of Seagrove Potters festival has received strong support from potters and the community at large. Special thanks to our 2010 Sponsors: Amicks Superstore, Century Link, Community One, First Bank, Insurance Associates of the Triad, Life 103.1, Mistletow Meadows, NC Zoological Society, Our State Magazine, Progress Energy, Pugh Funeral Home, Randolph Electric, Richard and Susan Garkalns, STARworks, The Heart of North Carolina Visitors Bureau, and Village Printing with more coming on board each week.
For further information e-mail (contact@celebrationofseagrovepotters.com) or visit (www.celebrationofseagrovepotters.com). You can also learn more at the Seagrove Area Potters Association website at (http://www.discoverseagrove.com/).
Tags: 3rd Annual Celebration of Seagrove Potters, Gala Preview Party, Luck's Cannery, Seagrove NC