Every year I try and give interested readers a heads up on the visual arts offered during the Spoleto/Piccolo Spoleto Festivals . I haven't seen any of these exhibits as most haven't started yet and I'm getting ready to deliver our June issue of Carolina Arts. But here's a bit about what's being offered and what I know.
The Carolina art community in general is fairly focused on Charleston, SC, at this time of year due to the Spoleto Festival USA and the Piccolo Spoleto Festival, which takes place from May 28 – June 13, 2010. Most interested in the arts have been reading about Spoleto in their daily papers for weeks if not months. And, let me remind you that you can read in detail about some of these exhibits in Carolina Arts May and June issues and at Carolina Arts Online – in Feature Articles, May and June (June soon to be posted June 1).
During this time period Charleston will see its largest, most art informed, arts audience. Arts writers and members of the art press – those who still have a job – will be here for their annual visit as well as art lovers from throughout the region. At least that's what organizers are hoping. It's still too early to tell about that.
First a few pointers, dress for warm temps, wear comfortable walking shoes, and carry some water and maybe an energy bar with you at all times. You may have to park far from the event you are headed for so pick spots you don't have to keep running back to feed quarters in a meter. Parking at the Visitor Center will place you near four or five exhibits and you can get a day trolley pass which will take you all over downtown Charleston. Then you won't have to worry about parking tickets at all. And, don't leave home without your credit cards and cash. You're going to see something you just have to own, so be prepared.
Let's start our journey at Marion Square Park, located at King, Calhoun, & Meeting Streets, in downtown Charleston, where the 2010 Piccolo Spoleto Outdoor Art Exhibit will be on view from May 28 – June 11, 2010 – rain or shine.  This exhibit features works by over 100 juried exhibitors from around SC, juried by Elizabeth Rundorff Smith – under tents. Demonstrations are offered daily by participating artists at 11am & 2:30pm. The exhibit runs daily from 10am-5pm – rain or shine. This is one block from the Visitor Center.
Many of the artists in this show are also represented by art galleries in downtown Charleston, so if you see a style you like, but not the work that speaks to you – the artists can direct you to the galleries where you can see more work. But, just as many are not represented by any gallery, so this is an annual opportunity to see their new work. And shop early – as the 16 days move along – the selection thins.
Some works in the Carolina Arts' art collection have come from artists who have done this show in the past and by some who are still putting in their annual 16 days. Doing this show is bootcamp for the arts. It's one thing to do a weekend outdoor show, but 16 days! My hat's off to them who can be that focused.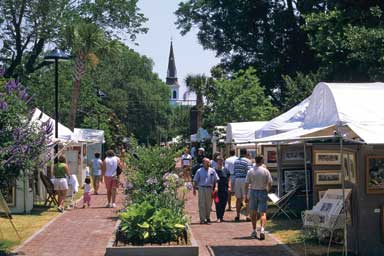 Photo by Ron Rocz
If you can't get down there to visit these hearty artists, you can follow the blog of  Amelia ("Mimi") Whaley at (www.mimispaintingaday.blogspot.com). She gives readers an inside view at what it's like to sit in the park waiting for viewers and hopefully buyers.
Next, let's move on to the 31st Piccolo Spoleto Outdoor Craft Show and Demonstrations taking place in Wragg Square Park, located at Charlotte and Meeting Streets in downtown Charleston on two weekends: May 28 – 30 & June 4 – 6, 2010. This location is actually closer to the Visitor Center – just 1/2 a block, but it only takes place on two weekends. Admission is $3. Folks 18 and under or 65 and over get in free. If you see me walking around Charleston ask me about free passes – or if you're in a gallery around town – ask them. But the tiny admission is well worth it. Artists and artisans represent areas from across the US. Media presented ranges from traditional to contemporary expressions; demonstrations by the exhibitors are presented throughout the shows. Hours for both weekends are: Fri.& Sat., 10am-6pm and Sun., 11am-5pm.
This event is hosted by Charleston Crafts, a cooperative fine craft gallery located at 161 Church Street downtown.
Many pieces in our art collection have also come from this annual show.
Point of disclosure: Both these events are regular supporters of Carolina Arts. So, they come first in our book.
Since I'm using the Charleston Visitor Center, located at 375 Meeting Street, between John & Mary Streets, in downtown Charleston as a focus point, I should point out a few other important factors about this location. First and foremost – it has two – listen carefully – two sets of rest rooms. They sell drinks there, it's air-conditioned, and while you're there you can take in the 26th Annual Piccolo Spoleto Juried Art Exhibition, on view daily from  May 28 – June 11, 2010. The Visitor Center is open daily, from 8:30am-5pm.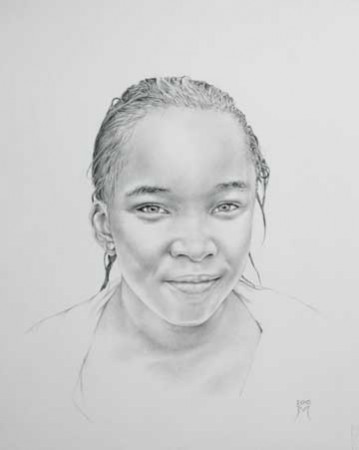 Work by Melissa Gravano from the Juried Art Exhibition
The exhibit, open to artists from throughout SC features works in a variety of media and is sponsored by the City of Charleston Office of Cultural Affairs and coordinated by the Charleston Artist Guild, which has their own gallery located at 160 East Bay Street.
The Visitor Center is also a hub for tourist info, tours around the city and transportation – as well as picking up a copy of Carolina Arts and the official Piccolo Spoleto program. And, did I mention they have public rest rooms there?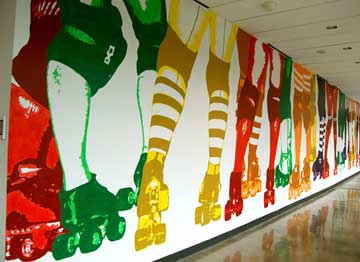 A previous work by Cory Oberndorfer
Also very close to the Visitor Center, a block and a half, is the Redux Contemporary Art Center, located at 136 St. Philip Street in Charleston. They will be presenting the exhibit, Novelty, a solo exhibition by Redux's 2010 Artist in Residence Cory Oberndorfer who will create paintings in the gallery space as well as on the façade of Redux, on view from May 26 through July 10, 2010. The Center is open Tue. – Sat., noon-5pm.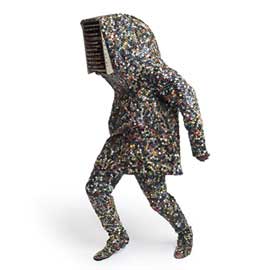 Work by Nick Cave
A little further from the Visitor Center, but still within walking distance and only a few blocks from Marion Square Park is the Halsey Institute of Contemporary Art, located in The Marion and Wayland H. Cato Jr. Center for the Arts at the College of Charleston School of the Arts, 161 Calhoun Street in Charleston. They are presenting the exhibit, Call and Response: African to America/The Art of Nick Cave and Phyllis Galembo, on view from May 27 through July 16, 2010. Artist Nick Cave creates sculptural works that he calls "Soundsuits" consisting of brightly colored fabrics, elaborate embroidery, beadwork, raffia, and, other natural materials. Phyllis Galembo's photographic portraits feature masqueraders from the West African countries of Benin, Nigeria, and Burkina Faso. The Institute is open Mon.-Sat., 11am-4pm. This exhibition is an official offering of Spoleto Festival USA.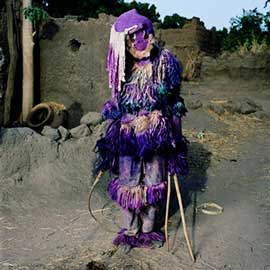 Work by Phyllis Galembo
It seems that Spoleto Festival USA with this move has finally signaled that they have thrown the towel in as far as visual art offerings and are willing to just take claim to exhibits being offered by the Halsey Institute and the Gibbes Museum of Art. This may be good for these two local institutions, but falls far short of the individual exhibitions – or site-specific installations they once offered. This is not meant to be a negative view of the offerings these folks are presenting, but they just don't compare to what Spoleto once offered – a long time ago.
While we're on the subject of Spoleto – the Gibbes Museum of Art at 135 Meeting Street in downtown Charleston is presenting the exhibit, as part of Spoleto Festival USA, JoAnn Verburg: Interruptions, on view in the Rotunda Galleries from May 28 – Aug. 22, 2010. Organized in conjunction with Pace/MacGill Gallery, New York, the exhibition features recent portraits and large single and multi-panel architectural prints made in Spoleto, Italy. The Gibbes is open Tue.-Sat., 10am-5pm and Sun., 1-5pm. The Gibbes also offers many other exhibits – the admission here ($9 for adults, less for children and seniors and under 6 free) is the most you will pay to see any visual art offered in association with the Festivals.
The Gibbes is within walking distance to the hearty, but you can take the trolley from the Visitor Center to get there. Parking near the Gibbes is in limited supply during weekdays – a little better during weekends, but then again this is Spoleto time so parking anywhere in Charleston will be a challenge. It's possible at times to find good spaces, but you'll have to work at it.
On what seems like the other side of Charleston – overlooking the Cooper River and Charleston Harbor is the City Gallery at Waterfront Park, located at 34 Prioleau Street in Charleston. It may be far from most other exhibits but the gallery has a lot in its favor – public rest rooms, a parking garage across the street and the Waterfront Park in its front yard. On view from May 20 through July 3, 2010, is the exhibit, Contemporary Charleston 2010, a Piccolo Spoleto Festival exhibition presented by the City of Charleston Office of Cultural Affairs, curated by Erin Glaze, gallery coordinator and artist Max Miller. The exhibit matches Artist/Poet teams including: Timmy Pakron and Carol Anne Davis; Benjamin Hollingsworth and Paul Allen; Scott Debus and Brian Penberthy; Kat Hastie and Katherine Williams; Sarah Haynes and Dennis Ward Stiles; Jocelyn Chateauvert and Carol Peters; Max Miller and Morrow Dowdle; Julio Cotto and Jonathan Sanchez; Hirona Matsuda and Marcus Amaker; and Lynne Riding and Ellie Davis. The gallery is open Tue.-Fri., 10am-6pm and Sat. & Sun., noon-5pm during exhibits.
Again, this is far from the Visitor Center, but you can take the trolley and get off at the corner of East Bay Street and Broad Street – at that point you're just a block from the gallery.
From the City Gallery at Waterfront Park, you can walk down the park toward Charleston's Market area to The Art Institute of Charleston Gallery, located at 24 N. Market Street in downtown Charleston. Here you can see the exhibit, Composition & Decomposition, featuring an exhibit of paintings of Tate Nation, 2010 Piccolo Spoleto Festival poster artist along with photography by Sandy Logan, 2010 Piccolo Spoleto Spotlight Concert Series poster artist. This gallery is open Mon.-Thur., 8am-8pm; Fri., 8am-5pm & Sat., 8am-1pm.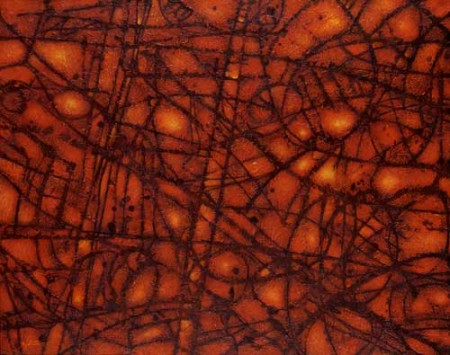 Work by Tate Nation
There are other visual art offerings being presented by the Piccolo Spoleto Festival, but if I told you everything you would have nothing to discover on your own. You can get further information by calling the Office of Cultural Affairs at 843/724- 7305, but might have better luck by visiting (www.PiccoloSpoleto.com).
And, while visiting all or any of these venues – if you keep your eyes open, you'll notice commercial art galleries located throughout Charleston – you're never more than a few blocks from another art gallery and in some areas of the city – dozens are within a block of each other.
Enjoy.