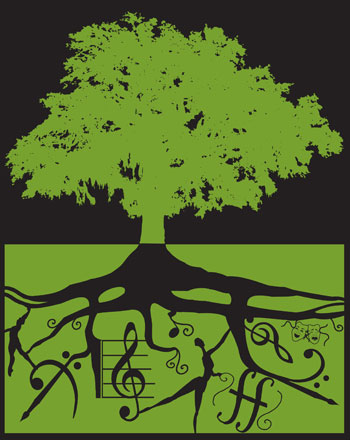 Every year I try and go see a couple of art exhibits presented during the annual North Charleston Arts Festival taking place throughout North Charleston, SC. This year was the 32nd version of the Festival. The shows I try to see are the annual "Judged Fine Art & Photography Exhibitions" and the "South Carolina Palmetto Hands Fine Craft Exhibit", (the 13th) on view at the North Charleston Performing Arts Center and Charleston Area Convention Center in North Charleston. Both exhibits are on view through May 10, 2014. Hours of viewing are through May 9, from 9am-5pm and  May 10, from 9am-noon.
As of late, I go see these shows to see if any changes have taken place. In the case of the "South Carolina Palmetto Hands Fine Craft Exhibit" I'm looking to see if any new craft artists are in this exhibit. Many of the participants are the same each year – at least it seems that way. It's hard to blame the North Charleston Arts Festival for this as they can't make artists enter this exhibit. Why more craft artists don't see this exhibit as a show to be in I'm not sure but we have many more excellent craft artists in SC then this show has attracted. The ArtFields competition in Lake City, SC, may have some impact since it has created a People's Choice award of $12,500 for 3-D works, but "Palmetto Hands" has had this problem of "sameness" long before ArtFields came along.
One problem is that the City of North Charleston doesn't get a lot of respect when it comes to the arts. A lot of that attitude is unfair, but some of it is earned. First, the city doesn't have a decent space dedicated to showing art and second, is how they present it at this festival. Until these two factors change, I expect the exhibits will stay pretty much the same. I guess they would say they are doing the best they can with the resources they have and it's hard to find fault with that. After all, they are offering artists opportunities that are hard to come by in SC.
Looking at the "Palmetto Hands" show, Matt Wilson, of Charleston, SC, a recent regular in this show presented four outstanding works and received the Best in Show award for one of his works titled "SC State Bird" – a mosquito. Most all involved recycled pieces of metal. These are all small sized works, a few years ago Wilson entered a full-size metal eagle. I agree his works were the highlight of this show.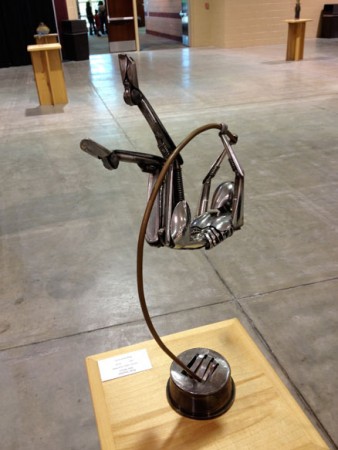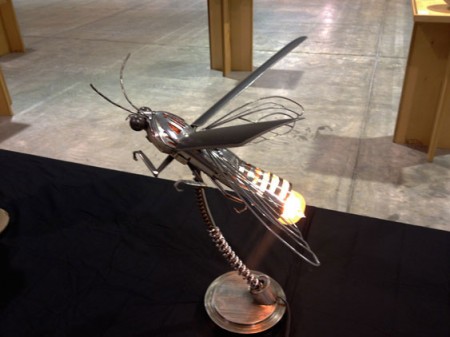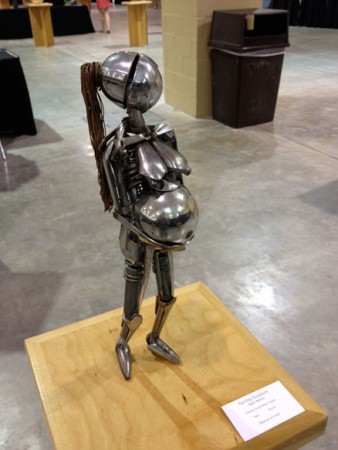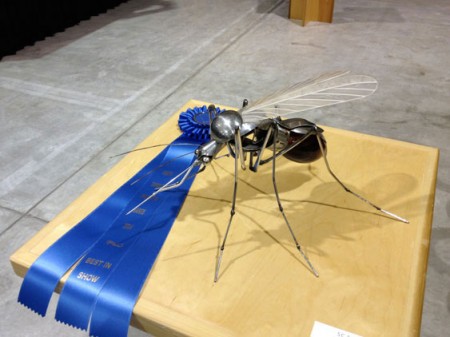 All four works by Matt Wilson
Speaking of metal works we have "Ascension," by Bob Doster of Lancaster, SC – he's Mr. metal in this state. And we have "Low on the Hog: Chitlin Cleaning Funnel," made of silver and brass, by Michael Woodle of Conway, SC. I found the front end of this pig at the ArtFields 2014 exhibit in Lake City, SC. And, finishing the metal category we have "Rusted Rodent," by Patz and Mike Fowle of Hartsville, SC. I think I have seen this guy's cousin before – he looks familiar, but I'm sure all rodents in SC are inbred so that was no surprise.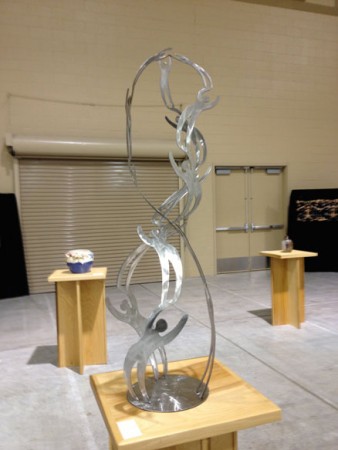 Work by Bob Doster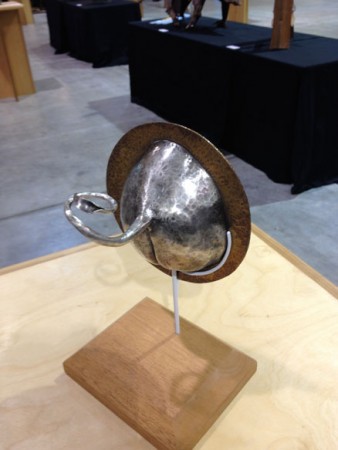 Work by Michael Woodle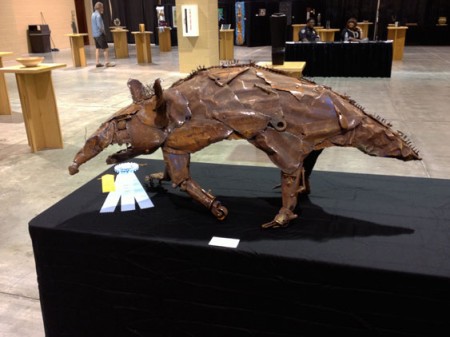 Work by Patz and Mike Fowle
Other works that caught my eye:
"Birds of a Feather," by Keller Lee of North Charleston, SC, with his fused glass work. This work was selected to be part of the Traveling Exhibit which will tour SC throughout the next year. I liked "Spring Returns," by Deborah Appleby, with this clay plate.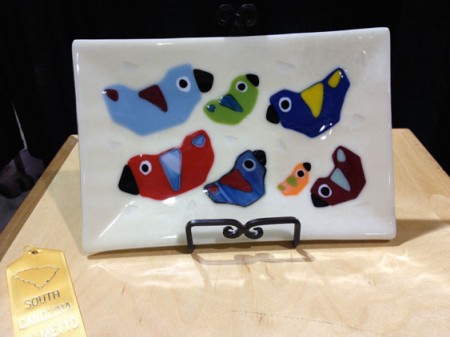 Work by Keller Lee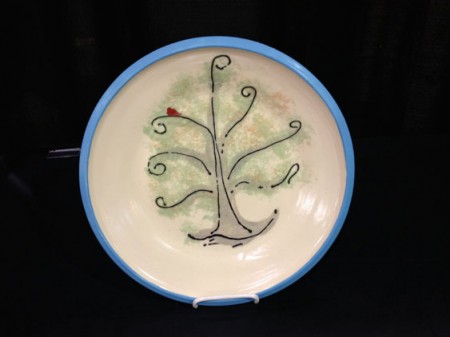 Work by Deborah Appleby
"Open Segment Bowl," by Kenny Teague is an amazing wooden bowl. I also offer an up close detail image of this work to show what it took to create this piece. Then we have "Volume Nine: Hobbies to Irrigation," by Susan Lenz, of Columbia, SC. Lenz is also a regular fixture of "Palmetto Hands", but you never know what she will enter. This is a mixed-media: altered book. I offer two views here as it is hard to see in one image. This work is also included in the Traveling Exhibit.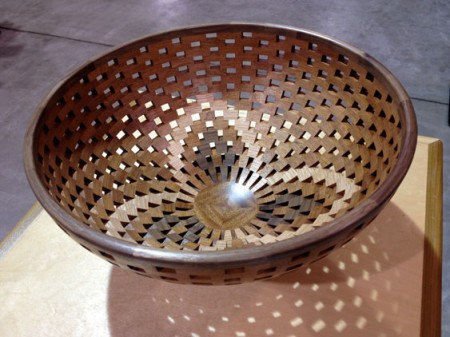 Work by Kenny Teague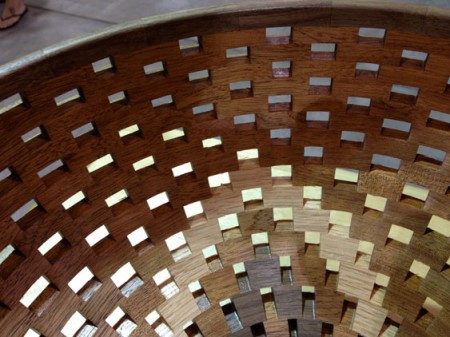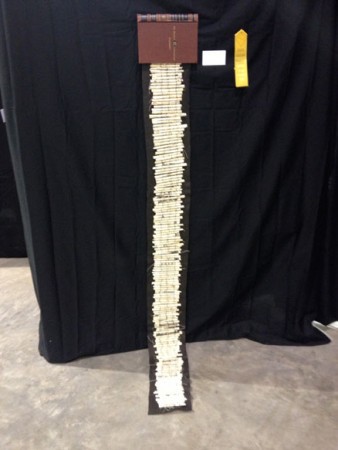 Work by Susan Lenz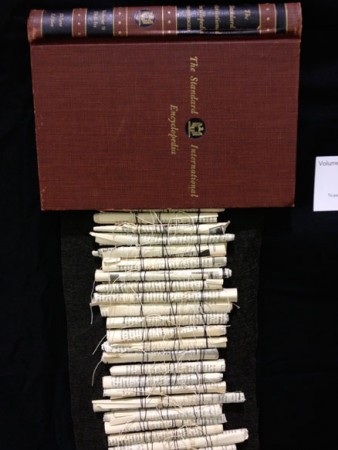 There were a lot more interesting entries, but if I showed them all, you would have no reason to go see this exhibit, which I hope you will. If it seems I forgot to let you know where some of these artists are from in SC, it's because that info wasn't offered on the tags or in the exhibit handout.
Here's my one image of the annual "Judged Fine Art & Photography Exhibitions" – mostly the fine art show. It is "Give and Take," by Latasha R. Hollins.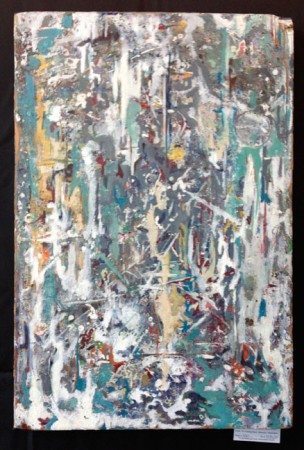 Work by Latasha R. Hollins
This exhibit is very hard to photograph, due to many reason, but my biggest problem is that I have gotten to an age where bending down below my waist or keeling on the floor to see the ID tag has come to the point where I might not be able to get back up and the point is I shouldn't have to. Nor should anyone else, but it's something viewers of this exhibit have had to deal with for years.
Sameness is also a problem here too. The greater Charleston, SC, area has a wealth of fine artists, but few choose to enter this show. Why is that? It's the North Charleston factors I mentioned above and mostly the presentation of the work.
Finally, we have the work, "Happy," by Amiri Geuka Farris of Bluffton, SC, winner of the 2014 North Charleston Arts Festival Design Competition, on view at the North Charleston City Gallery, located at the Charleston Area Convention Center, from May 2 – 31, 2014. This is an excellent exhibit to go see.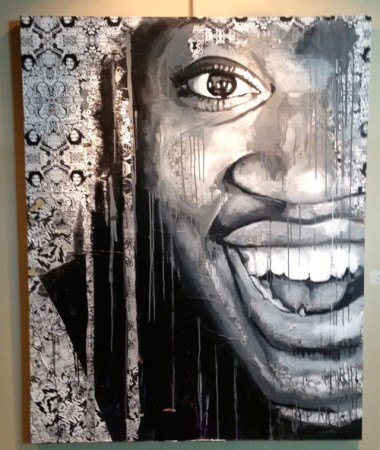 Work by Amiri Geuka Farris
For further information contact the North Charleston Cultural Arts Department office by calling 843/740-5854 or visit (www.NorthCharlestonArtsFest.com) where you'll find a complete schedule of events.