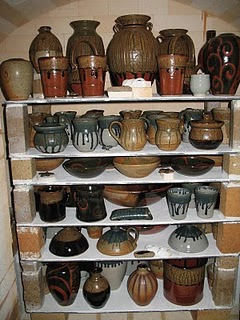 The annual Spring Kiln Opening at Whynot Pottery in Seagrove, NC, will take place on April 16, 10am-5pm and April 17, from 10am-4pm. I know there will be other kiln openings in Seagrove during this time and we'll get to that, but these folks sent us info and they are good supporters of Carolina Arts. We don't have any gold stars to put in their notebook so this is the best we can do to ask you to support them by going and buying everything they have. I might even show up to encourage folks along – I'll be the one dancin' a jig for gas money.
Joining Meredith and Mark Heywood at Whynot Pottery this year will be:
Laurie Abela from Abela Soaps. "I'm a soap maker, massage therapist & cardiac nurse. I grow food, flowers & herbs, some of which I use in my soaps." Check her out at (http://abelabodycare.blogspot.com/).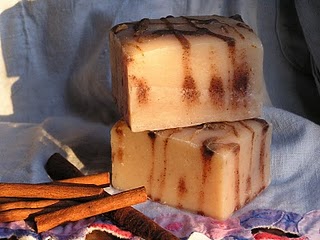 Anne Raven Jorgensen from Raven Pottery. "My pots are all either thrown on the wheel and then altered or made from slabs of clay. I spend a lot of time decorating my pieces with wax-resist in intricate geometric designs. I also do a lot of decorating with slips in floral designs." Check her works out at (http://www.ravenpottery.com/index.htm).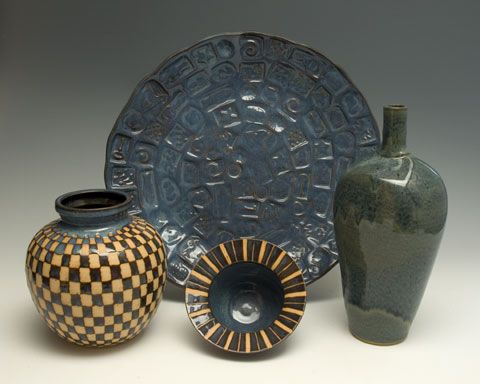 Laura Weant Johnson from Snow Hill Tileworks. Laura is well know for her fabulous tiles and jewelry. See her works at (http://snowhilltileworks.blogspot.com/).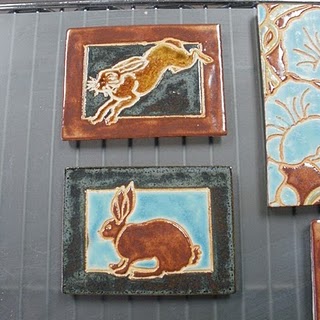 Meredith and Mark are always willing to share opportunities with other artists and at the same time are willing to share the good talents of good friends with their visitors. That's how they roll.
Whynot Pottery is located at 1013 Fork Creek Mill Road in Seagrove. You can find it if I could – just don't drive too fast around those curves. If your GPS is broken or you can't follow the map you picked up at the NC Pottery Center (don't forget to see the Teapots exhibit) in downtown Seagrove – call 336/873-9276 – they'll guide you in. But long before the dates roll up on you, check out their website, blog and Facebook page at these links: (www.whynotpottery.com), (http://whynotpotteryblog.blogspot.com/) or (http://www.facebook.com/whynotpotterywhynotnc). Get a good feel for what you'll be taking home and who you can give that special gift to. Every mom could use a little pot on their special day – and that day is right around the corner. Get your head out of the clouds – I meant teapot.
To learn more about other kiln openings taking place in Seagrove at these same dates see our article on Page 36 of our April 2011 issue of Carolina Arts at (www.carolinaarts.com) or visit (www.DiscoverSeagrove.com).
You see, I wasn't going to leave anyone out.