I left off in Part I talking about the Hotel Florence on West Evans Street in Florence, SC. If you want to read what I wrote in Part I visit this link.
On the other side of the street across from the Hotel Florence, a half a block toward Irby Street, you'll find the Art Trail Gallery, at 185 West Evans Street. This is the gallery's second location and I understand that they will soon be on the move to a third location. You can't say the arts in Florence are not doing its part for urban renewal – especially when it comes to the Art Trail Gallery. Where the Art Trail Gallery goes – so go folks looking for the arts in Florence.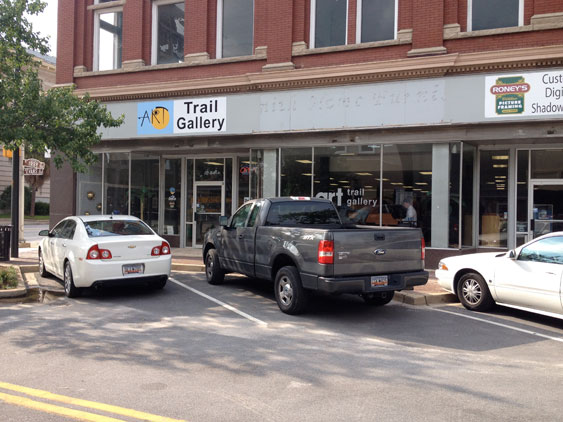 On this day they were showing Photofabulous 2015, a show that is an annual display of photography from the region. This year's offering was a juried show, selected by Julie Mixon, an Assistant Professor of Photography at Francis Marion University. At the old gallery's location on South Dargan Street I've see a few Photofabulous shows that were "you bring it and hang it kind of shows" and the type and quality of photography on view ranged from children and adults taking snapshots, some really funky images using some form of photography, and very good traditional photography. These shows were all over the place. I've been an advocate for more focused or themed shows to be shown at the Art Trail Gallery and last year the Florence Regional Arts Alliance presented one that focused on works produced by teachers and students associated with Francis Marion University. But, after viewing this juried photography exhibit I kind of wished a return to the wild and woolly photography shows.
Now, some of my opinion could have been determined by the fact that the gallery was transformed into a banquet hall, with tables and chairs filling the space making it a real challenge to see the works hanging on the wall. The Art Trail Gallery is a multi-use space after all, and it was just unfortunate to catch it at this time in this form, but there was something else about the exhibit. All the works were well done and presented very professionally, but there was no pop – no – what is that? or how did they do that? I've seen a lot of photography in my life, after all my background in the arts was in photography before I became a pimp for the visual arts, so I like to see things that I haven't seen a million times before. I'll admit that it is a very high bar to get over and maybe a little unfair to expect.
I don't know if some of those funky photographers from older open shows didn't enter or didn't make the cut of this juror or what. I know there is less space in this version of the Art Trail Gallery. On South Dargan Street they used to hang hundreds and hundreds of photographs. Maybe some photographers don't like taking the risk of getting in a juried show – a lot of artists are like that at some point in their careers. The general worry by these folks is that they might not win or won't even get an award.
I didn't take any photos at this gallery as it would have been impossible and most works were behind glass, so I can't show you any examples of work on view. I also didn't bother taking any general view shots as it would just look like a big room full of tables and chairs – and by the next day all that stuff might be gone. So when you go see it you will see a show totally different than the one I viewed. Well, it's the same show but different circumstances.
Now, that's not to say I didn't like anything I saw – I did. Here's a list of a few images that stood out to me: Anne Baldwin's "Keys to the Past", Janet Leonard's "First Bloom", Suzanne Muldrow's "Remnants of Spring", Patricia Burkett's "Stolen Moments" (who one first place at the exhibit with this work), and my personal favorite of the show, Susan Griggs' "Maine Tidals" which showed a few totems of river stones against the backdrop of a rushing river.
I guess what I'm saying is that I found this show to be a little too tame after viewing The Pee Dee Regional Art Competition at the Waters Gallery of the Florence County Museum. If this was the only exhibit I viewed that day, I might have come away with a whole different feeling about it. But then again, none of us lives in a vacuum – we're affected by what we ate for breakfast, the drive to where we were going, everything we saw along the way, not to mention the environment we grew up in. You'll see a totally different show and that's what this is all about – you going and seeing these exhibits yourself and making up your mind about what you saw. I'm just one person who goes and sees shows and gives his opinion.
While I was there, Uschi Jeffcoat, Director of the Florence Regional Arts Alliance, that now shares space with the Art Trail Gallery, introduced me to a couple of interns from Francis Marion University, who will be helping to expand the reach of the Alliance throughout the community. I know I said something to these two young men, but for the life of me all I can remember is "Yada, Yada, Yada" on my part. Jeffcoat has an exhibit of watercolors over at the The Clay Pot Coffee Shop, at 166 South Dargan Street, across from the Florence County Museum. Adolescence in Flight: Reflections Seen and Observed, which will be on view through Feb. 28, 2015.
While I was at the Art Trail Gallery I also ran into, or was spotted by Alex Palkovich, who seems to show up everywhere I go in the Pee Dee and he invited me over to his studio, just behind the Art Trail Gallery on Irby Street. His works also share the space at the Art Trail Gallery. It's a major component of the gallery – worth the trip alone.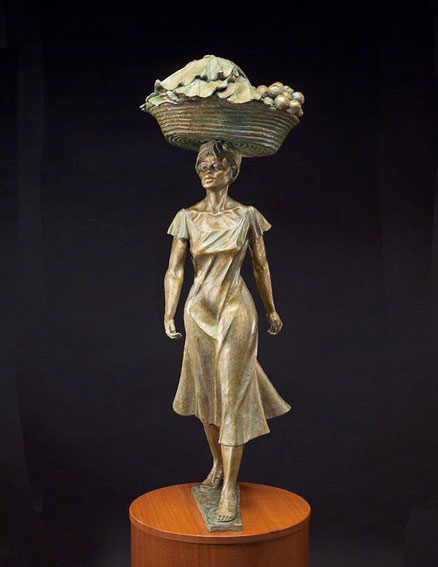 Here's an image of a small version of the statue by Palkovich which was on view at the first ArtFields© in Lake City, SC
Palkovich has a new project in mind for Charleston, SC's Market area – a nine foot tall sculpture of a mid-century black woman with a basket of goods on her head – walking to the market. He's been pretty successful getting his sculptures placed around the Pee Dee area, but Charleston is another world and one thing it is not known for is public sculptures.  But I'm not betting against Palkovich – he's a real persuasive man.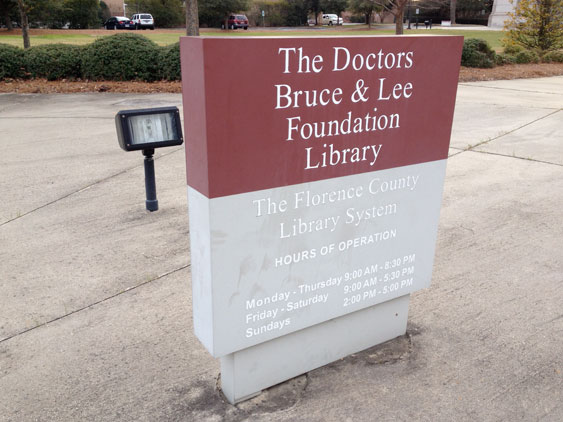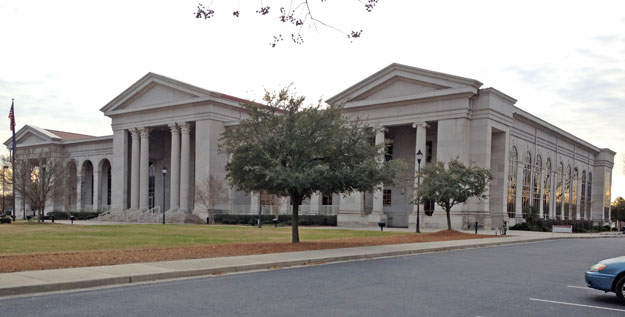 My next stop was the Doctors Bruce and Lee Foundation Library, located at 506 South Dargan Street. It's a little further away from where the art district is but still very close. That's where the FMU Artists Exhibit, is on view through Mar. 30, 2015. The exhibition features works from nine faculty and staff members from Francis Marion University's Department of Fine Arts in the Dr. N. Lee Morris Gallery, located on the 2nd floor of the library. Mediums range from 3D art, ceramics, drawing, painting, photography, printmaking, and mixed media.
Featured in this exhibition are works by Colleen A Critcher (1st place winner of The Pee Dee Regional Art Competition), Dr. Eaujung Chang, Julie S. Mixon (juror of the Photofabulous 2015 show and in the Pee Dee show), Douglas E. Gray (who has his ceramic works on display in three of the spaces I visited this trip and in the Pee Dee show), Gregory G. Fry (in the Pee Dee show), Dr. Howard J. Frye (in the Pee Dee show), Steven F. Gately, Walter W. Sallenger (in the Pee Dee show), and Lawrence P. Anderson (in the Pee Dee show).
The Dr. N. Lee Morris Gallery is a challenge to take photos in but I took a few anyway. But the work here is like an extension of The Pee Dee Regional Art Competition. My favorite work here was "Anticipation" by Dr. Howard J. Frye, a pen and ink work made in 2010. I always like everything I've seen by Douglas E. Gray, but there is a lot of good work here. So I would say that if you go see The Pee Dee Regional Art Competition you should follow it up by visiting this library exhibit.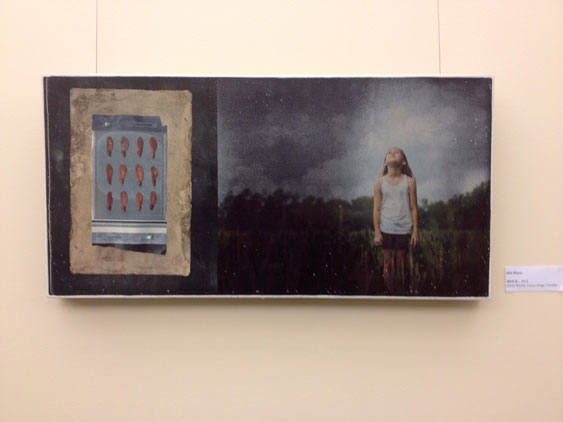 "What If… by Julie Mixon, 2013, white marble fresco image transfer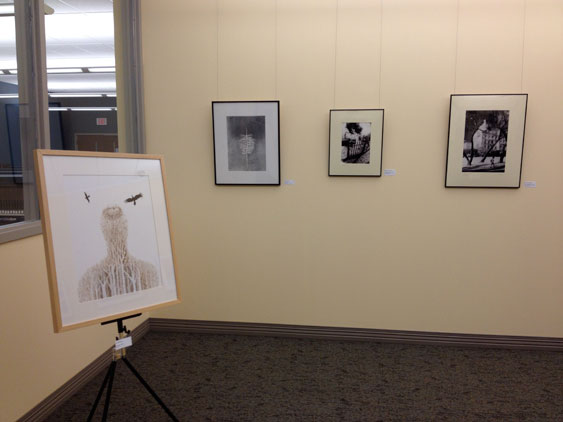 "Anticipation" by Dr. Howard J. Frye at far left and photos by Walter W. Sallenger

View of works by Gregory G. Fry on left wall, works by Julie Mixon on the other wall, and glass case with works by Douglas E. Gray
I think it is great that at least four major branch libraries, that I know of in SC, have art galleries in them – that's Charleston, Columbia, Spartanburg and Florence. These warehouses of knowledge also think it is important to offer their visitors art on a regular basis. I love libraries and hope the public always supports them as one of the most important parts of our communities.
At this point we move on to Lake City, SC, to the Jones-Carter Gallery of the Community Museum Society Inc, at 105 Henry Street, next to The Bean Market. They are presenting The Sum of Many Parts: Quiltmakers in Contemporary America, featuring selections from a larger exhibit curated by Teresa Hollingsworth and Katy Malone of South Arts, Atlanta, GA. The exhibit will be on view through Mar. 7, 2015.
A larger, original version of this exhibit was conceived and sponsored by the United States Embassy, Beijing, and developed and managed by Arts Midwest and South Arts with additional assistance from the Great Lakes Quilt Center at Michigan State University. Titled The Sum of Many Parts: 25 Quiltmakers in 21st-Century America, the exhibit toured throughout China in 2012 and 2013.
This is just another example of the quality of exhibits the Jones-Carter Gallery is bringing to South Carolina. Here we have a display of contemporary quilts from the best fiber artists from throughout the US. They are acting like a big city art museum, but the admission is free – lucky us.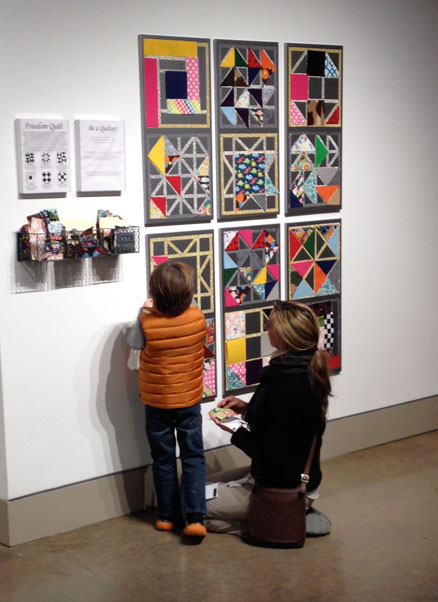 I took one photo of an interactive quilt board where people can make their own quilt by using patches of fabric and attaching then in any pattern they like to a background. It's fun to spend a few minutes putting something together and then you look a one of the quilts on display and wonder how many days or months did it take for the artists to put them together. It's mind blowing when you look at the details of some of these works. The other photos presented were provided by Hannah L. Davis, the Gallery Manager.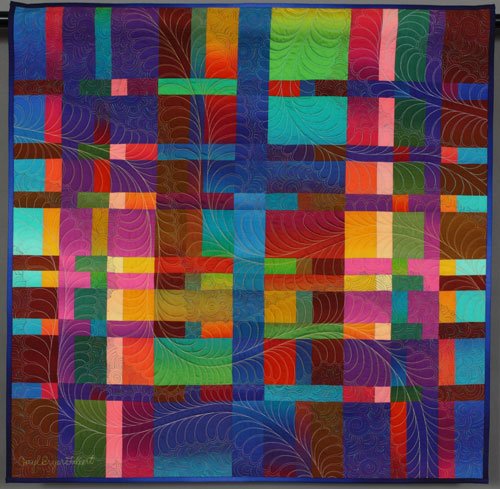 Caryl Bryer Fallert, "Fibonacci Series #8″, 2012, cotton, polyester, and bamboo batting, 30 x 30 inches, courtesy the artist.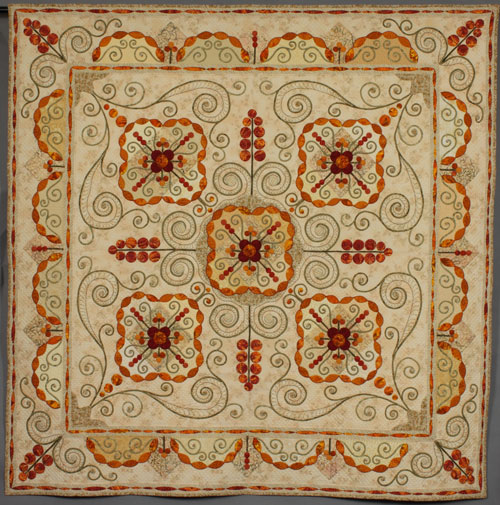 Linda M. Roy, "Subtle Sixties", 2004, cotton, 81 x 81 inches, courtesy the artist.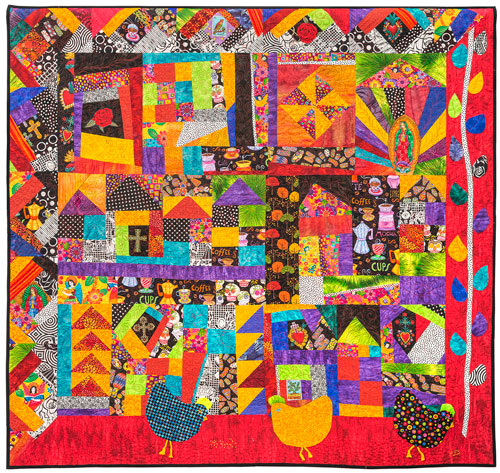 Alicia Avila, "Chicken Quilt", 2013, cotton, 51 x 53 inches, front view, courtesy the artist.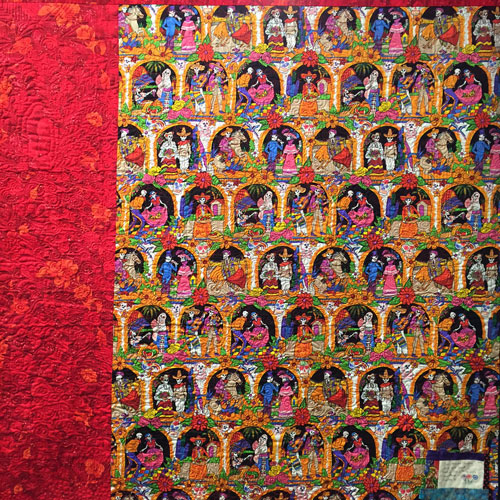 Alicia Avila, "Chicken Quilt", 2013, cotton, 51 x 53 inches, back view, courtesy the artist.
It should also be noted that the exhibit includes a work by artists representing both the Carolinas. Not too shabby since the original exhibit featured quilts by only 25 artists.
The next show up at the Jones-Carter Gallery will be ArtFields© 2015, on view from Apr. 24 – May 2, 2015. So make your plans now for a big art visit to the Pee Dee, but don't wait that long – you should go see the exhibits that are on view now.
While were talking about ArtFields©, I received a copy of the Annual Report from the Community Museum Society who now manages ArtFields© and here are some interesting numbers offered in the report. Here's a breakdown of submissions state by state for 2014 in order from most to least: SC – 674, NC – 138, GA – 76, TN – 42, AL – 34, FL – 34, VA – 19, LA – 14, MS – 10, KY – 8, WV – 8, and AR – 4. It's plain to see that the farther you get from Lake City the numbers drop off and it's clear that North Carolina is under represented. The 2015 numbers haven't been released yet but I hope they have improved as far as submissions from NC.