The other day I got kind of a wrong number call, or more exact a call thinking that we were someone else – which came from someone who found something on the Carolina Arts website. It happens all the time. Someone does a Google search and finds an article about whom or what they were searching, and they call the number at the bottom of the page – not the number at the end of the article.
On this day it was a woman from Grey House Publishing looking for someone at one of the university or college art galleries in the Carolinas. I can't remember which one, but it was someone we cover in the paper. Our conversation soon led to the fact that her publishing company had produced the second edition of the America's College Museums Handbook & Directory. I told her I just included some info about art books in our December 2011 issue of Carolina Arts. Before I know it she's getting my mailing address to send me a 30 day trial of a book which costs $185. I assured her I did not want to buy the book, but would take a look at it and maybe give my two cents on it in one of my blogs. So, here we are.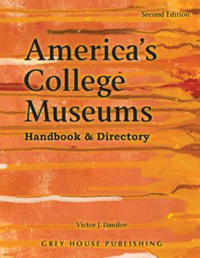 Here's the description of the book found on the website of Grey House Publishing:
America's College Museums Handbook & Directory, Second Edition
Published August 2011
Grey House Publishing
Dr. Victor J. Danilov
Softcover: 600 pages
ISBN: 1-59237-674-6/978-1-59237-674-2
Price: $185.00
The only resource of its kind, this work presents a comprehensive picture of over 1,700 museums and galleries in American colleges and universities.
This updated second edition includes data on 400 new facilities, more photos, new museum director contact information and four new indices to offer complete coverage of these important cultural facilities. It is an essential in-house reference tool for all campus museums and galleries and will be an important resource for academic and public libraries as well.
Students and their visitors may be surprised at the wealth and variety of culture readily available on their own campuses, and this guide makes the investigatory task easy.
Detailed introductory chapters offer an overview of the field, dealing with such aspects as history, mission, types, governance, staffing, collections, research, funding, exhibits, public programming, attendance, marketing and much more.
The Updated Directory of Organizations, with data on over 400 new facilities with more photos and new contact information for the museums' directors, present detailed information on museums and collections of art, botanical gardens, costumes, geology, historical houses & sites, marine sciences, medical & health, musical instruments, natural history, photography, planetaria, religion, science & technology, sculptures, zoology and much more.
Four Indices: University & Museum Index, Museum & University Index, Geographic Index and Key Personnel Index
Founding & Opening Date Appendix
Selected Bibliography and Cumulative Index complete the text
Available in print and ebook formats
America's College Museums provides a comprehensive overview of the funding, development, exhibitions, governance and future trends of college museums, along with highly informative profiles of these important facilities. This new edition will be a welcome source for all academic and public libraries.
————————————
Inside the book I found this info about the author.
Dr. Victor J. Danilov is a leading figure in the museum world. He was the director and/or president of the Museum of Science and Industry in Chicago for 15 years, and the founder and director of the Museum Management Program at the University of Colorado from 1988 to 2003. He is the author of 27 books, including 17 in the museum field, from museum career and planning guides to overviews of science, historic site, living history, ethnic, hall of fame, sports, corporate, and hands-on museums. He holds degrees from Pennsylvania State University, Northwestern University, and University of Colorado, and has been an officer in national and international museum organizations.
Here's my 2 cents.
This is a big book, but I've got some that are just as big, filled with hundreds and hundreds of pages about some computer software program and I can't find a few pages that tell me how to make that program do what I want. So, the size of a book doesn't impress me and those big computer books were a lot cheaper.
My first impression is that this is a book every library in a city of 70,000 or more people should have in their reference department, as well as any library at a college or university that teaches art. I'm not sure why any individual would want this book at that price. That's what libraries are for – they carry books we don't need on an everyday basis.
Of course my interest was in what info they provided about art museums and art galleries at our Carolina colleges and universities. That's my beat.
The info about facilities in the Carolinas filled about 10-12 pages in this book. And, I found the listings to be mostly complete, but also missed the mark in some big ways.
One example was that there were no listings for Charlotte, NC. They included the art gallery at Davidson College in Davidson, but none of the UNC-Charlotte art galleries. Nor do they include the facilities at Queens University and the community colleges in Charlotte. Charlotte is a big city to leave out completely.
It made me wonder if the info was collected by sending out a survey form and some people didn't fill them out or return them in time?  But since this is the second edition I wonder how they knew who to send it to if you were not in the first edition.
They also didn't include the Catherine J. Smith Gallery or the Turchin Center for the Visual Arts at  Appalachian State University in Boone, NC. It's hard for me to think they wouldn't be included in the Art Gallery category. And, neither facility is brand new.
The directory also seemed to have a problem when it came the UNC- and USC- facilities, leaving out art galleries at UNC-Asheville, UNC-Charlotte, UNC-Wilmington, USC-Aiken, USC-Sumter, and UNC-Upstate to name a few.
In South Carolina, they did not include info about the art galleries at Coastal Carolina, Francis Marion University, Furman University, and SC State University.
And like I mentioned in leaving out Charlotte facilities, this directory did not take into account art galleries at community colleges – at least in the Carolinas.
I've been in SC a long time now, but I checked out the college and university I attended in Michigan and their facilities were included. The book has a lot of listings so I can only assume they don't know much about the Carolinas.
Size of the facility did not seem to matter. So they were not leaving out smaller galleries, as they did include the galleries at Coker College in Hartsville, SC, and Davidson University, which are not very big gallery spaces.
The book does have info on 668 college and university art galleries and more about art museums throughout the US, so if I was an artist looking for an academic art space to exhibit my work, this directory could be very helpful. It includes e-mail and phone contacts for these facilities.
As far as those facilities not included in the Carolinas – I have a hard time getting some of these same folks to send me info so I'm not surprised some are left out. And I've been doing this in the Carolinas for 15 years.
These days UPS or other freight carriers can take your art anywhere, so there is no reason you couldn't show your work at the Sheppard Fine Art Gallery at the University of Nevada, Reno in Reno, NV, or the Hammons Gallery at Ouachita Baptist University in Arkadelphia, AR, as long as you know who to contact first. This book has a lot of that info sorted in several categories and in several different ways.
What should you do? You might want to check and see if your local library already has this book or encourage them to get a copy.
Grey House Publishing is located in Amenia, NY. You can contact them by calling 800/562-2139, e-mail to (books@greyhouse.com) or visit (www.greyhouse.com).