Editor's Note: This is my 500th posting at Carolina Arts Unleashed. This blog started in May 2008 as a birthday present from Linda. What else can you give someone who likes to express his opinions and views without limits? Space limits that is. You can blame her. The only wonder is – how did it take over 3 years to get to the 500th posting? All I can say is – I'll try harder.
Here's the real news:
Michael Mahan and his son, Levi, will be making new tree pots, large pots and shino-glazed pots from clay they dig on their land and firing them in their wood kiln for this year's R.D. Mahan Kiln Opening and Turkey Roast, Oct. 1, 2011, from 9am-5pm, at their studio in Seagrove, NC.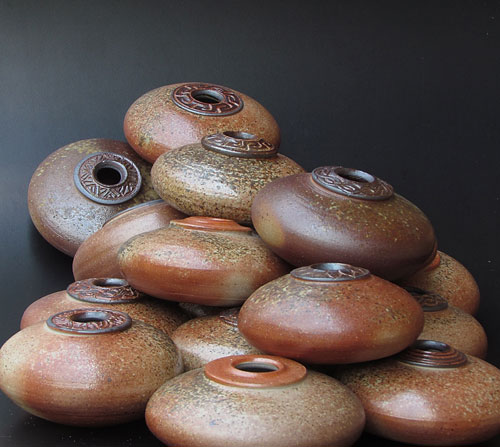 Soul Pots
Plan to come to the studio – From the Ground Up- hungry for pots and food as Michael's wife Mary will be making Irish scones (with fresh cream and jam) in the morning, Michael will be making his freshly roasted organic coffee and Levi will likely add a dish of some sort using his culinary skills. Turkey will be served for lunch. Last year, it was roasted on the grill. The previous year, it was deep-fried.
Why the R.D. Mahan name? "I wanted to create an annual commemoration of my father, so we call the kiln opening the R.D. Mahan Kiln Opening and Turkey Roast. This is our third year. It seems appropriate to pay homage to him as it is he who gave me the determination and drive to manifest my dreams".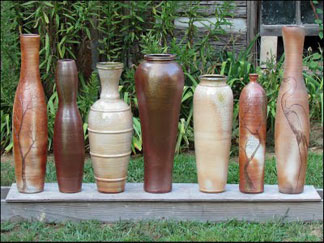 Works by Levi Mahan
Michael Mahan has been making decorative and functional pottery in the Seagrove area since 1985. He lives and works in Westmoore, seven miles south of Seagrove at his pottery, From the Ground Up. He owned and operated Wild Rose Pottery in Whynot until 1998 when he moved to Westmoore to renovate a barn and outbuildings on the site where Moore County traditional potter W.J. Stewart worked in the 1890s.
Mahan came to Seagrove as a newspaper reporter. Soon he was taking classes and changed careers to pottery. His youngest son, Levi, is currently an apprentice with him and his daughter Chelsea is also a potter.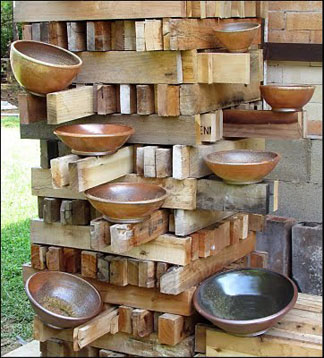 Shino-glazed bowls (lower right bowl glazed with alberta slip glaze)
Mahan processes some clay from his property and uses mainly North Carolina sourced clays and materials for his clay and glazes. He combine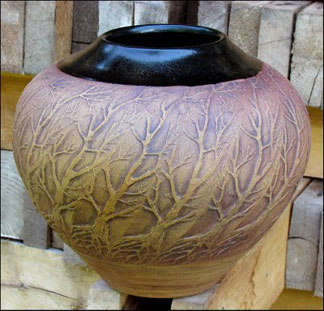 s ancient and modern firing techniques to achieve pieces that reveal the unique relationship between clay and fire. Michael's latest work involves trees. He continues to create functional dinnerware using his trademark southwestern and ash glazes.
Tree Pot
From the Ground Up is located at 172 Crestwood Road in Robbins, NC. To see his latest work, check out Michael's blog at (www.FromTheGroundUpPots.blogspot.com).
For further info call the pottery at 910/464-6228, e-mail to (mahanpots@rtmc.net) or visit (http://fromthegrounduppots.com). Also on Facebook.