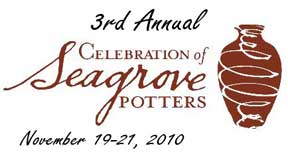 Some of the blogging potters in Seagrove, NC, who are part of the 3rd Annual Celebration of Seagrove Potters have started posting pictures and feedback on their blogs.
If you can't read between the lines – I couldn't go this year – I'm spend the weekend working on another pottery project. Announcement coming soon.
First word came from Around and About with Bulldog Pottery by Bruce Gholson and Samantha Henneke of Bulldog Pottery. They're young with lots of energy. And, Michael Mahan posting at From the Ground Up has offered images of his booth.
I'm sure it won't be long before we see a report from Meredith and Mark Heywood on the Whynot Pottery Blog about what's been going on.
New – I've added in Touya News the blog of Takuro Shibata and Hitomi Akebi Shibata and Turning Mud Into Gemstones the blog of Jennie Lorette Keatts. Both have added more info from the Celebration.
All of their blogs offer links to other blog where news may be soon popping up. So, if you're like me and can't go this year – live through the blogs.
This morning I got a call from my friend Will Ravenel who went with me to the Celebration last year – from the Celebration. He was wondering if I was on my way. I wish. And, then later he called to tell me I was again responsible for him leaving a boat load of money in Seagrove.
It's what I do – turn people on to ways they can better spend their money – on items with lasting value. And, if you only look – that's OK too.