As usual we received several press releases about exhibits starting in January – after our deadline. We can't reward all the stragglers, but occasionally we single out one or two for exposure here. It's not that they're all not interesting, but some just stand out more than others and after all – all we receive by deadline for the web version of Carolina Arts will be posted on Carolina Arts Online – on the first of the month.
That's right, we produce two really different publications every month – one the physical printed paper and another online version which includes much more info than can be found in the printed version. The ratio of advertising to printer cost vs. unlimited space on the Internet, for much less money, is the reason for these two publications. It's not like we wouldn't want to produce one big color publication covering everything – we just can't afford it without the help of advertisers and since we'll never be able to receive any government support for doing what we do – it's the reality of our life. Oh well.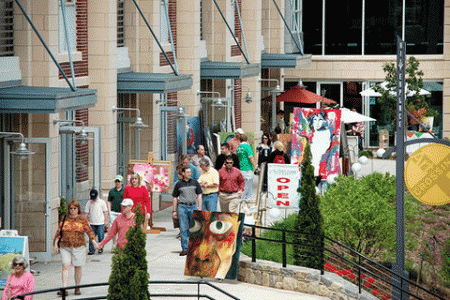 These small gallery spaces located at Art Crossing on the Reedy River in downtown Greenville are an interesting concept which I wish more cities or developments offered to their local visual art communities. The Reedy River area in Greenville is interesting enough on its own, but the galleries add an extra touch of class – many cities in SC and the Carolinas could use.
Here's the press release.
Riverworks Gallery, located at Suite 202 at Art Crossing on the Reedy River in downtown Greenville, SC, will present the exhibit, Carolina Cowboy, Photographs by Tracie Easler, on view from Jan. 8 – Feb. 28, 2010. The exhibition is sponsored by the Department of Visual and Performing Arts at the Greenville Technical College/Greer Campus.
Easler's riveting photographic portraits document the cultural anomaly of the South Carolina cowboy. The Carolina Cowboy series is a collection of environmental portraits produced using processes from the 19th and the 21st centuries. The images are intended to serve as a reflection of the lifestyle of each individual. Easler utilizes both 35mm digital and 4×5 large format film cameras to make the portraits. The images are presented utilizing the antique process of platinum/palladium and the modern technique of archival inkjet printing. "Photography fuels my personal expression in ways that words cannot," say Easler.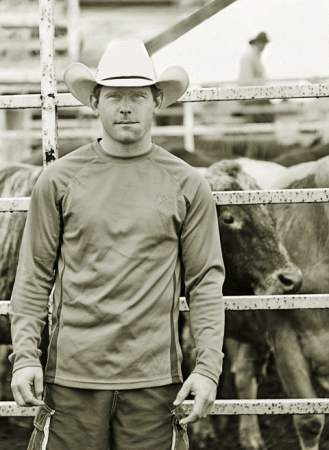 In addition to being enrolled as a photography student in the Department of Visual and Performing Arts at Greenville Technical College, Easler is the mother of three children under fourteen, a wife, a homemaker, a ranch hand, a gardener and a cook. She is also a rodeo promoter and a calf and team roper.
Easler was selected as the 2009 recipient of EMRYS Foundation grant, the Alice Conger Patterson Scholarship, from a group of over fifty applicants. The scholarship is designed to encourage South Carolina women to pursue continuing education or to develop a creative endeavor.
Riverworks Gallery is a small student art gallery operated by the faculty and students from the Department of Visual and Performing Arts at Greenville Technical College.
For further information check our SC Institutional Gallery listings or call Blake Praytor at 864/848-2020 or e-mail to (blake.praytor@gvltec.edu).