Here's notice of an opportunity we received at Carolina Arts to look at over 500 sculptures – all in one beautiful place and enjoy an arts festival too.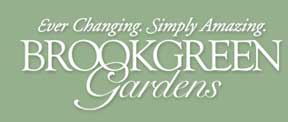 On Saturday, June 5 from 9:30 a.m. – 4 p.m. at Brookgreen Gardens, in Murrells Inlet, SC, more than 40 painters, potters, jewelry makers, glass blowers, and authors will gather to discuss, display, and sell their work during the Artists Under the Arcade Festival. Original paintings, hand-made jewelry, sweet-grass baskets, sculpture, photography, wooden bowls, and pottery will be on exhibit and available for sale.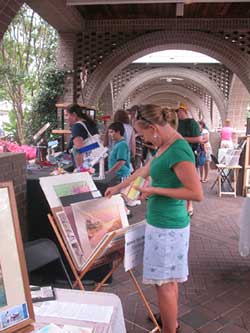 Participating artists include: Albatross Pottery/Ceramics; Ann Berg-Artist/Painter; Ann Marie McKay- Book Illustrator, Artist/Painter- book signing; Anne Malarich, Photography; Chad & Heather Samson of Beach Beads, Jewelry and Glass with Demo; David McCune, Artist; Diana Johnson, Photographer; Doe Creek Gallery. Artist/Photography; Sweet Grass Baskets by Ivie; Jean Caveness, Artisitc Angels; Jef Sturm, Artist/Oil Paintings; Jeffcoat Pottery, Ceramics; The Art Box, Cast Sculptures & Demo; Judy O'Brien, Artist; Julie McLaughlin, Author – Hungry Mr. Gator, Mr. Gator's Up the Creek, Mr. Gator Hits the Beach – book signing; Kathleen Hunt, Glass Artist-Kaleidoscopes; Kathryn Turnauer, Glass Artist; Indigo Jewelry; Liz Crosby, Artist/Photography; Mark Hilliard-Nature Photography; Meg Carter, Sea Glass Jewelry; Blue Mountain Traders Jewelry; Millie Doud, Artist/Mixed Media; Mud Bucket Pottery; Penny Low, Artist-Watercolor Painter; Richard & Jolyn Kuhn, Artists/Painters; Richard Nelsen, Artist/Painter; Robin Salmon, Author/Vice-President of Collections-Book Signing; Scott Penegar, Sculptor with Plaques and Reliefs; Sharyn Kovak, Artist; Steve Hazard, African Graffiti-Fused Glass; Susan Mole, Fused Glass Artist, Terry Lee Johnson, Artist/Wooden Works; The Bead Oasis, Jewelry; The Earring Lady; Thelma Johnson, Sweet Grass Baskets; Thompson Nature Photography; Wilma Cantey, Pottery/Ceramics; Shirtley Lawing, Artist/Painter; and Nancy Van Buren, Artist/Painter.
Brookgreen Gardens is one of the largest collections of outdoor sculpture in America. This preeminent collection of American representational sculpture includes – 560 works by 240 artists – representing such well-known artists as Charles Parks, Daniel Chester French, Carl Milles, August Saint-Gaudens and Anna Hyatt Huntington.
Brookgreen Gardens, a National Historic Landmark, is located on US Highway 17 between Myrtle Beach and Pawleys Island and is open to the public daily. Admission to Brookgreen Gardens is good for seven days. Children 3 and under are admitted free. Adults (13-64) are $12; seniors (65 and over) are $10; Children (4-12) are $6.
For more information call 843/235-6000 or visit (www.brookgreen.org).