It's less than a month away, and I know some of you artists out there will have to hustle to make the deadline. Almost 500 artists from throughout the Carolinas entered last year. It's an electronic entry so you won't have to haul your work to someplace just to find out if the made the cut. You won't do that until you know you're in! Put you have to enter first.
But, first – here's a press release we received at Carolina Arts about last year's event.
Unexpected things can sometimes change a life – just ask recent Winthrop University graduate, Jon Wald, who was awarded the top prize in the 2009 inaugural Carolina's Got Art! competition.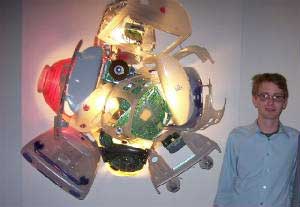 When asked about winning the $2,500 Best-in-Show award and subsequently selling his artwork during the show, Wald said, "First, I paid off my debts, which is a huge relief in itself. Then, I bought new supplies. One item was an Arduino (an easy-to-use microprocessor). I used the prize money to justify leaving work early every day to teach myself how to program the chip. Ultimately, I think it has helped lead me toward an entirely new method for making art."
Wald was one of seven other artists from North and South Carolina who walked away with a portion of over $9,000 in prizes awarded by Carolina's Got Art! that premiered in October, 2009. The initial success of the exhibition has motivated Carolina's Got Art! founder and owner of Elder Art Gallery, Larry Elder, to launch the second annual competition, slated to open October 1, 2010, with an awards presentation to this year's winners. The exhibition will continue through October 30, 2010, at Atherton Mill in Charlotte, NC's Historic SouthEnd District.
"We had no idea that Carolina's Got Art! would generate such excitement for the local visual arts community," says Elder. "We accepted over 1100 entries and our juror selected 135 original pieces to comprise the exhibition." During the month of October, 2009, the exhibition attracted over 2000 visitors.
Columbia, SC-based Edens & Avant, owners of Atherton Mill, is once again demonstrating its commitment to the visual arts in the two Carolinas by offering their historic property for the host location. Artists are encouraged to visit (www.carolinasgotart.com) for complete details. Carolina's Got Art!is accepting online entries for the 2010 exhibition until August 15, 2010.
This year's juror will be Mario Naves, an artist, writer and teacher who lives and works in New York City. He is renowned for his torn and cut abstract collages, works of art that have been described by The New York Times as being "delicate and gorgeous" and by Art in America as "joyous, sophisticated, charming, and goofy".
The Elizabeth Harris Gallery in Chelsea represents Naves' art. His collages are included in private and corporate collections across the world. Naves has been the recipient of awards from The National Endowment for The Arts, The George Sugarman Foundation, the E.D. Foundation and The National Academy Museum. He was recently named a Distinguished Alumni by the College of Fine Arts at the University of Utah.
A critic as well as practicing artist, Naves has written on the visual arts for over twenty years. He has contributed to The Wall Street Journal, The New Criterion, Smithsonian, New Art Examiner, Slate and, from 1999-2009,The New York Observer, where his sometimes prickly opinions earned him the reputation of being a "maverick dissenter". He is currently a gallery critic for City Arts, a bi-weekly journal devoted to culture in New York.
Naves has taught and lectured at The Cooper Union, The New York Studio School, Montclair State University, Rutgers University, The National Academy and The Ringling College of Art and Design. He currently teaches at Pratt Institute and Brooklyn College.
For further information contact Elder Art Gallery (www.elderart.com) by calling 704/370-6337 or visit (www.carolinasgotart.com) or (www.facebook.com/carolinasgotart).