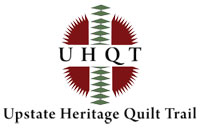 The Board of the Belton Area Museum Association chose for their Upstate Heritage Quilt Trail project, the Carolina Lily quilt, because it is among the oldest in the local area and is owned by Board Member, LuAnne Foster.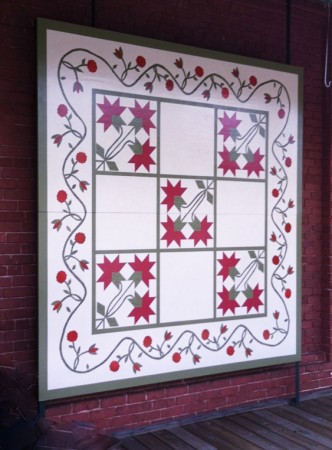 The list of names for this pattern is long, dating back to the 19th century. Barbara Brackman's reference book shows many, but none with this corner stem cluster. They are sometimes called Peonies, but Carolina Lily is the preferred name in this area. This particular lightweight summer coverlet is unusual not only for the corner cluster, but also for the detailed red and green vine border. It also is much larger than the average quilt made during that time period.
The quilt was started in 1851 and finished in 1854. It was made by Elizabeth B. Worsham to prove her worthiness to become the second wife of John H. Worsham of Jackson County, GA. His children's initials and handprints are located in each corner and throughout the squares on the quilt. Elizabeth was born between 1819 and 1821 and died in April 1887, leaving this family heirloom to their daughter, Parthenia Worsham Shirley. The quilt was passed down from mother to daughter for three generations.
The painted quilt block is displayed at the Ruth Drake Museum located in the Old Southern Railway Depot, 100 N. Main Street, Belton, SC, at the North entrance. It is sponsored by the Belton Area Museum Association. The Old Southern Railway Depot was built in 1853 and served 68 trains and trolleys that serviced a line from Columbia and Greenville.
The town of Belton was incorporated in 1855 and the town limits encompasses an area within one half mile radius from the depot. The building itself was restored in 1978, 1983 and then again in 2006. It now houses a private company, the Ruth Drake Museum, and what is considered one of the best sports museums in the southeast, the South Carolina Tennis Hall of Fame.
#101 Carolina Lilly
Quilter: Elizabeth B. Worsham
Sponsor: Belton Area Museum Association
Location: Ruth Drake Museum, 100 North Main Street, Belton, SC
GPS N34° 31.3789′, W082° 29.6449′
The real estate office of Lorraine Harding has joined the Upstate Heritage Quilt Trail. Called Holiday Splendor, the original quilt design was made by Mary Lynn Konyu of Washington State. Her husband used his engineering skills to design the pattern and then it was published in 1996 in "Quilted for Christmas." June Kuter of Keowee Key made the original cloth quilt block.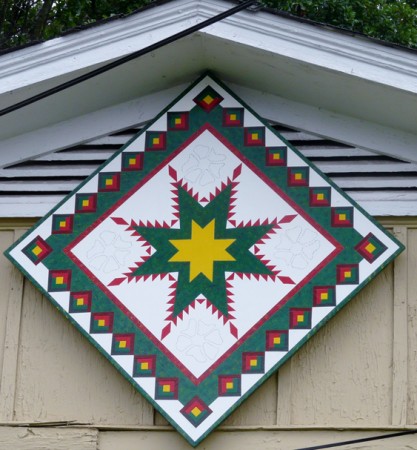 "I sewed a lot and quilted when I lived in Syracuse, NY, but I really got into quilting after moving to Salem, SC, where I joined a weekly quilt group. It's such a social activity! I picked up quilting tips and ability from the classes and from new friends. You might say I became obsessed by quilting and I love all quilters. I pieced and quilted this Holiday Splendor in 2010, using the sewing machine with a little bit of hand quilting thrown in."
The Lorraine Harding Real Estate building, located at 10898 Clemson Boulevard in Seneca, SC, has a story of its own. Bruce Rochester of Rochester Real Estate originally used the building in the 1960's to sell lots in Royal Acres located just off of Davis Creek Road. It later became a bakery and then was home to 'Mother Mary's' Palm Reader. In 1971, Ebb Field of Rochester Real Estate used it and it was here that Lorraine Harding had her first job interview after moving to Clemson, SC, from Hacketstown, NJ. In the 70's, it became a beauty shop called 'Guys and Dolls' operated by Linda Rogers, one of the first shops to offer the 'Shag' hair cut made famous by Farrah Fawcett.  It was standing room only and women came from near and far for that haircut.
Mrs. Harding purchased the building in 1976 and leased it to 'Florida Bill's' CB Repair until 1995, when she renovated and opened Lorraine Harding Real Estate. She has operated from there for the last 18 years.
#116 Holiday Splendor
Quilter: June Kuter, Designer: Mary Lynn Konyu
Sponsor: Lorraine Harding Real Estate
Location: 10898 Clemson Blvd., Seneca, SC
GPS N34° 41.7186′, W082° 52.713′
For more information about the Upstate Heritage Quilt Trail visit (www.UHQT.org).