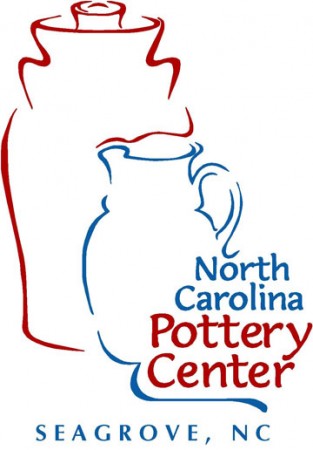 From the NC Pottery Center
Dr. Everette James has once again donated an important collection of North Carolina pottery to the NC Pottery Center (http://www.ncpotterycenter.com/) in Seagrove, NC. Several years ago he gave several hundred pots that served as the core of a highly successful fund-raising auction held by Leland Little Auctions in Hillsborough, NC. This time he has given over 100 items for our permanent collection.
James' newest gift includes a great variety of forms, including early lead glazes and signed utilitarian wares from J.D. Craven, J.F. Brower, George Donkel, and O. Henry Pottery. James of course is the author of North Carolina Art Pottery, 1900-1960 (Collector Books, 2003), and so it is not surprising that his gift features major 20th century artists such as A.R. Cole, J.B. Cole, Ben Owen, Joe Owen, M.L. Owen, and numerous others. Among the rarities are a Glenn Art Pottery vase with the original sticker, a buzzard vase by J.B. Cole, a pale blue dinner set from A. R. Cole, and an earthenware vase with cobalt flows from the Auman Pottery.
James' donation is now nestled in the storage cupboards upstairs, but a future exhibition is being planned to show off this new acquisition. The NC Pottery Center ask all its supporters to thanks Dr, James whenever you see him. No one has been more generous to the Center.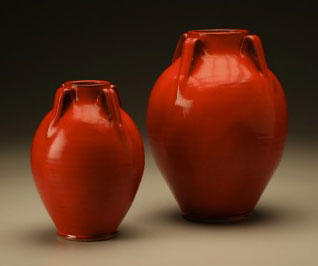 Ben Owen Pottery Gallery Opens at The Ritz-Carlton, Charlotte
The Ritz-Carlton, Charlotte (NC) has opened its exclusive new Ben Owen Pottery Gallery, presenting custom pottery pieces from renowned Seagrove, NC, artist Ben Owen III (http://www.benowenpottery.com/). The new retail setting will be open to the public daily and has been created to feature the work of an acclaimed contemporary potter whose pieces already highlight the hotel's extensive contemporary art collection.
The gallery will offer 75-100 one-of-a-kind pieces of Ben Owen III pottery, with prices beginning at $45. Works will range from pots, vases, jars, bowls and platters to major showpieces and spectacular larger works of art. All items are hand-created by Ben Owen, who also will make special appearances at The Ritz-Carlton, Charlotte for 2011 art weekends and art demonstrations.
The Ritz-Carlton, Charlotte is located at 201 East Trade Street, in Uptown Charlotte, NC. The Ben Owen Pottery Gallery will be open daily from 9am to 6pm.

Valentine's Day Shopping on Busbee Road
Valentine's Day is about celebrating those you love. What better gift than something handmade by an artist. The Seagrove Potters of Historic Busbee Road are planning a weekend shopping experience designed to fit your Valentine's Day shopping needs,  on Friday, Feb. 11 and Saturday, Feb. 12, 2011.
Ten shops, including three museums, a jeweler, a blacksmith and a wide variety of other crafts, all in less than a three mile scenic drive, where pottery has been made continuously for over 100 years will offer their creative talents. There is something for everyone on your list in the shops starting on Busbee Road at Pottery Highway 705 and ending at Jugtown Road.
Participents in the event include: Ben Owen Pottery, Chris Luther Pottery, Westmoore Pottery, Hickory Hill Pottery, Mill Creek Forge, O'Quinn Pottery, Cady Clay Works, Original Owens Pottery, Moore Pots Pottery, Jugtown Pottery, and JLK Jewelry at Jugtown.
Visit  (www.potteryofbusbeeroad.com) for direct  links to the individual pottery websites. You can pick up the brochure for the Busbee Road section of the Seagrove pottery area at the NC Pottery Center, all NC Welcome Centers and at any of the shops along Busbee Road.
Just Another Day at the Pottery at From the Ground Up
Follow Michael Mahan and the crew at From the Ground Up pottery as they make 500 award pots for the 2011 Uwharrie Mountain Run on his blog found at (http://fromthegrounduppots.blogspot.com/). If you think potters slow down during the winter months – think again.