I was doing another post office/bank run into Moncks Corner, SC, and I also had to return some materials to the Berkeley County Library, which is now my main library since I'm not delivering papers anymore. It's not the Charleston County Library, but it's pretty good.
On the way out, I noticed that there was an exhibit up in the entrance way of the library. On close inspection I found that it was the Berkeley Artist's Guild's Annual Juried Exhibition, which started on June 1 and will be up until June 24, 2012, when a meet and greet the artists reception will be held from 4-5:30pm. The public is invited.
The Berkeley County Library is located at 1003 Hwy. 52, just as you enter Moncks Corner, in the Berkeley County Administration Complex. Hours are Mon.-Thur., 9am-7pm and Fri. and Sat., 9am-7pm. For further info call the library at 843/719-4223.
After scanning the works in the show for a few minutes I left the library to get in my car and head home. I didn't come to town to review any art exhibits, but I decided to go back in and write some notes on some mail I picked up earlier and try to take a few pics with my phone (not my best camera). It's not often that visual art events take place in my back yard and the last time I saw one of this group's show was in 2009.
Why not give them a better look and a little exposure.
I don't know how many members the Berkeley Artist's Guild has, but it can't be many. I can understand why any group wants to show off their work, but in cases like this – of which there are many in the Carolinas – I wonder why such a small group wants to have their show judged? I can only imagine that it might lead to a little friction throughout the year is such a small group, but in this case almost every one walks away with a ribbon and a few artists – an arm load of ribbons.
There were only eleven different artists participating in this exhibit – only one artist on display did not win an award (ribbon), and I can only imagine how they feel, unless they are a beginner and feel lucky to be in any show. But when it comes to juried shows – artists need to develope a thick skin. Sometimes you win – sometimes you don't even make the cut.
In the past, I have tried to convince people who host these small shows that they should tell the judge they don't have to award all the ribbons or award slots planned for. But, it seems if they buy 12 ribbons – they want the judge to award 12 ribbons – which is hard if there are only 11 entries. But, that seems to be the pattern I've seen thoughout my 25 years of covering such shows. To me, it kind of devalues a 3rd Place award out of 3 entries. It doesn't mean it's not deserving, but it makes me wonder.
Also of note, there was a sign up listing the names of 8 members who had died. I don't know if that was since the last exhibit, but that could be almost half of the group's membership.
There were six categories: mixed media, drawing, pastel, watercolor, oil, and acrylic. One category had just two entries by two different artists. The judge, which I later learned was James Christopher Hill from Charleston, SC, then had to determine who got 1st place and the rest is history. The hardest task he had was the oil category which had 11 entries by 8 different artists.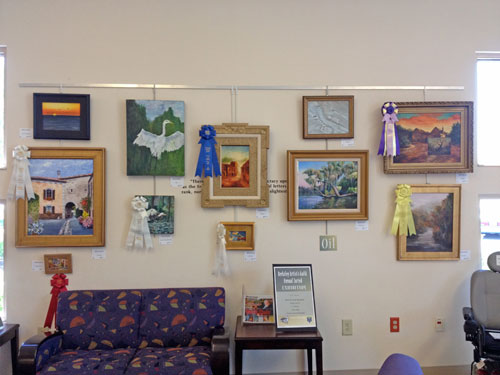 This was the "oil" category
Now the fact that this was such a small group of artists competing for awards, it didn't mean there wasn't quality works on display. With a few exceptions, these works could have been in just about any juried or judged exhibit I've seen this year. They may not have been so lucky with awards, but they could have been winners. You never know.
For anyone looking for a bargain, the prices of some of these works were very low compared to what you would find just 50 miles down Hwy. 52 in Charleston.
As usual, I try to pick a personal favorite, and although there were no true abstract works on display I liked the works by Trish Emery – which had a loose feel to them. Not quite abstract, but not far off. It seems Moncks Corner's Mayor, Bill Peagler liked her work too as he selected one of her works for the award in his name.
Back seat driver remark: I wondered if the judge wasn't looking too much at the frame when he selected his Best of Show award. But, then when you have to pick a best out of 30 works – it can't be easy.
Here's the results (category, number of different artists entered and number of entries).
Mixed Media – 2 artist, 4 entries
1st Place – Trish Emery
2nd Place – Trish Emery
3rd Place – Ruth Griebe
HM – Ruth Griebe
Drawing – 2 artists, 2 entries
1st Place & Mayor's Award – Trish Emery
2nd Place – Elliott West
Pastel – 3 artists, 3 entries
1st Place – Trish Emery
2nd Place – Elliott West
3rd Place – Marcia Litschewski
Watercolor – 4 artists, 5 entries
1st Place – Louise James
2nd Place – Marcia Litschewski
3rd Place – Elliott West
HM – Ruth Griebe
HM – Louise James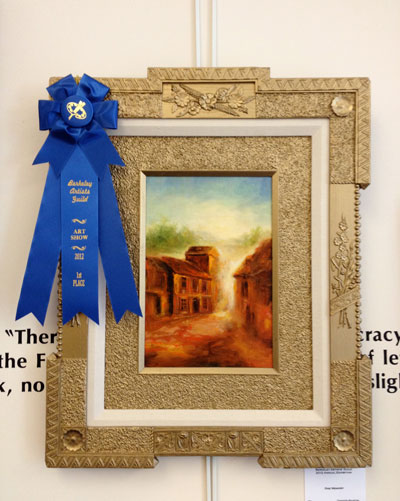 This was 1st Place in oil by Ginger Martin
Oil – 8 artists, 11 entries
Best of Show – Ginger Martin
1st Place – Ginger Martin
2nd Place – Jan Roach
3rd Place – Gayle Jourdain
HM – Elliott West
HM – Ruth Griebe
HM – Jan Roach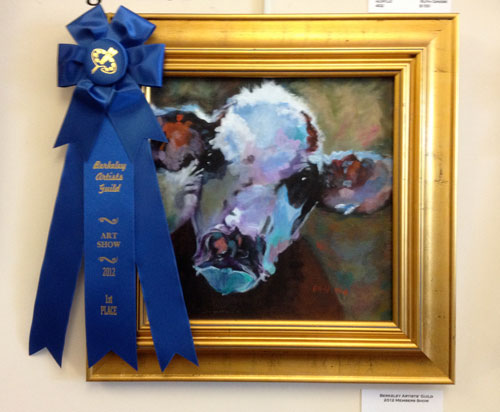 This was 1st Place in acrylic by Elliott West
Acrylic – 4 artists, 5 entries
1st Place – Elliott West
2nd Place – Horace Nobles
3rd Place – Stephanie Reed
HM – Ruth Griebe
I didn't find any contact info for this group at the exhibit or in a Google search.