At times I find myself in a conflict when I'm promoting several events taking place at the same time. Such is the case with the Greenville Open Studios tour in Greenville, SC, and the Charleston Art Auction taking place on Nov. 7, 2009, in Charleston, SC, during the Charleston Fine Arts Annual weekend. Both the tour and the auction are big supporters of Carolina Arts. People could really attend both, but human nature for most is just to chose one. I just hope I'll be finished delivering our Nov. issue and have that opportunity. But, then again – with every issue of Carolina Arts or Carolina Arts Online were promoting dozens of events that take place at the same time – even in the same city or town.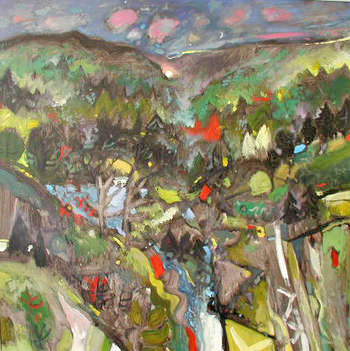 Carl R. Blair
In this posting I'm plugging the Greenville Open Studios tour – taking place Nov. 7 & 8, 2009, 10am-6pm Saturday and noon-6pm Sunday. The event is organized by the Metropolitan Arts Council in Greenville. This is the biggest or at least one of the biggest studio tours in the Carolinas. And, Alan M. Ethridge, executive director of MAC, would just love it if I would plug the events two major sponsors – Wachovia and SEW Eurodrive, so I guess I will.
Wachovia Bank, N.A. and SEW Eurodrive are proud to be the presenting sponsors of the eighth annual Greenville Open Studios and congratulate the 124 participating artists.
Hopefully some of you got a copy of the tour booklet I helped distribute during the delivery of our Oct. issue of Carolina Arts. It's a great resource about the studio tour and the Greenville area visual art community. With 124 participants, it doesn't represent the entire visual art community but it does feature a lot of the area's heavy hitters – at least a lot of folks I like. Alice Ballard, Carl R Blair, Jane Todd Butcher, Bob Chance, Lynn Greer, Diane Hopkins-Hughs, Glen Miller, Susan Sorrell, Barbara Stitt, Enid Williams, are just a few I'll mention. Of course there are just as many that I like who are not on the tour, but out of 124 – anyone should find plenty to like.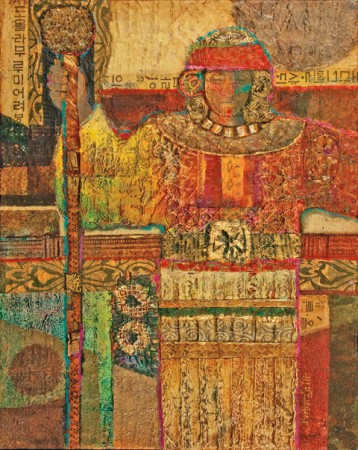 Barbara Stitt
The booklet offers one image by the artists, contact info, including website addresses to see more work, a short description – even info on wheelchair accessibility. If also offers maps that can be very helpful in figuring out your driving route from studio to studio. The booklet also offers info about other programs by the Metropolitan Arts Council and an arts calendar of other events taking place in the area during the months of Nov. and Dec. It also gives a complete list of sponsors – of which there are many. So even if you don't go to the tour – the booklet is a great resource to have.
I took these booklets to a lot of places we don't go to every month distributing Carolina Arts.
Why don't we distribute Carolina Arts to every inch of South Carolina, much less every inch of the greater Carolinas? Come on – we're a business, not a non-profit charity. Besides, anyone with access to the Internet can see every page of Carolina Arts every month. If you have a library in your community – you can most like get access to the Internet. The address is (www.carolinaarts.com).
I guess there are some who would make a game out of the tour by trying to go to all 124 studios in the two-day time frame, but that's no way to look at art. The tour is a great opportunity to see the environment in which these talented artists create, talk with them, see their latest creations, and – wait for it – buy art. That's right – they're going to let you buy art during the tour. So don't let this opportunity go by.
Now, if you think this is something you might be interested in and you're making plans to go – here's a tip. Plan to go to Greenville on Friday, Nov. 6, 2009, so you can also enjoy the First Fridays event (6-9pm) – a gallery crawl of many of Greenville's art galleries and some of the folks on the tour will be open that evening too – giving you a few extra hours to see more of the 124. The booklet tells you who is doing the First Friday and who is not.
Man, this booklet reminds me of another great resource of the visual art community in the Carolinas. It's on the tip of my tongue.
Well, anyway I've made my plug – it won't be the last and you may just run into me there – you never know. It seems to be a surprise for anyone who does see me at an event as they are always saying – "What are you doing here?" which I hope refers to the distance the event is away from homebase Bonneau, SC – because I do actually show up at a lot of events. Not as many as we report on – but a lot. It seems such a funny question to ask – considering what I do.