The .1 represents my Cow Pie entry, but this will be the last entry about the Celebration of Seagrove Potters 2009 festival – before it takes place. Of course we will have a follow-up as to how it went. And, like entry #2, instead of going over the details again I'm just going to offer this link to a previous entry I made giving a lot of details and a link to the Celebration of Seagrove Potters website where you can find out more than you ever wanted to about the festival.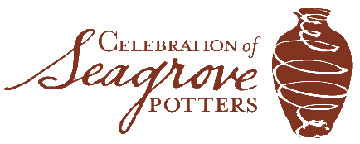 What I have to offer this time is photos of works that will be offered by auction at the Friday night Gala Preview on Nov. 20, 2009, at the Historic Luck's Cannery in Seagrove. I'm sure tickets are still available on the festival's website (www.CelebrationOfSeagrovePotters.com). They are just $35 – but must be purchased in advance. So don't dither as Dick Cheney says. But, then again – don't take his advice – look what happened to others that did. Take my advice – get your ticket now, if you haven't already.
Many of these works are a two for one – one pottery creation – created in collaboration by two matched Seagrove potters. You can't buy pottery like that everyday. And, you can't buy them if you don't go to the Gala Preview. And, (there is always another "and" isn't there?) you can't buy these works unless you're the highest bidder. So we'll see who the real "top" pottery collectors are Friday night.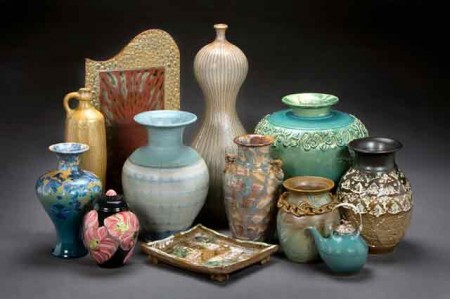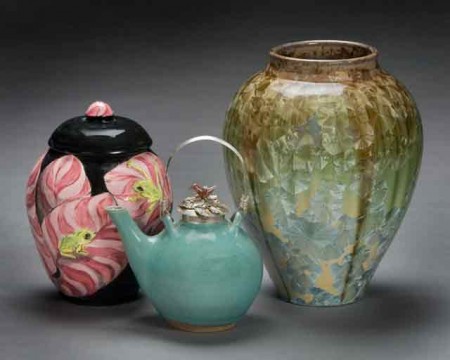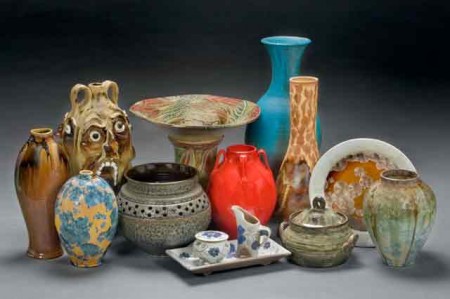 Now, Friday is not just for the high-rolling auction bidders, a ticket to the Gala Preview also gives you access to the potter's booths – first chance to buy before the festival opens Saturday. And, like most galas – there will be beverages, food and live music and lots of rubbing of elbows with Seagrove potters, major pottery collectors and high muckety mucks of the pottery world. Don't tell the Bobbsey Twins that I might be there – (You know who they are – one's from Sanford, NC, and one's from wherever the first one tells him he's from – see Cow Pie entry for a clue.) There may even be a hord of media types searching for signs of a feud. But I don't think they'll find any – except in the minds of the Bobbsey Twins. All the excitement Friday evening will come from who wins high bids on the unique collaborative pieces. Besides, the Bobbsey Twins have their own pottery festival to organize.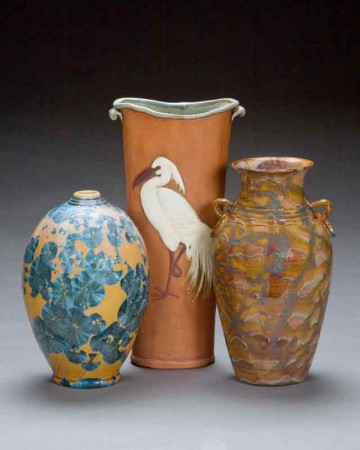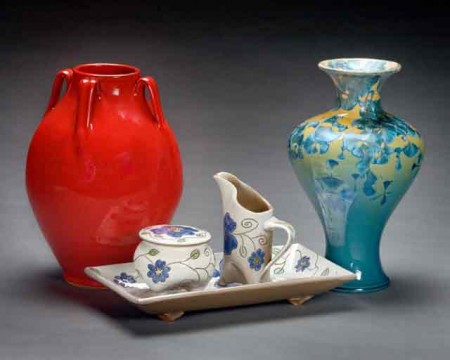 Of course if you can't come Friday night – Saturday or Sunday will do just fine. The kilns of Seagrove have been burning away – right up to the last minute to provide as many visitors with the opportunity to go home with a work made by a Seagrove potter. And, that's what you get at the Celebration of Seagrove Potters – the opportunity and guarantee that what you buy will come from a Seagrove potter.
Enough said – go – buy – enjoy.
One last favor to ask. If you are there and you see me (that is for those few who know what I look like) – don't go shouting out my name or say – there's Tom Starland from Carolina Arts. I don't want to be responsible for a lot of broken pots when people scatter to get out of the way or line of fire. Just give me a wink.