Valentine's Day is about celebrating those you love. What better gift than something handmade by an artist. The Seagrove Potters of Historic Busbee Road are planning a weekend shopping experience designed to fit your Valentine's Day shopping needs,  on Friday, Feb. 11 and Saturday, Feb. 12, 2011.
Ten shops, including three museums, a jeweler, a blacksmith and a wide variety of other crafts, all in less than a three mile scenic drive, where pottery has been made continuously for over 100 years will offer their creative talents. There is something for everyone on your list in the shops starting on Busbee Road at Pottery Highway 705 and ending at Jugtown Road.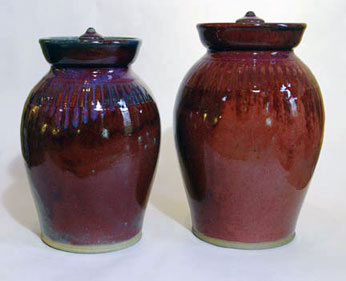 Works by Travis Owens of Jugtown Pottery
Ben Owen Pottery will feature pieces in the Chinese Red for a special Valentine's weekend beginning Feb. 11. For info call 910/464-2261 or visit (www.benowenpottery.com).
Chris Luther Pottery will feature large vases, bottles, teapots, and smaller functional wares in a variety of multi-layered colors.  Chris will also be demonstrating on Feb. 12, at the studio for visitors. For further info call 336/301-3254 or visit (www.chrislutherpottery.com).
Westmoore Pottery's shop will be decorated for Valentine's Day. On both days the Farrell's will feature pottery with hearts and will serve Valentine's Day refreshments. For further info call 910/464-3700 or visit (www.westmoorepottery.com).
Hickory Hill Pottery will serve light refreshments and feature their Mauve and Mauve and White glazes, and their handmade, large and small cake pans. For further info call 910/464-3166.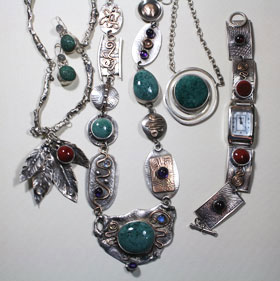 Works by Jennie Lorette Keatts of JLK Jewelry
Mill Creek Forge, a blacksmith shop owned by Jerry Darnell, will have several items including hooks and hangers made up around the heart theme. For further info call 910/464-3888 or visit (www.millcreekforge.com).
O'Quinn Pottery will have light refreshments made by Sandra O'Quinn, and will feature heart shaped bowls along with a fresh kiln load of pottery. For further info call 910/464-5125.
Cady Clay Works will have a nice selection of pieces available.  For further info call 910/464-5661 or visit (www.cadyclayworks.com).
"Original" Owens Pottery will have their signature Owens red glaze, and a fresh supply of dinnerware. For further info call 910/464-3553 or visit (www.originalowenspottery.com).
Moore Pots Pottery will feature animals, including elephants, chickens, goats, and lions. You will find vases, jars, and faces jugs among the pieces from the latest firing. For further info call 910/464-1453.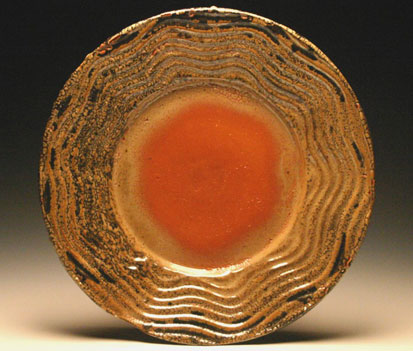 Work by Chris Luther of Chris Luther Pottery
Jugtown Pottery will have a new firing with Copper Red, Peach Bloom, and Lavender glazed pieces. The Owens will feature vases, tumblers, yunomis and teapots. There will be complimentary dark chocolate on both Friday and Saturday. For further info call 910/464-3266 or visit (www.jugtownware.com).
JLK Jewelry at Jugtown will feature new romantic jewelry with red stones and other new creations in a variety of colors. For further info call 910/464-2653 or visit (www.jlkjewelry.com).
Visit  (www.potteryofbusbeeroad.com) for direct  links to the individual pottery websites. You can pick up the brochure for the Busbee Road section of the Seagrove pottery area at the NC Pottery Center, all NC Welcome Centers and at any of the shops along Busbee Road.