Our grandchild turned three at the end of February and after we finished the launch of the March 2013 issue of Carolina Arts, which can be downloaded at (http://www.carolinaarts.com/313/313carolinaarts.pdf), the family "packed" themselves into our car and headed to the Riverbanks Zoo in Columbia, SC. I was also hoping to see a few exhibits there – if we finished the zoo in time to see anything. I was hopeful.
The zoo experience finished around 4pm and once we got "packed" back into the car, Linda checked her copy of Carolina Arts on her iPhone and we headed to 701 Center for Contemporary Art which was open on Saturdays until 5pm.
It's not too far from the zoo over to Whaley Street so we arrived about 4:20pm, but when we got there the gallery was closed. The current exhibit, Stephen Hayes: Cash Crop, has been extended to Mar. 31, 2013, so there is still a chance we might see it. The good thing was that a good part of the entrance to the gallery is glass – so those in our party got to see a good bit of the exhibit and it might have been a good thing since we had a 3 year old with us that we couldn't get closer. There's a lot of stuff to touch in this exhibit and that could have been a disaster.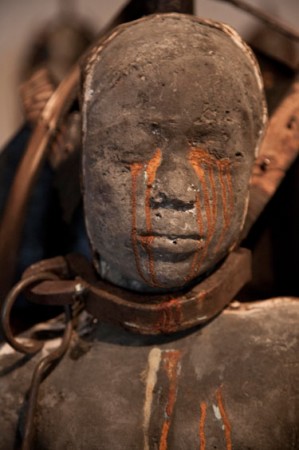 detail of one of the works in Cash Crop
At the core of the exhibit are 15 life-size sculptures of shackled people placed in boat- or coffin-like structures, with diagrams of captive, warehoused humans in Trans-Atlantic slave ships carved in wood on the back. The sculptures represent, Hayes says, "the 15 million human beings kidnapped and transported by sea during the Trans-Atlantic slave trade."
I've seen the exhibit before at Guilford College in Greensboro, NC, but each presentation of the exhibit is different depending on the venue it is being presented in, plus no matter where it is presented it's a powerful and moving presentation of a slice of our country's history that shouldn't be forgotten.
We did get to see an exhibit of works by Jame Lathren, entitled the space between time, in the Hallway Gallery at 701. The exhibit of wax paintings will be up through Mar. 15. I'm not sure why we don't get notice of these exhibits in this space from 701, but I hope they start coming to us so we can let people know what they might get to see there too.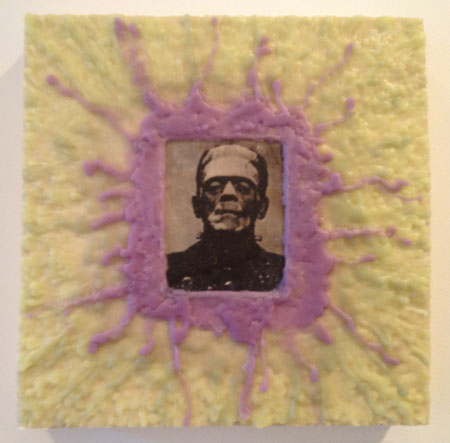 Work by Jame Lathren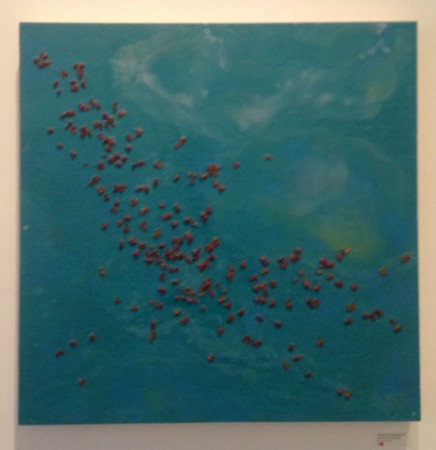 Work by Jame Lathren
So now what? Our check of Columbia galleries had told us most everywhere else we wanted to go was already closed. Except there might be a chance that someone was still over at Vista Studios keeping the doors open for the exhibit at Gallery 80808, New Work…The Natural Evolution of Six Artists and a Mountain Retreat, on view through Mar. 11, 2013. Exhibits that are presented by renters of the space are often manned longer than posted times.
It's a good thing Vista Studios is not far from 701 Center for Contemporary Art. We got there just before 5pm. I saw the sandwich board still out front and lights were still on so we got inside and Jan Swanson, who was still on duty, was gracious enough to stay a little longer to give us a quick look at the exhibit.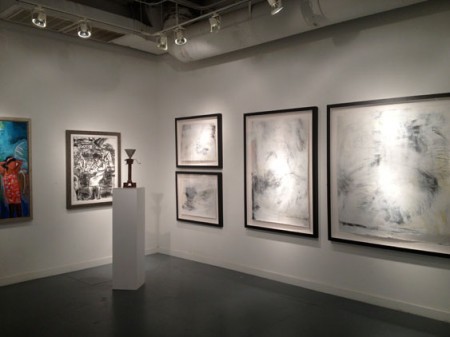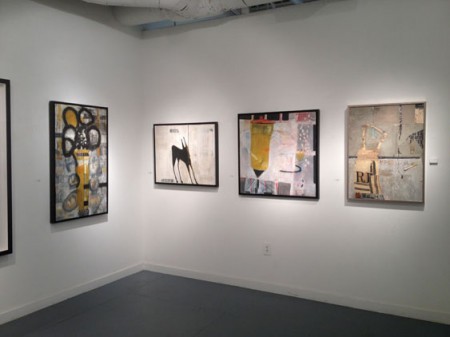 The exhibit is just one of the results of Eileen Blyth, Brucie Holler, Louanne LaRoche, Laurie McIntosh, Lynn Parrott and Jan Swanson, three artists from the Columbia area and three from the Hilton Head area, spending a week in the mountains of North Carolina creating and sharing their love of art. They've done this for eight years and are still talking to each other – just kidding.
Some of the works were created during those trips. I did a quick look around and snapped a few photos with my iPhone and the others in our party ran interference with the 3 year old. We didn't stay long, I didn't want to hold anyone up with their plans for a Saturday night, but it doesn't take me long, after all these years, to see this was a fantastic show offering quite a variety of works in various media from a talented group of artists. I knew the work of some of the artists, but there were many surprises.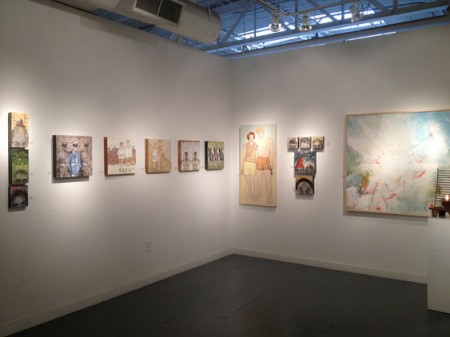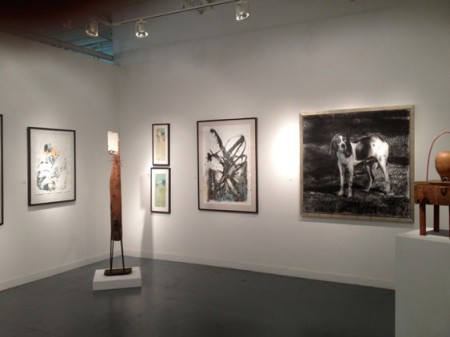 Folks in the Columbia area need to get out and see this exhibit – it's going to be up through Mar. 11, giving you another weekend opportunity and for folks in the Hilton Head area, the exhibit will soon be on view at Camellia Art gallery on Hilton Head Island, from Mar. 22 – Apr. 13, 2013.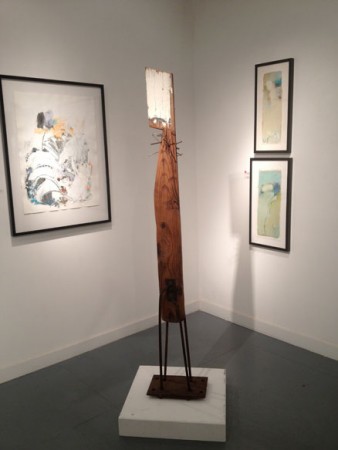 A sculpture by Eileen Blyth. I've seen her paintings but this was the first time I've seen her sculptures.
I can't go into too much about individual works, but I have one last thing to say about our visit there. I was just about ready to leave as I knew everyone was ready to go home after a long day and still with two hours to go in the "packed" car, I saw my son chasing the wild boy down the entrance hallway to the gallery yelling Grandpa! Grandpa! When they reached me I asked the young man which piece of art he liked best.
After a few moments of registering what I was asking him – he ran around the corner from where we were standing and pointed to works by Jan Swanson. I was amazed and very pleased and thought – have I found my successor to the helm of Carolina Arts? Instead of just pointing to the art in front of him he returned to a place he had stood in front of a good 15 minutes ago and pointed out the work of the artist standing with us. Now that's a future editor of an arts newspaper. It might of had something to do with the fact that 15 minutes earlier we had to haul him off from touching those same works, but we'll never know. It was a special moment.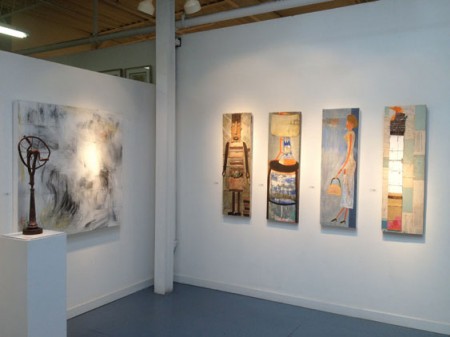 Four works by Jan Swanson on the right – the favorite of a 3 year old on this day.
You can read all about this exhibit and the history of the group on Page 12 & 13 of our February 2013 issue of Carolina Arts, which you can download at this link (http://www.carolinaarts.com/213/213carolinaarts.pdf).