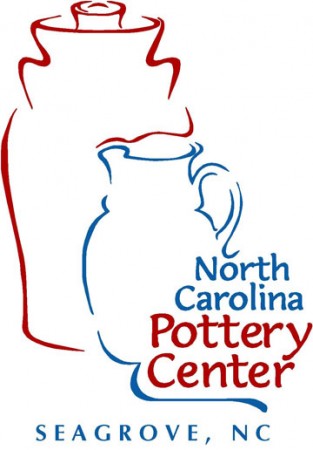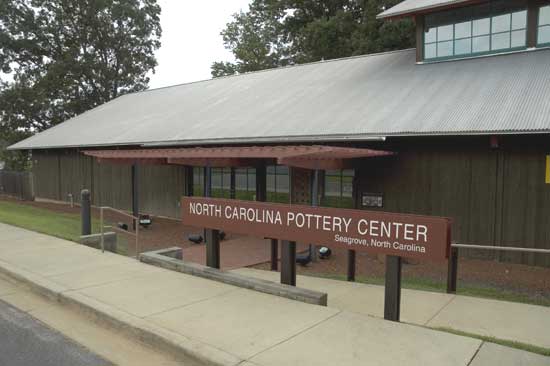 For three days in late June, 2011, a group of 25 local teachers took a break from their summer vacation to participate in a special workshop hosted by the North Carolina Pottery Center in Seagrove, North Carolina, and funded by an educational grant from the National Endowment for the Arts, and the Goodnight Educational Fund. The purpose of this special workshop was to introduce these teachers to the history of pottery making in North Carolina, from the earliest American Indian potters to contemporary potters of today, highlighting old traditions and new traditions. The teachers were selected by random, five from each of the surrounding counties of Chatham, Lee, Moore, Montgomery and Randolph. Each teacher received a packet of publications, posters, and educational materials to share with their students next fall.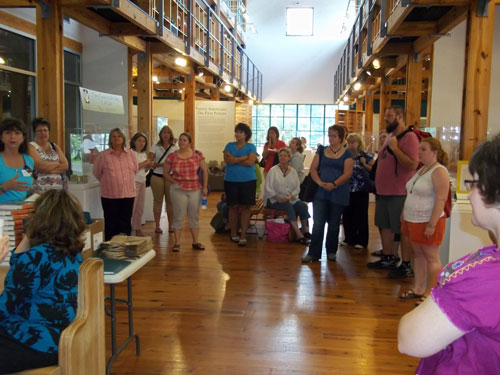 Teachers get an orientation at the NCPC on the first day of the workshop from Dr. Linda Carnes-McNaughton
Day one of the workshop featured guest lectures by Dr. Charles Zug, noted folklorist and North Carolina pottery expert who provided a history of pottery making overview, Dr. Linda Carnes-McNaughton, archaeologist and ceramic scholar who taught them how to identify different ceramics and glazes, plus demonstrations by Caroleen Sanders, Catawba Indian potter who spoke about her heritage and training, and finally Chris Espenshade, an archaeologist who demonstrated hand-building techniques for the teacher's hands-on experience.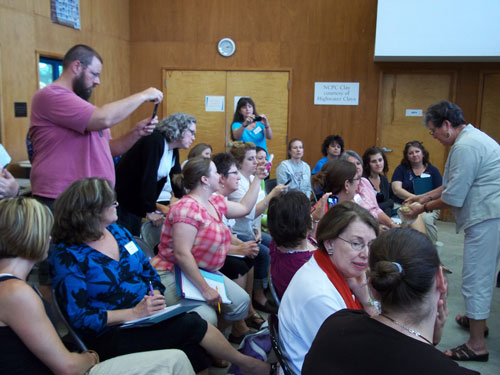 Catawba potter, Caroleen Sanders gives teachers an overview of  her pottery tradition.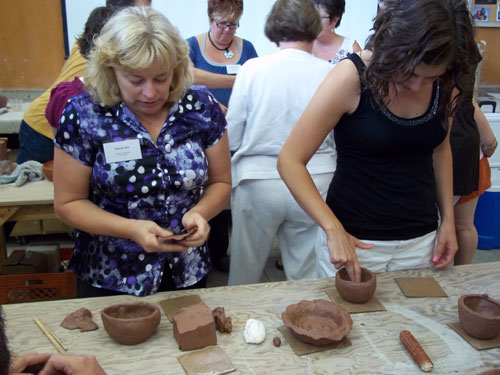 Teachers in the NCPC Education Building learning how to make coiled pottery from Chris Espenshade.
The second and third days involved field trips to various regional pottery shops to showcase different pottery styles, kilns, glazes, and vessels. The group visited Westmoore Pottery (Mary Farrell) to learn about North Carolina's early redware industry and use of a chamber kiln. They then moved on to Jugtown Pottery to learn about groundhog kilns, salt-glazed stonewares and the "revitalization" of the craft which took place in the 1920s from generational potters, Vernon and Pam Owens. The afternoon was filled with a visit to Ben Owen Pottery to see new art forms and changes in this family's wares over the past three generations, plus two functioning groundhog kilns. Last on the second day was a trip to the King's Pottery to meet Terry, Anna and Crystal King, a family of local potters known for their whimsical face jugs and sculptural figurines of animals.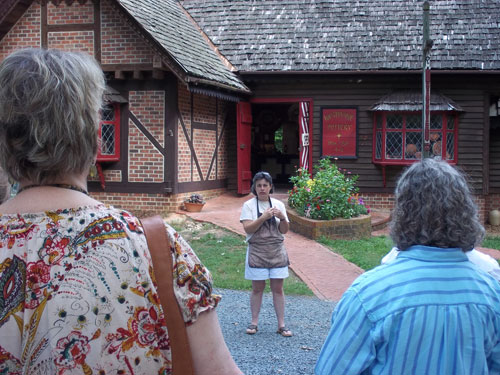 Mary Farrrell of Westmoore Pottery greets the teachers in front of her shop before showing them her decorative techniques.
The third day the teachers' group traveled to Pittsboro, NC, to meet potter Mark Hewitt and learn more about the apprenticeship system of craft-transfer, along with his own version of traditional pottery, use of a catenary arch kiln and other decorative elements revised from North Carolina's 19th century traditions. The group concluded the field trip day with a visit to Seagrove pottery family, the McCanlesses, where Millie (Dover Pottery), Eck (Eck McCanless Pottery) and Zeke demonstrated elaborate decorative techniques on porcelain-type ceramics.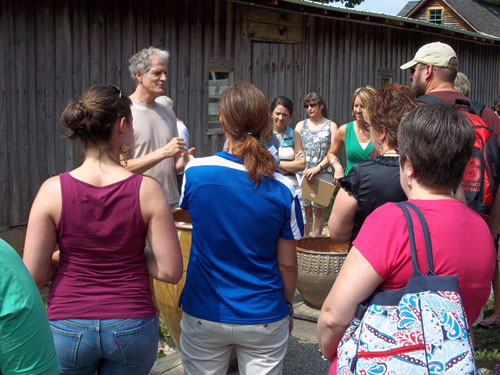 Pittsboro, NC, potter, Mark Hewitt talks about his craft and appreciation of North Carolina pottery.
At the end of the workshop, the teachers received their diplomas and stood patiently for a final group photograph.  Overall comments from teachers were very rewarding and positive, "this is the best workshop I've attended in my 17 years of teaching", "loved the literature and the presentations", "learning firsthand history from NC potters", "now I have more knowledge to spread with kids and families in the area",  and "NCPC + Hospitality = Wonderful!"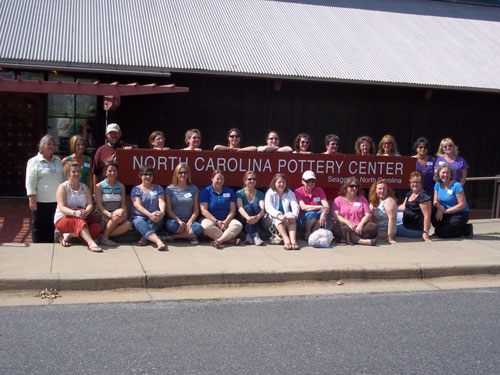 Group of 25 Teachers from Chatham, Lee, Moore, Montgomery, and Randolph Counties who participated in the NCPC's 3-day Teachers Workshop on Pottery making in North Carolina.
The workshop organizers, Dr. Linda Carnes-McNaughton, Mrs. Cindy Edwards, and Mrs. Ann Busick, along with the NCPC staff, hope to do another teachers workshop in the future, offering access to potters, history overview and hands-on demonstrations to teachers from throughout the state an opportunity to transmit this learning to their students….helping to preserve and promote the significance of pottery in North Carolina's heritage.
Upcoming Fundraiser for the NC Pottery Center
The North Carolina Pottery Center, in Seagrove, partnering with Leland Little Auction & Estate Sales, Ltd (LLAES), is pleased to announce, the12th annual Going, Going, Gone to Pots fundraising auction on Aug. 11, 2011. This auction, the Center's main fund raising event of the year, will feature an outstanding selection of contemporary and vintage North Carolina pottery donated by top NC potters and collectors, as well as other exciting participatory and pottery related items. The lots are available for viewing now at (www.ncpotterycenter.com) and (www.llauctions.com).
NC Pottery Center's Upcoming Exhibitions
The North Carolina Pottery Center will present two new exhibits including:Wild Fire: Alamance County Stoneware – Past and Present and Remember Me as You Pass By… North Carolina Ceramic Grave Markers, both on view from Aug. 19 through Oct. 29, 2011. A reception will be held on Aug. 19, from 5:30-7:30pm.
Exhibitions are made possible through the generosity of our membership, the Mary and Elliott Wood Foundation and the Goodnight Educational Foundation. This project was supported by the NC Arts Council, a division of the NC Department of Cultural Resources, with funding from the National Endowment for the Arts.
The mission of the North Carolina Pottery Center is to promote public awareness of and appreciation for the history, heritage, and ongoing tradition of pottery making in North Carolina. The Center is located at 233 East Avenue in Seagrove. Hours of operation are Tue. – Sat., 10am – 4pm.
For more information, please call 336/873-8430 or visit (www.ncpotterycenter.org)