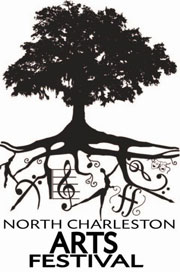 I started off my trip to the 2012 North Charleston Arts Festival with a trip to the 7th Annual National Outdoor Sculpture Competition and Exhibitionat the North Charleston River Front Park at the old Navy Base on the Cooper River where I think I gave a pint of blood. No, there wasn't a Red Cross blood drive going on, but the mosquitoes where taking their fair share of blood from me. I don't know if it was that I got there so early, about 9am, before the sun made them run for the shadows, but they were out in force, so you might want to take some spray if you go there – just in case. But this show will be up for a year – so no hurry.
I completely missed last year's event so I wanted to make sure I photographed this year's event, but I think the exhibit was still being set up so we'll wait for that posting a little later, but here's a little tease. I don't have names and info yet.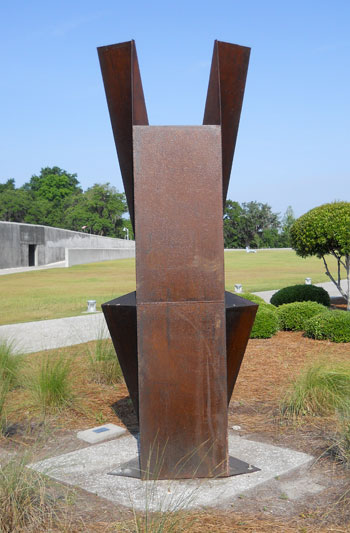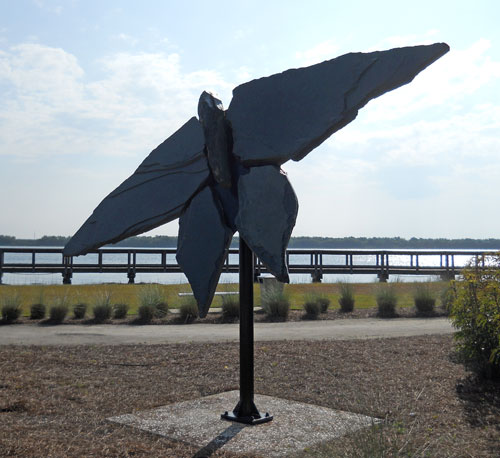 I next headed over to the Charleston Area Convention Center for the Festival's Main Event which is the site of many of the Festival's exhibitions and competitions. I've never arrived at the Main Event when it was opening and I was amazed at the river of people flowing into the Convention Center to get their first look at the Festival's offerings. This place was wall to wall art offerings – performances of all types and visual arts in every area of the facility, including the exhibits and artists' booths selling their creations. Music could be heard just outside in the courtyard between the Convention Center and the Coliseum where area graduations were being held. I heard many a folk headed to the graduation say the festival was their next stop.
I started out at the Judged Fine Art & Photography Competitions and Exhibitions to see who the big winners were this year. I was really curious to see if Denise L. Greer was dominating the competition again this year. She's been all over the place and even has a big solo exhibit at the Sumter County Gallery of Art through July 6, 2012.
The artworks were marked better this year, but for this 60 + guy I wish they would put the ID tags at the top of the works instead of at the bottom. I really had to test my ability to bend over to see who some of the artists were. My apologies to those folks who got a way too close look at my rear during this process. The lighting here is not so good, so in fairness I didn't take any photos of these works.
Denise L. Greer didn't do as well this year as she did last year. She won two Honorable Mention ribbons in Mixed Media and Watercolor. But I think she might have been robbed of a higher award in the Oils category due to some bad placement. But, that's just my opinion. She had a small work in a very dark area of the Center – with almost no light on her work. The work itself was also very dark which didn't help. From what I could see the work could have been very interesting, but hard to tell and I don't see how any judge could tell either, but that's the luck of placement – a factor in any competition. But I have to tell you there is a certain lure to an image you can't see very well. I spent three hours looking at art that day and I kept going back to see if the lighting got any better, but it was always the same. Pretty soon I was getting the feeling that someone was trying to keep something good from me and that this work might be the best work of art in the world and I was being denied a look at it. That's kind of crazy, but it's how I felt.
Bob Graham, another dominating force at this show from year to year had won 1st Place in Drawing and 2nd Place in Watercolor. But Best of Show this year went to Shelia Thompson, an artist I do not know of, but the work was very good – so I'll keep an eye out for that name in the future.
There were a number of new people with works in the show this year and a lot of the same people. I was glad to see Peter Scala had work in the Oils category. He won 2nd Place in Oils. His style does stand out from a lot of artists and I was glad to see that the judge agreed with my taste in art.
After a couple of turns around this exhibit to make sure I saw everything, I went to look at the Youth Art Competition and Exhibition next, which got a better placement than the Adult works did – lighting wise. This was a massive display of student art in three groupings, 1-5 grades, 6-8 grades, and 9-12 grades, from various schools in North Charleston, which includes the Charleston County School of the Arts.
A lot of people who come to see the art exhibits seem to dismiss the Youth Art, especially if they don't have a child of their own whose work is on display, but I like looking at it to get a glimpse into the future of our art community and I saw some strong signs that things are doing well there despite cutbacks in school art funding.
My favorite work in the 1-5 group was by Jose DeLa Cruz, a student of Peggy Bennett at Howe Hall AIMS. This photo stood out from all the works I saw – there was nothing else like it.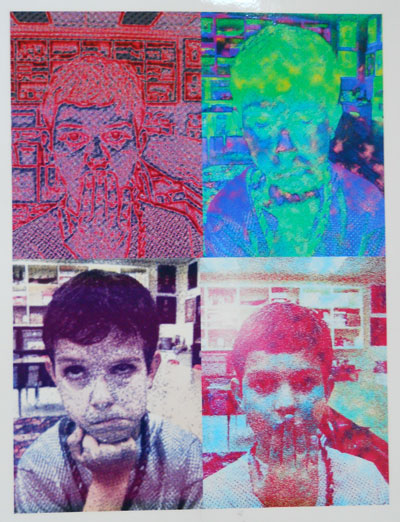 Work by Jose DeLa Cruz
Another favorite was in the 9-12 group by Allic Alcerno, a student of B. Moore at the School of the Arts for a haunting portrait. (Not sure about the spelling of names here as tags were hand written.)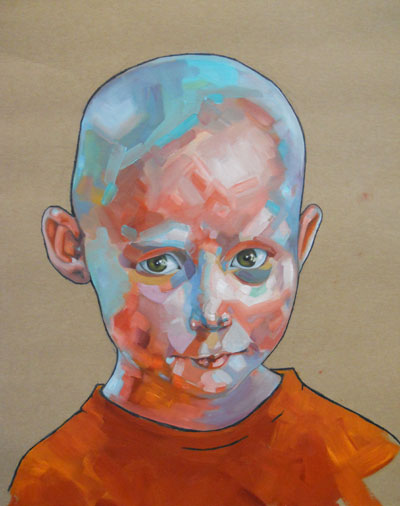 Work by Allic Alcerno
But I have to say the most impressive thing I saw in the Youth Art show was a group of works by students of J. Carol Gardner at Hanahan High School in the 9-12 group. Works by Eliza Westbrook, Tristen Mincey, Anthony Gabrish, Cody Dawson, Katie Hancock, Alyssa Black, Kaytlin Clack, Frances Fisher, and Ashley Seiderman were outstanding. Other students from that school had good works too. And the types and styles of the works were all over the spectrum of media. It showed that students don't have to go to a school especially set up for the arts to get good training and guidance. This was the sign of a good art teacher. But that name seemed familiar.
I went back to the Adult competition and found that this teacher practiced what she preached. J. Carol Gardner had won an Honorable Mention in Oils and Mixed Media and a 3rd Place in Mixed Media. And, it was also good to see that the teacher wasn't turning out clones of the teacher. The student work was very different from what the teacher was presenting. That's not always the case in the student/teacher relationship.
I hate to say it but some of the works in the Youth Art display were better than some of the works in the Adult Art exhibit. But, again – all this is just my opinion. Others would see things totally different and neither of us would have the final right opinion. After all it's just an opinion or how you feel at the moment – educated opinion or not – that's how juried shows are.
I next went into the room the SC Palmetto Hands Fine Craft Competition and Exhibition was in and the first thing I noticed was that it seemed to be much brighter and it was a lot easier taking photos. This may just be another opinion, but I think my photos were better.
This show is always interesting, showing some of the best craft work being done in SC, but I know there are many others out there that don't enter, but the works presented show viewers a good sample of the quality being done in our state. And, selected works from this show will travel throughout the state for a year.
The good thing here is that I can let photos do most of my talking.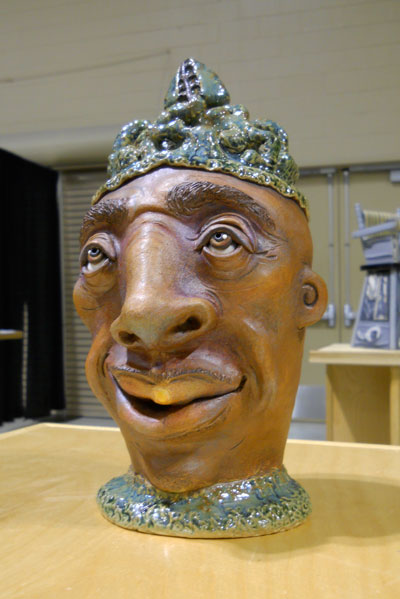 Pearl Fryar's Glorious Garden, clay by Patz Fowle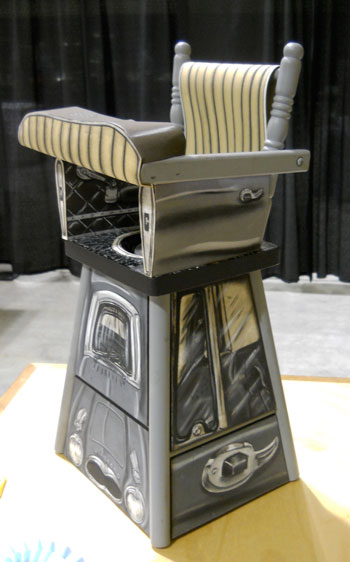 High Chair Driver, mixed media by Dennis Vernon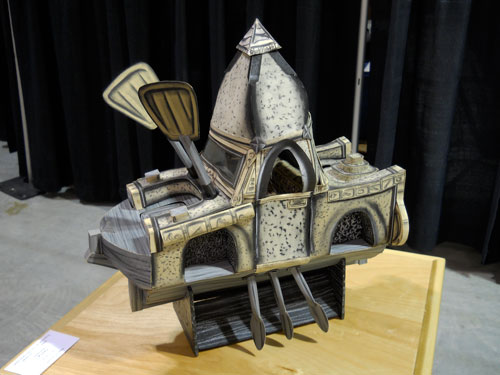 Cleo Car, mixed media by Dennis Vernon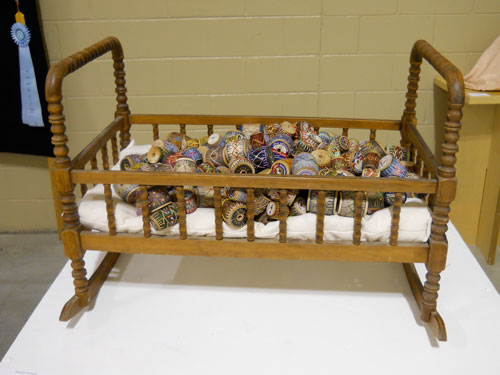 Spool Cradle, mixed media by Susan Lenz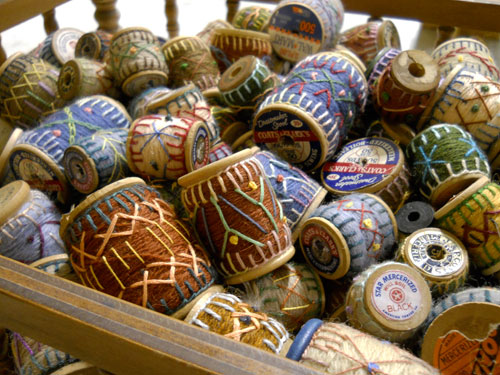 Close up of spools in Spool Cradle, mixed media by Susan Lenz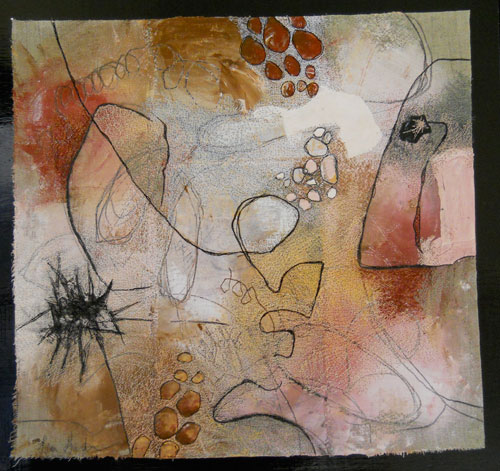 Mark Leaving Series #2, mixed media by Fran Gardner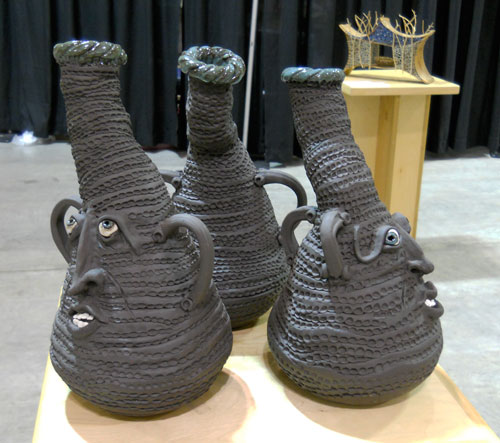 Some of My Very Best Friends, clay by Pamela L. Steele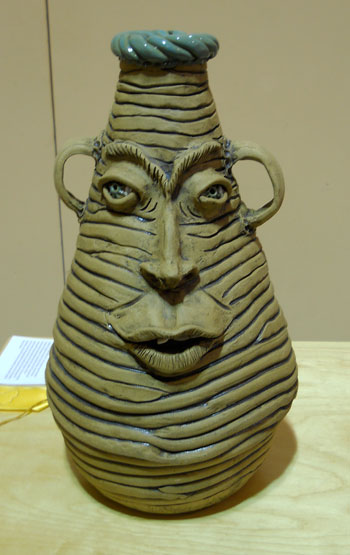 Brown Jug, clay by Pamela L. Steele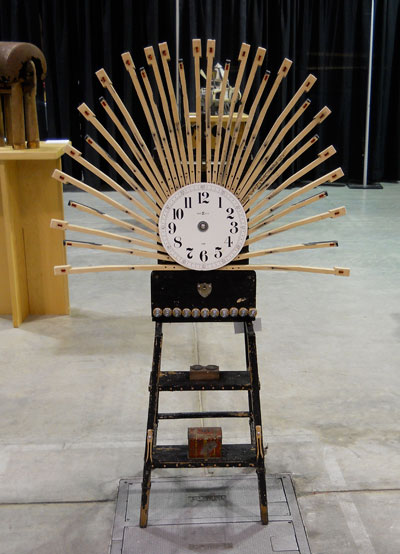 Time Signature, mixed media by Susan Lenz – back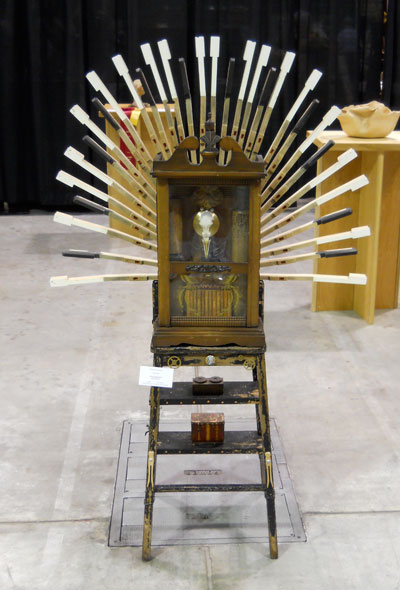 Time Signature, mixed media by Susan Lenz – front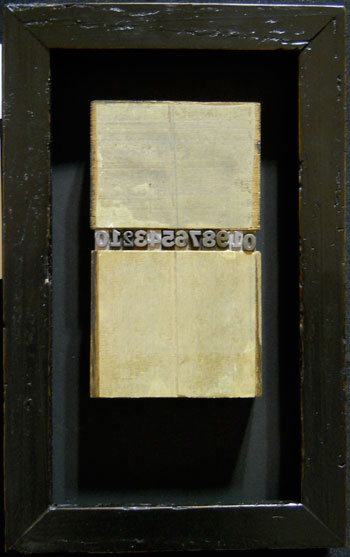 Tone: 31, mixed media by Doni Jordan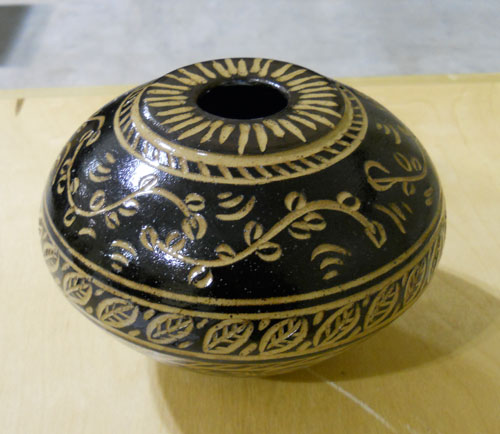 Container, clay by Tuula Ihamaki-Widdifield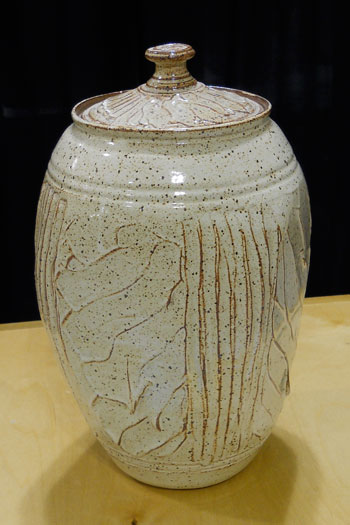 Lidded Jar, clay by John Johnson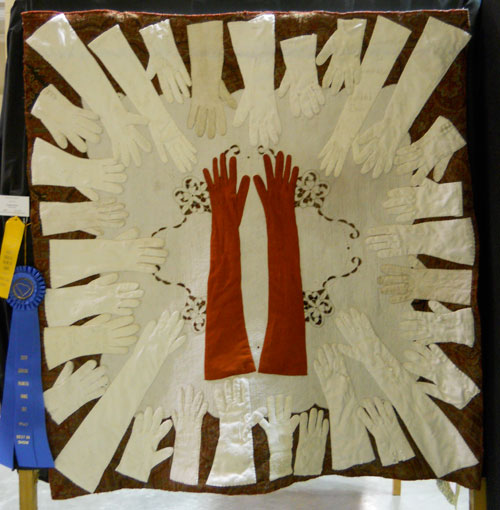 Handed Down, mixed media by Susan Lenz – Best of Show
My last art viewing of this day was the Photography Competition and Exhibition which included works by professional and amateur photographers. This year's offerings included another outstanding group of images. I'm an old photographer myself (in a time – far, far away) and for some reason I feel funny about taking photos of photographs – so I didn't.
There was a time when I would recognize many of the names of the photographers in this display, but I don't think I recognized one. But, that's not unusual in that I've been out of the local photography scene for several decades and many of the people I know no longer submit their images to be displayed in a way that anyone could reach out and handle their images – including children with sticky fingers. So, I admire those who had excellent images, yet still participated in this competition. What they get back after a couple of weeks may be very different than the prints they submitted.
About this time that massive art viewing headache was coming on strong. It's one of the side effects of viewing too much art in a short period of time.
What was my lasting impressions of these shows?
First off, my favorite work might have been that work by Denise L. Greer hidden in the shadows, but today Fran Gardner took the prize. It might be because it's been so long since I've seen her work, but it was such a surprise and joy to see what she was up to these days. And, I liked it. I'd like to see an exhibit of her works in a gallery setting and I think a lot of other folks would enjoy it too.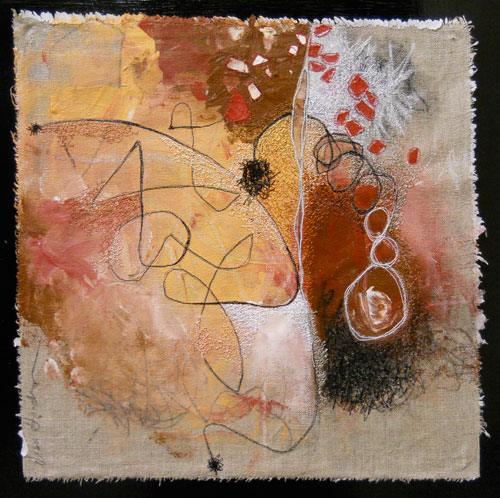 Mark Leaving Series #3 by Fran Gardner
Second, the works by Hanahan High School students and their teacher left me with a positive impression that an individual art teacher can still make a big impact on children to express themselves through art – despite funding cuts. And, it makes you think what could they do with proper funding?
Except for the Youth Art show, the other shows will be on view through May 12, 2012. Viewing times include May 7-11, 9am-5pm and May 12, 9am-noon, with free admission and parking.
The 2012 North Charleston Arts Festival offers a lot more exhibits throughout North Charleston during the festival. You can find out about them in our May 2012 issue of Carolina Arts. You can download a copy at (http://www.carolinaarts.com/512/512carolinaarts.pdf) or you can check out the info by visiting the festival's website at (http://northcharlestonartsfest.com/).