I understand there are still some tickets available.

The Charleston Fine Art Dealers' Association (CFADA) will give you a chance to find out what special ingredients make Charleston, SC, the #1 travel destination in the United States! On Friday, July 13, 2012, from 5:30 to 7:30pm, take pleasure in the historic city's finest indulgences on the Seventh Annual Palette and Palate Stroll, an evening dedicated to fine art, unique cuisine and wine.
"Connoisseurs will stroll through the historic streets of downtown Charleston, making stops at the city's most prominent galleries, enjoying an array of breathtaking art, and indulging in fine cuisine prepared by Charleston's circle of prestigious chefs," says Helena Fox, president of CFADA.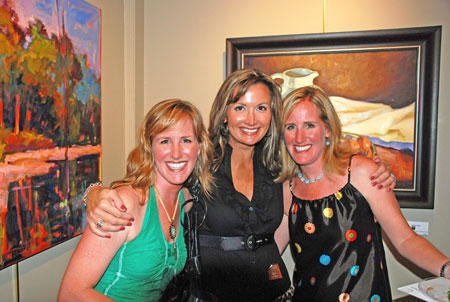 The 2012 pairings are:
Corrigan Gallery – Barsa Tapas
Dog and Horse Gallery – Circa 1886
Ella W. Richardson Fine Art – BLU
Helena Fox Fine Art – Anson
Horton Hayes Fine Art – Oak
Smith Killian Fine Art – McCrady's
The Sylvan Gallery – Eli's Table
Wells Gallery – Social
"The theme for this year's event is 'Southern Art Paired with Southern Food,'" says Fox. "Each year, we encourage our participating restaurants to use local, seasonal products to prepare their tastings. In addition, the galleries will feature southern art or artists who will be present at the event."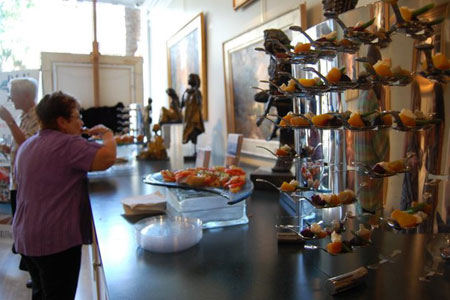 The event is presented as part of the Charleston Fine Art Dealers' Association's Studio Series, benefiting visual arts programs at the Gibbes Museum of Art, Redux Contemporary Art Center and the College of Charleston School of the Arts. Cost is $45 per person. Tickets can be purchased at (www.cfada.com).
Founded in 1999, the Charleston Fine Art Dealers' Association is the source of fine art in the South and consists of the city's prominent galleries. The association promotes Charleston as a fine art destination for avid collectors and passionate art enthusiasts and supports the artists of the future. Since 2004, CFADA has donated over $250,000 to art programs at local art organizations and public high schools.
For further information check our SC Commercial Gallery listings or visit (www.cfada.com).