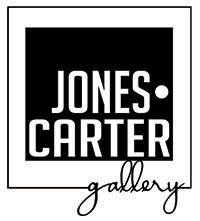 The title of this blog post refers to the fact that in order for me to travel from Bonneau, SC, to Lake City, SC, – just an hour's drive on Hwy. 52, I would have to cross over the Santee River and the Black River Swamp. This is no big deal when it's dry but a month ago in October, 2015, when a low in the weather pattern across SC sucked all the rain out of Hurricane Joaquin and dumped it on SC – it wasn't possible for a while. Hundreds of roads and bridges in SC were closed and unpassable. But by Oct. 30, the day I traveled to Lake City to see the exhibit, America the Beautiful: The Monumental Landscapes of Clyde Butcher, featuring 56 large-scale, black and white photographs, on view at the Jones-Carter Gallery, the roads were high and dry – way above the water. There were still signs along the road of the destruction the flooding left behind, but the roads were clear and the communities I passed were as busy as beehives. Most of SC is now open for business.
The Jones-Carter Gallery, located at 105 Henry Street, next to The Bean Market in Lake City, SC, will be presenting this exhibition until Jan. 2, 2016. You still have lots of time to go see it, but don't put it off too long or the holidays will get in your way. The gallery will be closed Nov. 26-27 and Dec. 24-26, but they will be open New Year's Day for those who don't care to spend the day watching football.
America the Beautiful: The Monumental Landscapes of Clyde Butcher is a collection of photographs of the American landscape, spanning breathtaking sites across the United States, from the coast of Maine to the Badlands, to the Everglades and to the Great Smoky Mountains. The exhibition tour management is provided by Photographic Traveling Exhibitions, Los Angeles, CA. And these folks did a great job, along with the staff of the Jones-Carter Gallery in presenting this exhibition. There are large identification boards – most are 8″ x 10″ in size and some are as large at 16″ x 20″ or larger. They were very informative, giving the locations where the images were taken, and info about how they were captured – without too much technical info. Photographers sometimes get too wrapped up in photo tech talk. The photographs themselves were big and beautiful. America never looked so beautiful.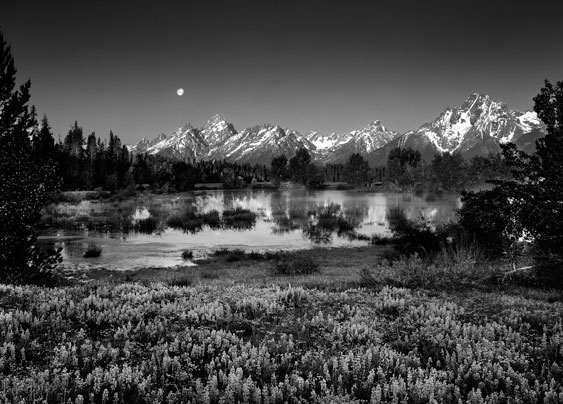 Moon over Tetons by Clyde Butcher. All images are courtesy of Clyde Butcher Galleries.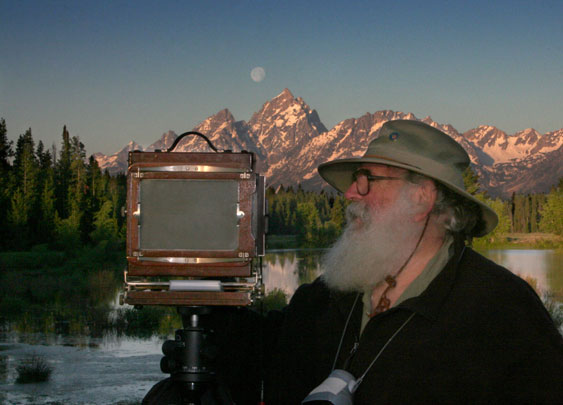 Here a photo of Clyde Butcher making the image Moon over Tetons. All images are courtesy of Clyde Butcher Galleries.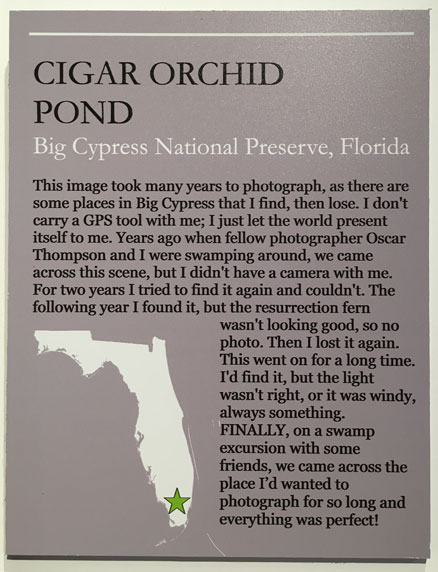 Here's an example of the large ID boards.
I always say, "Take the Americans out of the American landscape and we look like the best place in the world". I think Ansel Adams learned that too, and it looks like Clyde Butcher is no fool either. In fact, I think the message in these photographs is that we can keep these great places looking great if we just keep out of them. Viewing the exhibit is the best way for most Americans to see these spaces. Once mankind puts himself in the picture – it's all down hill from there.  We all don't need to experience these spaces in person. It's best left to the professionals to go there and then tell their story. Oh it's much better to see it in person close up, but we all don't behave well in nature.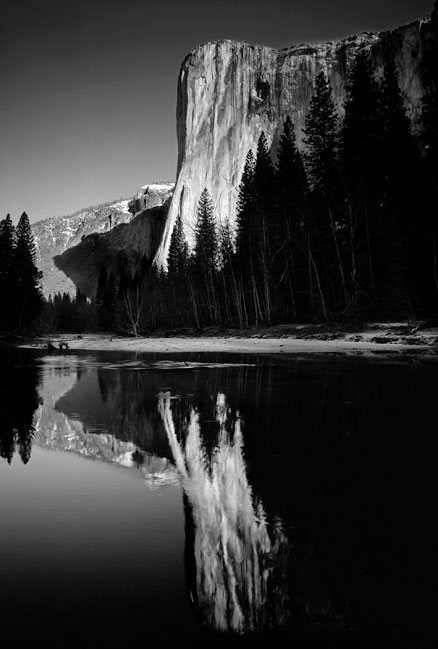 El Capitan by Clyde Butcher. All images are courtesy of Clyde Butcher Galleries.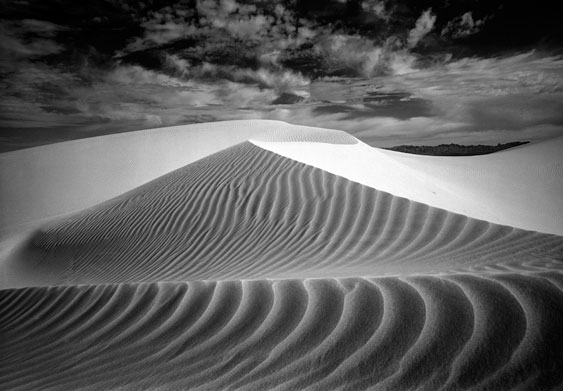 Sand Dunes by Clyde Butcher. All images are courtesy of Clyde Butcher Galleries.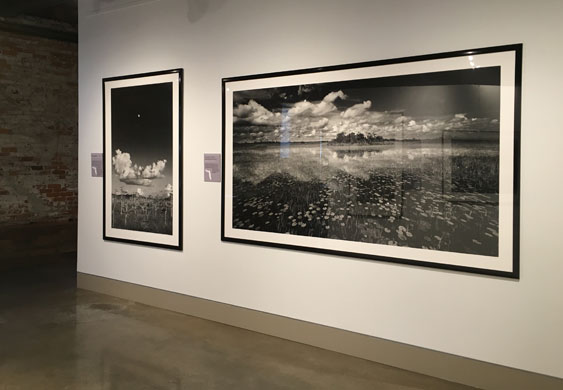 Here's a look at a couple of big images.
Some of the photographs offered are almost like standing where the photographer was standing – they're that large. And Clyde Butcher is an old school photographer. He carries an 8″ x 10″ view camera around – through the woods, through the swamp, over the mountains and sand dunes. Sometimes he gets lucky and finds an image along the roadside. Then he just has to unpack his vehicle, but most of the time the best shoots are in remote places – in the early morning or late in the afternoon.
That's one thing I don't think the general public understands about photography. You know the folks who say. "I could have taken that if I just went there." Most great photographs are made after lots of scouting trips to find locations, then you have to figure what time of year and what time of the day the light will be right, and if you're lucky it won't rain that day or be snowing – or maybe you're waiting until it snows. Like most good things it's about location, location, location and timing. So many photographers may take years to get the image they want and some people think they'll just be able to walk up and take the shot. Most people can't imagine waiting an hour for anything these days.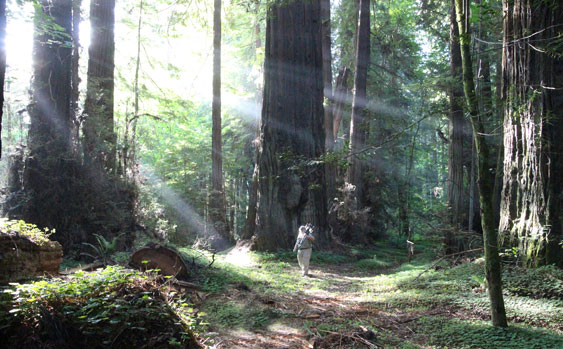 Clyde Butch in sun rays in redwood forest. All images are courtesy of Clyde Butcher Galleries.
The other old school thing about the photographs in this exhibit is that they came out of a darkroom. Having spent 16 years in a black and white darkroom myself I know that was no easy trick – especially when you see the size of some of these images. Hannah Davis, the Gallery Director at the Jones-Carter Gallery, told me that Butcher is using some digital equipment now just to cut down on his wear and tear. After all,  he's 74 years old and still working at capturing America's beauty. Davis also informed me that Butcher, who has never spent time in South Carolina photographing, will soon be working in the Congaree National Park, working on a book for the National Park Service to show off our national parks.
I took a few pics of the way the gallery looked, which shows why I couldn't take any of the individual photos. The glass, or more likely Plexiglas, covering the images was very reflective. It's a good thing the gallery has some PR images they could send me to give you a better idea of how the images looked in person – they were spectacular. And, that's the great thing about this exhibit, it's easy to look at.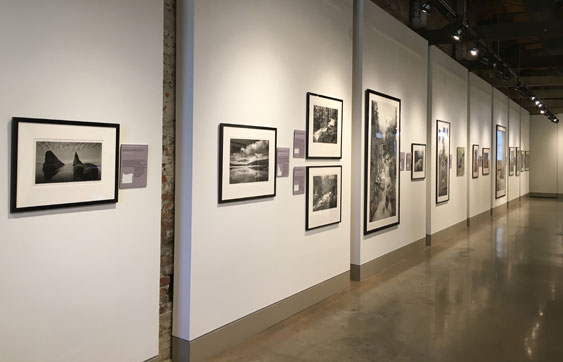 Here's a look down the first wall of images as you enter the exhibit.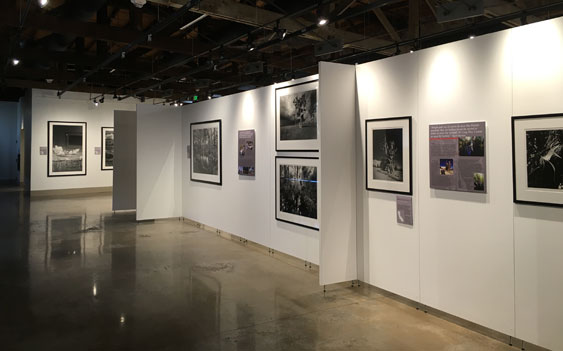 A view of the back wall of the exhibit.
This is the easiest kind of exhibit for anyone to look at. Yes, there is the message that we need to save these areas, but other than that – you see what you see. It's pretty straight forward. The info blocks give you the where, how and why, but beyond that there's nothing you need to figure out.
A lot of today's photographers need to go see this exhibit and read all the info offered – especially the smart phone photographers. The subject matter may not be your cup of tea – not cutting edge enough, but the process is important. Good images just don't happen – they are created or captured over time. The process should be slow and deliberate. Results should be studied before they are presented.
Go see this exhibit. Clyde Butcher has put a lot into making these images and most of you, including me, will never get to see these parts of America any other way. And, that's a good and bad thing, but we can all make sure we hold on to these places for as long as we can and save many more for generations to come. That's all about being a good citizen and paying the price of keeping some things instead of using everything up as fast as we can.
The Jones-Carter Gallery is a facility of the Community Museum Society in Lake City which also manages ArtFields©, a community based art exhibit and competition with $110,000 in cash prizes, which will take place Apr. 22 – 30, 2016. For further info about it visit (www.artfieldssc.org).
Admission is free at the Jones-Carter Gallery, as is parking, and there's plenty of it. The gallery hours are: Tue.-Fri., 10am-6pm and Sat., 11am-5pm.
In conjunction with this exhibition, ART 101 at ONE will be offered on Friday, Nov. 20, 2015, from 1-2pm. Meet us at The Inn at the Crossroads (128 W. Main Street) for a lunch and learn lecture series featuring a hand-crafted lunch box provided by The Crossroads Grill and a presentation by Gallery Manager, Hannah L. Davis. These bite-sized pieces of art appreciation are a fun way to get to know our current exhibits and learn more about some of your favorite artists! November's lecture will be "From Ansel Adams to Edward Weston: American Photography Masters," and will cover several of the most influential photographers in the US.
Art 101 at ONE is a program of ArtFields®. The above lecture series is presented in conjunction with the Jones-Carter Gallery's exhibition, America the Beautiful: The Monumental Landscapes of Clyde Butcher. Tickets are $15 and must be purchased in advance at (www.artfieldssc.org). For more information about this program, please call the ArtFields office at 843/374-0180.
For further info about the exhibit, call Hannah L. Davis, Gallery Manager at 843/374-1505 or visit (www.jonescartergallery.com).