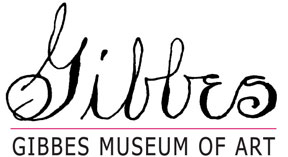 On another bone chilling, rainy Saturday, I headed south toward Charleston, SC, this time bypassing North Charleston to head to one of the Gibbes Museum of Art's free Community Days. Thank you, Junior League of Charleston.
You ask – don't I have a membership at the Gibbes, or for that matter a membership at every art museum in the Carolinas? You might also ask – as a member of the press, can't I get into every art museum in the Carolinas? – don't they want you there? – don't they want all the members of the media to come to their museums? Well, the answers are yes and no. You figure it out.
No, first off, getting something for free is one of the greatest feelings in the world. Most art museums in the Carolinas offer some free admission days. I like to see who comes on those days besides me. Secondly, yes, I probably could get into any art museum free, but that takes scheduling, which is hard to work out at times and I didn't know I could make this trip until Friday evening. Thirdly, I think in our 23 years of covering the visual arts in the Carolinas I've earned the cost of any level of membership there is and some. And, finally, I just don't get to go that much.
Although many people still think as an editor/publisher of an arts newspaper I get to see everything – I don't, there is not enough time in the world. I see more than most people, but a lot less than many. But, I think lots of other folks should have an art museum membership card on them at all times. In fact they should never leave home without it.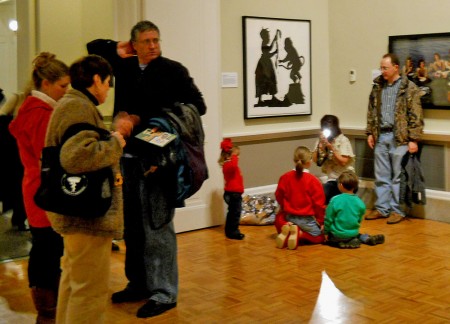 I arrived at the Gibbes Museum of Art, located at 135 Meeting Street in downtown Charleston, just as the Blessed Sacrament School Children's Choir was finishing and little girls were "running" everywhere keeping the security people on their toes – no running! Beside parents trying to gather their children together there seemed to be lots of couples of all ages in the galleries. There must be something about a rainy day that attracts couples to art museums. Before long the children were doing art activities and that left the art galleries to the parents, the couples and me.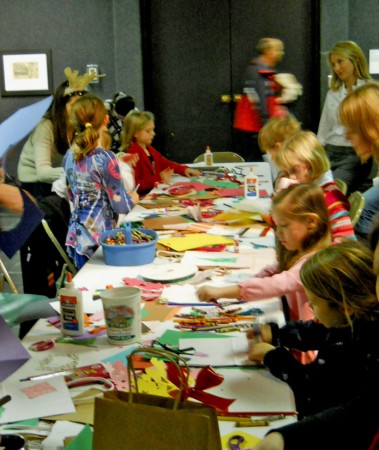 In the Main Gallery was the exhibit, Art of Our Time: Selections from the Ulrich Museum of Art, which was a collection of familiar names and not-so-familiar names. On one wall was a group of what I would call the who's who of the modern art world – Alexander Calder, Andy Warhol, Robert Motherwell, Helen Frankenthaler, Joan Mitchell, Joan Miró, and Jacob Lawrence. Looking at the works I wondered what some of these parents might be thinking. A lot of the works looked like the kind of stuff you might see in a children's art class with the exception of the Warhol. They may have works at home – on the refrigerator – that look a lot like these works. But, then I remembered something William Halsey once said in his later years (80′s) – that he was just getting back to painting child-like with no inhibitions.
Speaking of William Halsey, the Gibbes had a nice display of his works in an area which has been used as a sort of hands-on or education area. It's now being used as an Artist Spotlight area. A lot of folks in Charleston need to be educated about who William Halsey was and the work he left us. One of the works in this display was once featured on a color cover of Carolina Arts.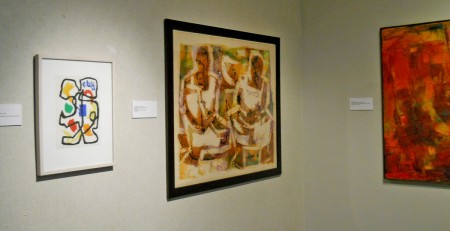 On the other side of the main room were works that looked more like art you see being made today. My favorite work of the day was a set of nine large photographs hung 3 x 3 entitled, Family Tree, by Zhang Huan, a Chinese artist who did a self portrait where he had three traditional Chinese calligraphers make kanji characters on his face – all in one day. They told traditional stories – until his face was totally covered in ink – totally.
After the children's choir cleared out of the area where they sang, I was able to view the exhibit, J. Henry Fair: Industrial Scars. This exhibit was depressing. It's a photographic exhibit with bird's eye views of industrial waste areas around the country and views of the recent oil spill in the Gulf of Mexico. They are of areas we would never see driving by these industrial sites. They keep this stuff hidden. Although the images themselves are interesting and often beautiful due to the unusual colors and patterns, they are disturbing and shocking when you discover that one you are looking at is in your own backyard. I mean it – one was about 20 miles from our house.
There is a coal burning power plant right across the lake from us and one of the images was of its ash spillway. It was ugly and frightening to think that this stuff was so close to the lake, but at the same time, I sure was glad that power plant had enough power to keep our home warm during the below-freezing temps of just a week ago. It's like no one would eat meat if they visited a slaughter house every week. There are trade-offs for everything we do, but you would hope that one day we'd learn to do things better. That's why this country needs to develop more wind and solar power – and fast.
On that note – I was out of there.
Next, I went over to Nina Liu and Friends gallery at 24 State Street. Nina Liu is celebrating her 25th anniversary in Charleston with an exhibit of her own work. They sent a press release about her exhibit which will be in our Jan. 2011 issue of Carolina Arts, but they didn't have any images, so I wanted to see if I could get some to use.
Usually a rainy day is not the best day to do any photography, but I knew if she had a spot outside that wasn't being rained on, the light would be nice and even – at least that was the theory. After the shooting, we talked about what's going on in Charleston and how fast 25 years seemed to go by. She came to Charleston two years before Linda and I started our first arts newspaper. In fact, her gallery and Lowcountry Artists Ltd. in Charleston are our oldest continuous running advertisers – both since May 1988.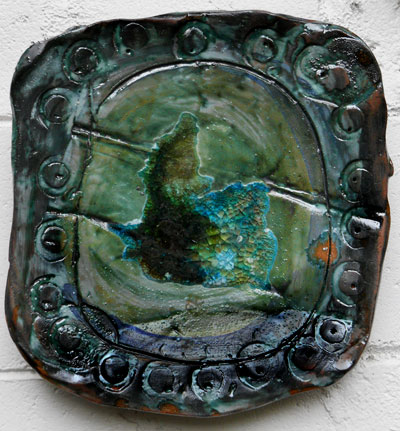 While I was at Nina Liu's a man came in looking for a special kind of pottery cup, which Liu didn't have. We both suggested he check out Charleston Crafts, just around the corner and Cone 10 Studios at 1080B Morrison Drive. But, while he was there he found a small sculpture by Aggie Zed that he liked and purchased it. Not bad for a cold rainy day in Charleston – in this economy.
On my way out of Charleston I thought I might stop by Cone 10 Studios myself. They moved during the summer from Meeting Street to this new location – twice the size of their old gallery/studio. I had not been to the new location since they opened – except very early in the morning – long before they would be open – dropping off papers, so while I was going that way – in the middle of the day – I stopped.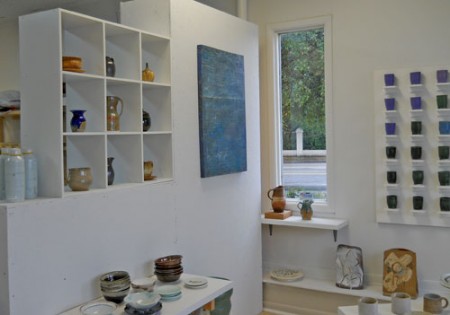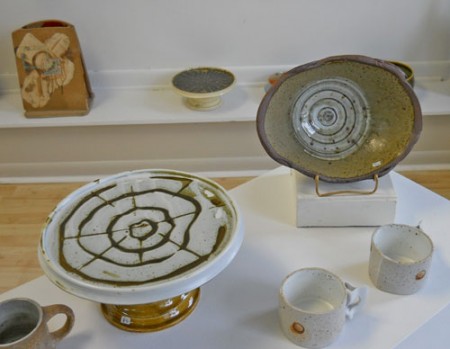 Their new gallery space is very airy. Good thing too – I got my best photos of the day there. I talked with Betsey Carter and got the 10 cent tour around all the artist's stations and some of the common areas. I'm always amazed how much space and equipment it takes beyond a spinning wheel, which is all most people think it takes to make pottery. Like most forms of art, if people knew how much equipment and process is involved in making art – they would appreciate it more.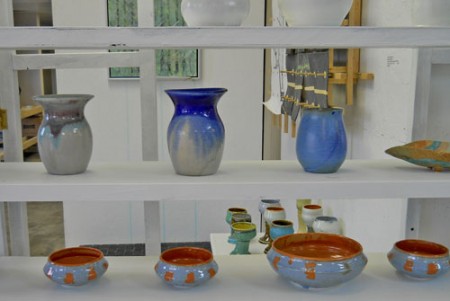 The other nice thing about their new location is that they have lots of parking spaces. When they were on Meeting Street, you might get lucky if you could find an open space within blocks from their door. Carter says they're calling this part of Charleston NoMo – North Morrison. A few other art related busineses are also located in the area.
If you haven't been there yet – go by and see them. Besides being a working studio for over 20 artists, it's a gallery and a learning center. They hold pottery classes. While I was there a few excited students came by to see works that had just come out of the kiln. What a wonderful feeling to see something you made for the first time – and it looked like work you could have found in the gallery. I'm sure they all don't turn out that way, but what I saw looked very respectable.
Well, as with all my adventures – I needed to get back home. We have a Jan. 2011 issue to get ready.